Glasgow & Clyde Valley: Regional News
Find out the latest news and updates for October and November below.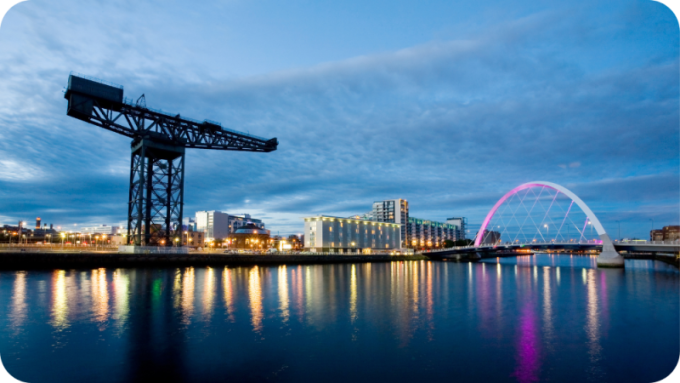 This is an update to advise of student projects & placements that we have coming up from October 2023.  If you are interested in any of these please email Jackie ASAP as they are extremely popular and competitive.
Student Projects
The following opportunities will carry no direct financial cost to companies. If any costs are associated they will be highlighted in the project specification. Topics include:
Computer Science


Closes 30th November. Runs Jan – Apr 2024
Projects typically involve software development or system configuration as their central activity, with students of project management or design-oriented subjects providing specialist input.

HR


Closes 31st October.
Projects to help an organisation to find a solution to an HR issue or help to prepare for a change on the horizon. Students conduct free research and provide companies with a report including future recommendations.

Fashion Management


Closes 31st October. Runs from Jan '24
Previous projects included forecasting trends, researching and a documenting findings. Exploring commercial opportunities. Build influencer banks.

Financial Risk

Closes 1st December. Runs from Jun '24
Looking for major quantitative challenges faced by the insurance sector and wider financial services industry.

Marketing


Closes 30th November. Runs from Jan '24  (£250)
Project type includes market research, developing an innovative marketing strategy, develop a social media campaign etc. These projects are part of an exam process.

Music Business


Closes 14th October. Runs from Jan '24
Project types involve working in event/festival management, music conference management, digital marketing and with record labels and arts organisations.

Visual Communications


Closes 30th November. Runs Dec '23 – Jan '24
This course is much more research-led and includes consulting with multiple stakeholders as part of the delivery, so ideally suited to 3rd sector, public sector, or small community-serving organisations. Examples include:  An info pack/toolkit was developed for the fire service, in which they evaluated ideas with young people/ Gardening toolkit for the elderly in care homes, taking account of those with cognitive impairments.

Business Administration


Ongoing – Funding Optional
The range of business functions a project can address are diverse and include growth or business development, marketing, operations, strategy and finance. New models or processes can be developed, or solutions presented to strategic or operational issues. The final report will be directed at senior management or director level.
Student Placements
Looking for industry clients that would be happy providing work experience for students whether it be a 2 week internship or a project to last a full semester.  Please note some of these may be paid placements, please check on enquiry.
Law – Closing 30th Nov. Placement runs Feb – Apr '24 (10 weeks)
Data Lab – AI and Data – All year round
Computing Placements – Closing 30th Nov. Placement runs Jan '24 and Jun '24 (3 months/180 hours)
School of Social & Political Sciences – Closing date 6th Nov
Edinburgh Climate Change Institute – Closing date 31st Oct. Runs Nov '23 – May '24
International Tourism & Hospitality Management – Closing date Jan '24. Runs for 4 weeks in late Mar '24
Creative & Digital Marketing – Closing 31st Oct '23. Runs from 15th Jan '23 for 6 or 12 weeks
Mechanical Engineering – Closing 30th Dec '23. Runs from Apr '24 for 6/8 months
Biotechnology – Closing 31st Jan '24. Runs from May '24 for 12 weeks.
Electrical and Electronic Engineering – Closing 16th Feb '24. Runs from Jun – Dec '24 for 23 weeks.
Funding
These vouchers are to encourage new first-time collaboration between SMEs and a Scottish University or College. There are two types of Standard Innovation Vouchers:
Product/Process/Service Innovation Voucher
Workforce Innovation Voucher
These are an opportunity to build on existing relationships between SMEs and a Scottish University or College to continue the development of a Standard Innovation Voucher award.
Advanced Innovation Vouchers offer a matched grant of up to £20,000 and are aimed at building sustained relationships between SMEs and Scottish universities or colleges. The next closing dates are:
The Inward Investment Catalyst Fund is designed to attract and support businesses, not yet located in Scotland but with an interest in developing a presence, to collaborate with academic institutions on their research and development activity. Funding awards of up to £10,000 can be applied for to pay for input from Scottish academic institutions into projects with businesses. The next closing dates are:
Friday 17th November 2023
Depending on the nature of your proposed project we can also look at funding external to Interface such as SMART grants, Innovate UK etc.

Events
Manufacturing Expo Scotland. 25th October 2023 – SEC Glasgow
Manufacturing Expo Scotland will serve as a national forum in order to successfully connect key stakeholders across the full manufacturing and engineering supply chain spectrum in Scotland including energy, renewables, transportation, aerospace/space, marine, defence, electronics, food and drink, biopharma, medtech, construction and textiles.
CENSIS Tech Summit 2023. 2nd November 2023 – Glasgow Concert Hall
Hear about new innovations, challenges and solutions.
Meet exhibitors highlighting modern technologies and products.
Understand how businesses are delivering digitalisation across a range of markets.
Network and connect with key businesspeople, policy makers and researchers.
Can Do Innovation Summit. 7th November 2023 – Glasgow Science Centre
Connecting Scotland's thriving Start-up and SME community to home-grown and global innovators, entrepreneurs and academics as we explore essential tech trends, insights and tools to allow your business to keep up and stand out in a tech-driven and virtual future.
Jackie will be one of the guest speakers representing Interface at the event.
Sustainable Bio-based Chemicals Production – Towards a Low Carbon Future. 8th November 2023 – Strathclyde University's Technology & Innovation Centre (TIC)
This one-day conference will look to bring together those with an interest in chemistry, biology, engineering and entrepreneurship, which are all the skills that will be needed to transition chemical production to biobased methods using bio-based feedstocks. Talks will feature a range of speakers from universities and industry, covering a range of sectors looking to address this conversion. Featuring not just how they are addressing technical challenges, but also how to scale these to production, supported by several organisations that can help support with their services from cell identification to engineering and de-risking scale-up.
Any Other News

We are seeking the most innovative and successful business-academic collaborations which deliver economic, environmental and social prosperity for Scotland.
Apply now and shine a light on Knowledge Exchange!