Background
Family-owned Arbikie Distilling Ltd is aiming to be one of the world's most sustainable distillers.
The Arbikie Highland Estate distillery is a genuine field-to-bottle operation – the ingredients for all their spirits are planted, sown, grown and harvested on the farm within a stone's throw of the distillery. Records show distilling on this site dating back to 1794 – it is the field-to-bottle culture used by these ancient distillers that inspired Arbikie's distilling ethos. Premium spirits can only come from the highest quality ingredients and drawing from decades of farming experience, they grow all the raw materials to make their award-winning range of whisky, vodka and gin.
The Arbikie Highland Estate has always been farmed with absolute respect for the land. The addition of a distillery has not changed their commitment to minimising any environmental impact.
The soon-to-be hydrogen-powered distillery at their Angus farm has always had a focus on sustainability. Production began in 2014 with the goal to add value to the potatoes which were deemed to be too 'wonky' for the farm's bigger customers. Tattie Bogle Potato Vodka was born and from there they have gone on to release a range of award-winning gins, vodka and whisky including their climate positive Nàdar spirits made from peas.
The Challenge
The Scotch Whisky Association has set an ambitious target for the Scotch Whisky industry to reach carbon neutrality by 2040. In order for the industry to reach this goal it is vital that sustainability is improved across the supply chain, including both agricultural practices and malting.
To reach these sustainability goals Arbikie needed to look beyond the distilleries four walls and consider both upstream and downstream emission sources. A major contributor to the carbon footprint of barley-based alcoholic beverages such as Scotch Whisky is tied within agricultural practices (e.g., the use of nitrogen-based fertilisers) and in the processing of raw barley into malt. Conservation barley varieties have been introduced into the farm rotation as they are known to have the potential to reduce emissions, whilst utilising low input agricultural regimes. The challenge addressed here was to look further down the production chain and producing malt from these varieties in a more sustainable way.
The Solution
Funding through The Scottish Food & Drink Net Zero Challenge Fund, from Scotland Food and Drink, administered by Interface allowed the collaboration between Arbikie Distilling Ltd and Heriot-Watt University's International Centre for Brewing and Distilling (ICBD), to take place.
The project focused on characterising the behaviour of conservation barleys upon exposure to industry-typical malting regimes and sought to exploit some of the known resilience present in such barley to reduce water and energy input into malt production. Within its scope, the project successfully identified conservation barley varieties that could be used to produce malt of favourable quality. Further, the results indicated that malt quality was similar between the typical and low input regime, highlighting potential for reduced input malt production.
Bringing together Arbikie's knowledge of agriculture with Heriot-Watt's malting expertise has resulted in the inherent qualities of older barley varieties being applied to the malting process to successfully develop lower input regimes.
Benefits
The project successfully identified conservation barley varieties that could be used to produce malt of favourable quality. In addition, the results indicated that malt quality was similar between the typical and low input regime, highlighting potential for reduced input malt production.
Bringing together Arbikie's knowledge of agriculture with Heriot-Watts malting expertise has resulted in the inherent qualities of older barley varieties being applied to the malting process to successfully develop lower input regimes.
The project has allowed for continued development of expertise in conservation/heritage barley variety processing at HWU. This has led to a demonstrable benefit for teaching and research at Heriot-Watt University's International Centre for Brewing and Distilling (ICBD).
From a research perspective the work has allowed for development of additional research projects in the area that are anticipated to lead to publication of peer-reviewed journal articles. With regards to teaching, the project has contributed to on-going efforts to grow research-led teaching and is benefitting development of student laboratory skills through multiple undergraduate and postgraduate student thesis projects that continue to explore the theme.
The Scottish Food and Drink Net Zero Challenge Fund
This project benefitted from The Scottish Food & Drink Net Zero Challenge Fund, a key initiative of the Scottish Government's Industry Recovery Plan, first launched by Scotland Food & Drink Partnership and Interface in October 2021, with the aim of encouraging businesses to take action on their environmental impacts through collaborative projects with Scottish universities in order to accelerate their journey to net zero. The fund supported 17 projects across a range of sustainability themes and companies.
The Crover – the world's first robotic device that 'swims' through grains to monitor their condition.
Background
Crover Ltd https://www.crover.tech has developed the world's first small robotic device, known as a 'CROVER', that monitors cereal grains stored in bulk inside grain bins or storage sheds. The CROVER device can "swim" within the grains and uses on-board sensors to measure local parameters, such as temperature and moisture, to build a full map of the conditions within the grains. Unlike current grain monitoring solutions that measure only one variable and have limited reach, the CROVER's remote monitoring capabilities provide real-time data across a range of measurements allowing grain storekeepers to identify critical conditions, like hotspots early and maintain quality of the grains through proactive management.
Crover Ltd were a start-up when they initially approached Interface in 2019, they have since grown from two co-founders to 20 employees.
Since 2019 they have secured significant investment, raising over £600k in innovation prizes and grants (including Scottish Enterprise and Innovate UK). They then opened a seed funding round for investors and hit their £150k target.
The Challenges / Solutions
"When we initially met Interface, we didn't have a specific R&D challenge as we were focused on developing our product inhouse. An obvious area for support would have been in the areas of design and engineering, however, through discussions with Louise, she assessed how our business worked and proposed that we undertake a project with the Scottish Financial Risk Academy (SFRA). The project with the SFRA helped us determine precise financial estimates of the value of Crover data to grain storekeepers and its impact on the grain storage economics. Understanding the financial impacts of Crover's monitoring capabilities, had wider implications such as being able to quantify monetary value to grain insurers, and the potential to reduce insurance premiums for farmers and grain merchants." Lorenzo Conti, Co-founder Crover Ltd
Following on from this initial project, one of the main technical challenges Crover Ltd faced related to the precise location tracking of the device within the grain bulk. Conventional signals, such as GPS and WiFi, did not work due to their inability to penetrate the solid grain bulk so a novel approach was required. Crover Ltd had undertaken some initial testing of different solutions, however they needed to tap into academic expertise in ultrasonic waves, positioning systems, electromagnetic signals, wireless sensor network (WSN) and Simultaneous Localization and Mapping (SLAM), to help improve the accuracy of the device location. Interface connected them to the University of Glasgow who undertook an initial feasibility into a means of measuring and identifying the location of the robotic device in bulk grain storage. This was initially funded by an Impact Accelerator Account fund of £10k, which then led onto a further project where University of Glasgow and Crover Ltd secured a further £27K to continue the project to a successful conclusion.
Since the initial collaboration Interface has assisted Crover Ltd embark on several other successful collaborations focusing more on the future enhancement and performance improvement of the robotic device, by tapping into design and engineering expertise from several Scottish Academic Institutions. These involved:
Heriot-Watt University (HWU) design engineering students looking at designs for a remote charging station for the Crover to allow re-charging when out on location.
HWU design engineering students helping to develop an easily deployable, suspended cable system that provides cable above the Crover to facilitate its movement within grain sheds.
University of Strathclyde's design engineering students designing a water-tight sealing system for the Crover.
University of Strathclyde's Department of Design, Manufacturing and Engineering Management (DMEM), investigating suitability of design for manufacture.
The Benefits
The benefits resulting from the numerous collaborations which Interface have helped broker have undoubtedly helped Crover Ltd in both product development and business growth terms.  Interface has helped open doors for Crover Ltd and helped Lorenzo and his team to establish strong links with academia resulting in some innovative and exciting developments.
Since its inception in 2019 Crover Ltd has grown from 2 employees to over 20 employees, has raised significant investment and secured over £600K in innovation prizes and funding.
Background
Touchless Innovation, trading as Sanodaf, is a company that specialises in advanced disinfection and decontamination technology. Their aim is to create, design and manufacture innovative processes and products to help eradicate micro-organisms and infections that can cause health issues in everyday life for people and animals. They have experience of disinfection and decontamination as a service company and were looking at new devices to enhance current hygiene technology.
With expertise in environmental decontamination, Touchless Innovation developed a novel prototype of an easy-to-understand and cost-effective hand-hygiene device. It was based on the simple principle of using ultraviolet to kill micro-organisms that are commonly found on hands, specifically using UV-C which is proven technology for eradicating pathogens. The prototype was a hand sanitiser unit that prompted the user to place their hands inside an aperture that delivered a short transmission of UV-C directly onto hand surfaces. The unit was automated and, upon entry, a timed exposure to UV-C would be experienced by the skin. It was a touchless process and the unit would indicate when hands could be removed. The entire process was delivered quickly and without any noise or residue.
Specialist UV-C devices are used in laboratory settings but there was not an accessible device for everyday use. The creation of this device would allow people to efficiently sanitise hands without access to washing facilities and within a much-shortened time period.
Challenge
The company did not have the required expertise to test the device and demonstrate the intended claim that it kills 99.9% of MRSA after a short exposure on the hands and that it was also safe for human exposure. The practical work to test the device required a respected Category 2 laboratory facility and testing by an independent body for credibility.
Solution
Interface connected Stuart White, Director of Touchless Innovation, with Edinburgh Napier University as it had the laboratories, expertise and bacterial strains required to carry out the microbiological aspects of the work. This collaborative project was funded by a Scottish Funding Council Innovation Voucher.
Benefits
The results of the project allowed the company to identify any potential areas for design improvements and confidently market the device as a high volume, commercial product. Given the robustness and limited cost, it was considered that the portable version of this device would have an immediate market, both domestically and internationally.
The success of this product would improve the ability to sanitise hands in everyday situations to fight infections and ill health and would create jobs in Scotland where the device would be manufactured. The product had wide market appeal and the company's intention was to expand globally into other markets where hygiene is poor and access to clean water restricted.
The company also planned to have a version of the device to be used in disaster situations where there was no power or clean water and a high risk of illness and infection spread.
It has been a privilege to work with the team at Napier; they have shown a high level of interest in the project from day one and demonstrated a very professional level of competency in undertaking the project, and in publishing the final result. This now leaves my company able to grow and expand with this product and I hope to be able to work with the team at Napier again. The result of this collaboration will make a very positive impact as we can now press ahead with the creation of working prototypes and move closer to releasing this product onto the market place. We are aiming to sell it in the UK and overseas and this will be a significant step for us as an SME (small or medium-sized enterprise). Stuart White, Director, Touchless Innovation
It was an excellent experience working with Touchless Innovation. The partner was extremely enthusiastic about their product but also realistic with the aims of this project. I look forward to working with them again. Dr Nick Wheelhouse, School of Applied Sciences, Edinburgh Napier University
Touchless Innovation Ltd was shortlisted for the Innovation of the Year award at The Scottish Knowledge Exchange Awards 2019.
Follow-On Activity – Advanced Innovation Voucher
Following on from their initial project with Edinburgh Napier University, Touchless Innovation were looking to collaborate with a university partner to verify that electrostatic spraying of hydrogen peroxide was a more efficient method of decontaminating hospital rooms than fogging, the current standard method used in the NHS. Interface was able to successfully connect them to the University of the West of Scotland (UWS) where the company had access to the University's specialist category 11 containment facilities, including the facilities required to undertake testing of the fogging and electrostatic spray disinfection delivery systems. This project was funded by a Scottish Funding Council Advanced Innovation Voucher.
Benefits
The results of the project confirmed the company's expectations as well as highlighting some additional considerations for future treatments and applications. A full submission of the results was made to the NHS and Health Improvement Scotland.
Follow-On Activity – KTP
The current approach to disinfection/decontamination utilises two separate units: a fogging system and an electrostatic sprayer; the former being used to transform the disinfectant liquid into a dry fog for areas that can be effectively sealed off, and the latter which adds a negative electrostatic charge to the solution ensuring it surrounds and adheres to all surfaces it touches (for open-area use where traditional fogging would not be appropriate).
As the company had no engineering capability, they formed a Knowledge Transfer Partnership (KTP) with UWS to develop a unique combined fogging and electrostatic spray disinfectant device for commercial use – two different technologies to run from one power source. This would underpin rapid business expansion and ensure the UK is at the forefront of market-led technology, addressing both societal and economic impacts of poor hygiene control within public and private buildings.
Benefits
Business – Prior to the KTP, the business was dependent on external suppliers/market forces, limiting the control of their own direction. The KTP has enabled the business to become a manufacturer of their own device, allowing them to compete in a wider market and decide their own path.
They have benefitted greatly from being involved in the process of designing and creating a new concept for a device and then being able to carry this through to product build and test. The process has helped the business understand manufacturing and the issues around supply chain, in-house and external expertise and how these are linked in the creation of a new product.
Finally, the investment has enabled the business to acquire the global Sanondaf brand, operating across multiple territories and with ready-made customers for their new combined electrostatic/fogging unit.
Academic – The project, based on an Advanced Innovation Voucher, allowed a strengthening of the relationship with a fast-growing business as well as providing an opportunity for cross-school collaboration between the School of Health and Life Sciences and the School of Computing, Engineering and Physical Sciences. In addition, the project provided an opportunity for:
Demonstrating research impact for downstream REF reporting and publications
Impact against UN Sustainable Development Growths in line with corporate strategy
Further KTP portfolio growth for School and UWS in line with 2025 strategy
Potential for further collaboration with the business.
Our experience of the KTP scheme, working with UWS, and the support on offer from Innovate UK has been exceptional and we are on the cusp of rapid business expansion as a result. I would thoroughly recommend the programme to any ambitious business that is looking to innovate and embed new knowledge within their organisation. Having seen the capabilities of the model, we are already framing a potential follow on KTP – Stuart White.
Touchless Innovation Ltd was shortlisted for the Innovation of the Year award at The Scottish Knowledge Exchange Awards 2022.
Background
Established in Inverness in 2004 by Carole MacKintosh, Highland Counselling Services Ltd, trading as Scottish Counselling Services, has grown from a small local service provider into a market leading organisation covering the Scottish mainland and islands with adults, children and young people as their client groups. Scottish Counselling Services provides a confidential counselling service to both the private and public sector for a wide range of life-affecting issues.
Challenge
Looking to the future sustainability of the business, the lack of suitable software that could handle the varying requirements of the business had reached a critical point. Although Scottish Counselling Services had undertaken their own research, they had been unable to identify a software package that could meet the needs of their individual team members. Scottish Counselling Services (SCS) wanted to work in collaboration with an academic with Computing Science expertise to develop a system which would more accurately meet their needs.

Solution
Interface was able to successfully match SCS with Dr Bruce Scharlau of the University of Aberdeen's School of Computing Science. Dr Scharlau had founded 'The Software Factory', an initiative created specifically for industry to realise their ambitions through work with the University to deliver software solutions.
Scottish Counselling Services worked with Dr Scharlau to develop a new system which would enable business growth whilst taking account of secure data storage of records, and efficient work-flow processes. No such system previously existed, so the project output was instrumental in enabling the business to move forward, refining its service offering, thereby securing future sustainability.
The project was funded by a Scottish Funding Council (SFC) Standard Innovation Voucher.
Benefits
The new online system moved the staff from working with paper forms, a telephone, and managing staff and appointments via a spreadsheet to an online prototype, saving a day per week in admin work. This was all set up within the web application with encrypted records and minimal risks to privacy. The system has proven invaluable to the company.
We are now using our software and I am really enjoying having a focused system that we are all connected to. I am constantly delighted with the feedback from our team and how easy they all seem to be finding it. It has been such a good project for us all. Carole MacKintosh, Managing Director
Follow-On Activity
After such a successful initial collaboration, Scottish Counselling Services and the University of Aberdeen continued their collaboration with work to further develop and advance the software in preparation for commercialisation; enabling it to be offered under a subscription service that could be offered to other counselling providers, introducing a new income stream for the organisation. This application will also enable SCS to improve efficiencies within the business, and thus spend more time on business development, generating additional income in a cost-efficient manner.
This work was part funded by an SFC Advanced Innovation Voucher.
This has been an amazing and challenging project but one that I am really proud to have been a part of. I feel excited about future developments and opportunities that I know will evolve because of what has been produced. Carole MacKintosh, Managing Director
Building on the previous collaborations, an internship was then created to consolidate the 'lite offering' of a Session On Demand platform designed to aid secondary and primary schools in Scotland in offering counselling to all of their pupils. This project used the same student from the University of Aberdeen who was involved in the initial collaboration and was funded by an SFC Student Placement Innovation Voucher.
My experience of the project has been extremely positive. The prospect of being part of a team developing a web application from the beginning felt daunting, however the team were supportive and patient throughout. I felt out of my comfort zone many times as I was working in an area that I had no previous experience in, however, we managed to work out what was needed by organically processing and checking out what worked, what didn't work and what need amending. It came together from actively listening to each other but mostly from the expertise and guidance of the development team. This was an experience I enjoyed and feel that what we have achieved will have a positive impact on our service users and organisations.
The additional commercial benefits include being able to demonstrate our innovation and credibility as an organisation to potential clients. This I feel has opened many doors and also created many more opportunities. It has also helped expand my own thinking on how to create additional opportunities. Carole MacKintosh, Managing Director
Additional activity
Scottish Counselling Services also worked with both the University of Edinburgh Business School and the University of Strathclyde on various student-based projects to aid in the growth and development of their business.
Background
Yoti is a digital ID and credential management platform that allows organisations to verify identities and trusted credentials online and in person. Yoti's products span identity verification, age assurance, document e-signing, access management and biometric authentication.
They are working on Challenge 9 of CivTech 5.0 to help NHS Scotland tackle COVID-19 through innovative approaches to testing and the application of technology. They have partnered with a bioscience company GeneMe, who produce rapid COVID tests and have built the first prototype 'Testing Cube'. They have integrated Yoti technology to securely link a person to a test and to receive the test result securely into a Yoti digital wallet. They are now driving further innovation around near patient COVID testing and the development of a mass testing machine.
Challenge
Yoti has developed a testing system called FRANKED that delivers results to an individual's phone in 30 minutes without the need for them to be processed in a laboratory. To date, the work involved with CivTech has focused on evaluating innovative tests to speed up the existing processes in laboratories as well as reduce costs and achieve high rates of accuracy. They were at a stage whereby they needed to develop the 'Testing Cube', a highly portable and low-cost testing machine capable of running LAMP based tests. Yoti will be integrated into the Testing Cube for the secure and rapid delivery of test results as well as being integrated into the NHS Integration Hub to capture this information.
Yoti took the design to an initial working prototype and required additional expertise to develop it further, creating the potential for the Testing Cube to be manufactured in Scotland for a global market.
Solution
After being referred by CivTech, Interface introduced Yoti to relevant expertise within Robert Gordon University (RGU). RGU has a proven track record and exceptional research output in the field of manufacturing for many engineering applications. RGU undertook a rigorous investigation into how the proposed COVID testing cube could be further improved and offered feasible solutions in terms of different techniques.
The project was funded by a Scottish Funding Council Advanced Innovation Voucher.
Benefits
Company
The company wants to bring the Testing Cube to the market to make access to testing fairer and available to more people across the world. Yoti will benefit from an increased volume of tests ordered as a result of the new capability.
University:
This partnership has resulted in a base of investigators and students who have undertaken this research; enhancing knowledge and providing benefits to the emerging sector. RGU will also have a case study for students who will benefit from understanding the real-life engineering problem solution.
Scottish Economy:
In Scotland, the intention is to manufacture the Testing Cube for approved use in the NHS for an innovative approach to near patient care using the innovative FRANKED Lamp test so that rapid and accurate tests can be carried out without the need to transport samples to a laboratory. This will dramatically improve the current testing regime and potentially save lives. It will also help reduce pressure on laboratory processing capacity as well as the infrastructure required to capture samples and transport them to centralised laboratories. The Testing Cube could also be deployed on a student campus for on-site rapid and accurate student COVID testing.
The Testing Cube and the FRANKED test will transform the way testing is carried out and help build an infrastructure that makes Scotland, particularly in rural settings and places of high vulnerability, more resilient and capable of dealing with similar public health emergencies in the future. This project has the potential to make Scotland an innovation hub for COVID-19 related technology development.
The aim is to successfully develop the Testing Cube, leading to its manufacturing at scale in Scotland. This will secure jobs and attract potential inward investment into the Scottish economy.
Background
Loch Electronics innovate, engineer, design and bring to market consumer electronics products focused on reducing global carbon footprint in households and offices.
Conventional dishwashers are incompatible with the most common household sizes in the UK; they are too big. Loch Electronics has been developing a concept dishwasher design, suitable for small households. In their design, the water spray system was modified to take less space and increase water flow directed at the dishes. As a result, the design is anticipated to offer increased process efficiency, reduced operational time and energy usage.
Challenge
To prove their concept, the company was looking to collaborate with an academic partner with expertise in fluid dynamics.
Solution
Referred by Business Gateway, Interface was able to successfully match Loch Electronics to the academic team at Robert Gordon University (RGU). The team has considerable expertise in fluid dynamics and thermo-fluids, with years of experience working on a wide variety of collaborative research studies on the performance evaluation of complex flow handling systems; leading to optimal designs and enhanced operational efficiencies.
Funded by a Scottish Funding Council (SFC) Standard Innovation Voucher, the project involved detailed investigation into the performance characteristics of the dishwasher.
The primary outcome of this project was the hydrodynamic characterisation of the concept dishwasher design. This involved detailed investigation into the performance characteristics of the dishwasher. A systematic parametric investigation was carried out to achieve this. This scientific research will enable the company to develop and market these dishwashers with enhanced knowledge of its working; allowing prototypes to be built for real world testing and analysis, leading to further developments.
Benefits
The innovative water spray system will result in a compact dishwasher design, ideally suited for small households. In this concept dishwasher design, the water spray system was modified to take less space and increase water flow directed at the dishes. This innovation results in enhanced process efficiency, reduced operational time and energy usage, higher power and cost savings, and lower carbon footprint of the device. It is therefore a very saleable product, easy to store and maintain, and with a low cost to manufacture and ship.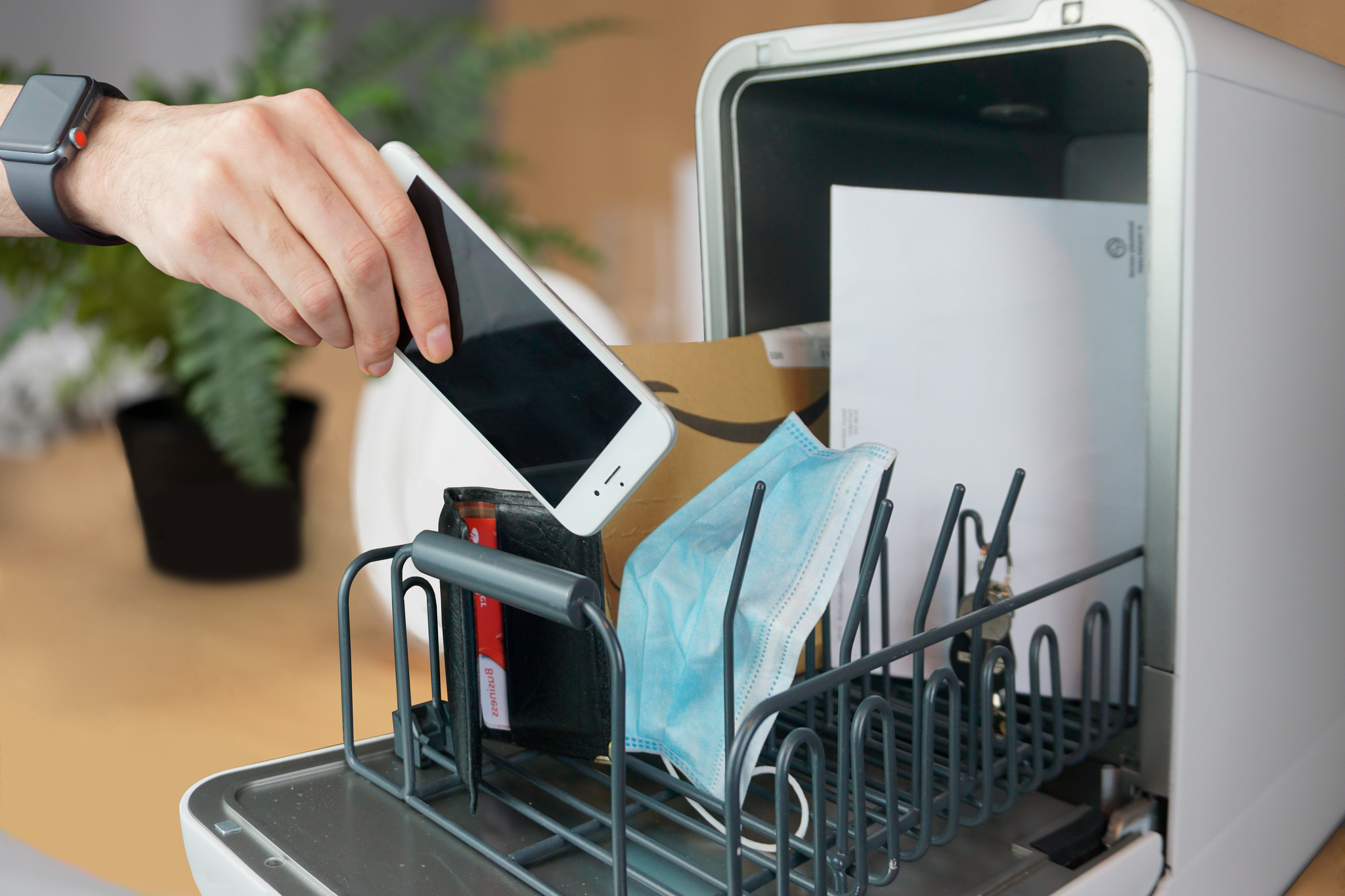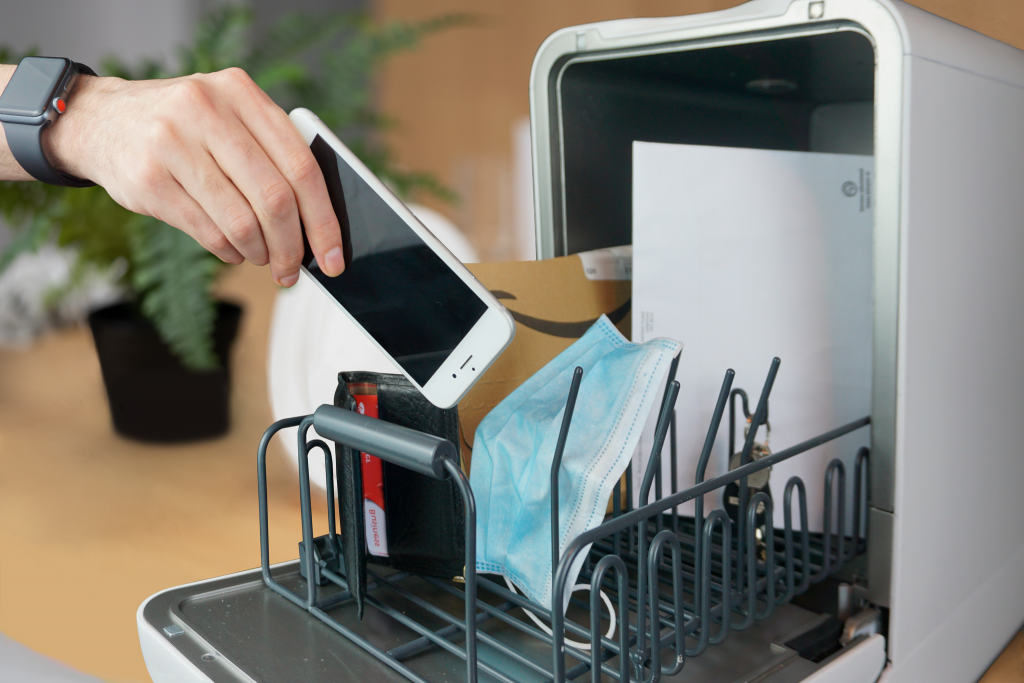 Follow-on Activity
After successful completion of the initial collaborative project, both Loch Electronics and RGU wanted to collaborate further on the capsule dishwasher, specifically on the integration of UV lights, to enhance its capabilities through the inclusion of sanitisation and disinfection functions for protection against COVID-19.
Laboratory tests carried out by an American working group on COVID-19 show that the virus can remain infectious for up to 2-3 days on stainless steel and plastics. UVC (Ultraviolet type C) lights have long been used for sanitation and disinfection purposes and a recent study in the American Journal of Infection Control found that UVC light exposure completely inactivated the virus in 9 minutes.
A SFC Advanced Innovation Voucher was awarded to create prototypes and carry out testing to prove the theory in practice.
Benefits
With precise control of the amount of exposure to the UVC lights, many different items made of different materials could be disinfected of any bacteria and viruses, limiting the spread of COVID-19. As dishwashers are used in 49% of the households across the UK, and 45% of households across Europe, the impact of this UVC integrated dishwasher would be substantial in helping to stop the spread of COVID-19 and any future viruses as well. As the dishwasher will be compact, it will be ideal for use in small households, nursing homes, hospitals etc.
As well as disinfecting cooking utensils, eating utensils and medical tools, it could also disinfect through UV light, items that would get damaged with water, like face masks, phones, keys, wallets, letters, etc.
"Sitting is more dangerous than smoking, kills more people than HIV and is more treacherous than parachuting. We are sitting ourselves to death."  Dr James Levine, Director of the Mayo Clinic, Arizona State University
Company Background
Each year, significant numbers of workers suffer ill health as a result of poor ergonomics and unhealthy lifestyles at work. This has an impact on quality of life and results in tens of millions of lost sick days. With awareness growing of the adverse effects of sedentary, desk-bound, computer-centric work lifestyles, Welbot was founded in Edinburgh in 2017 with a primary goal of helping people take control of their wellbeing in the workplace by instigating positive behavioural modification through the use of smart, appropriate technologies.

The Welbot team comprises of Mykay Kamara (CEO), Sam Deere (CTO) and Pete Burns (CDO) who are a close-knit group of commercial, technology and marketing minds working alongside Creative Directors Ian Greenhill and Jordan Laird, with the business being chaired by Ian Smith ex-MD of Oracle UK.

Welbot is a cross-platform, digital intervention and productivity platform, tailored to each user, that helps employees stay physically and mentally well in the workplace by learning and adapting to the actions that they take. The wellness management software encourages activities such as stretching, screen breaks, nutrition, mindfulness, hydration, micro exercises and simple, rewarding brain training games and is designed and engineered for both individual and large-scale enterprise use.
Challenge
The company initially wanted to collaborate with a university to understand how they could extract knowledge and insights from data and machine learning, especially around autonomous, self-teaching systems that can analyse data and provide insights to human behaviour. The aim of this project was to 1. investigate the use of predictive models of user response to screen-based notifications and prompts and 2. provide a path for future enhancement of the underlying Welbot AI framework.
Solution
Interface connected the team with the Department of Computing and Information Science at the University of Strathclyde, where they were successfully awarded a Scottish Funding Council Innovation Voucher to address the company's challenge and to develop a proof of concept prototype to incorporate the findings into the application roadmap.
Follow-on Activity
In addition, Interface saw the opportunity to provide additional support to the company by partnering them with marketing and business students at both the University of Strathclyde and the University of Edinburgh. Interface drew up a project outline and introduced the team to the academic supervisors at both universities. The projects were approved and the company now has a student team from Marketing at the University of Strathclyde researching, analysing and making recommendations to support their business strategy around corporate wellbeing programmes in the UK, as well as an Msc student from the University of Edinburgh, doing a company sponsored dissertation on evaluating the uptake and Return On Investment of wellbeing programmes.

Offering further support to the company, Interface issued another search across the universities to support their requirement of cross-disciplinary academic expertise in exercise physiology and computer science. They were ultimately partnered again with the University of Strathclyde who had the best fit to continue the project. Strathclyde were successfully awarded a Follow-On Innovation Voucher and they have drawn upon academic expertise from both the School of Psychological Sciences and Health (PSH) and Computer and Information Sciences (CIS). This project will address analytics of user behavioural data and the psychological effects of prolonged sedentary behaviour on the body.

Welbot are also working with experts in behavioural sciences within the University of Strathclyde, University of Edinburgh and University of Aberdeen to look at psychological and behavioural sciences with a focus on occupational stress, behaviours relating to wellbeing in the workplace, and responses to stimuli to change behaviour in a technology setting.

These collaborations have all been achieved within just an eight-month time frame.
Background
Ecometrica is an end-to-end environmental software-as-a-service (SaaS) provider that is recognised as one of the world's top sustainability brands. Incorporated in 2008, the company has unrivalled experience in helping businesses and governments identify risks and opportunities by combining satellite earth observation data with local information and business intelligence on the award-winning Ecometrica Platform. Ecometrica now has over 250 corporate clients, including ARM, Pearson, Compass Group, Etsy and Hertz.
Ecometrica brings together recognised experts in environmental and sustainability accounting, and their software supports all aspects of sustainability planning, operations and reporting. Their data and services are available from all their worldwide locations. Founded in Edinburgh in 2008, they also have offices in Montreal (2009), London (2012), Boston (2014) and Mexico (2017).
In 2013, a project team, led by the University of Edinburgh and comprising of local SME partners, LTS International and Ecometrica, successfully applied to the DFID (Department for International Development) Hectares Indicator Project – International Climate Fund (ICF) forestry programme. DFID awarded £32,000 to the team to review and suggest improvements to their methodology for quantifying hectares of avoided forest loss and forest restored as a result of international development finance.
SFC Innovation Voucher Follow On Funding
In 2014, a Scottish Funding Council (SFC) Follow On Innovation Voucher of £11,600 was awarded to Ecometrica and Dr Edward Mitchard from the University of Edinburgh (UoE) for a project titled Earth Observation support for assessing the performance of the UK government's ICF forest projects.
This follow on funding allowed Dr Mitchard to undertake additional analysis over Brazil to test the suitability of different earth observation (EO) satellite products for monitoring forest change. The project results gave Ecometrica a better understanding of the accuracy of the EO products, and enabled them to improve their testing and performance assessment offerings to institutions such as DFID, DECC, DEFRA, World Bank, and the Asian Development Bank.
"The Innovation Voucher is a fantastic scheme that made it really easy for me to work with a local SME and conduct research with real and immediate impact. My relationship with Ecometrica has grown since the Follow On Innovation Voucher was awarded, with it contributing to the development of ideas towards our current much larger collaborative projects. I would strongly encourage other academics to engage with Interface, who administer this SFC  programme", said Dr Edward Mitchard, University of Edinburgh.
Benefits of the Collaborative Project
Edinburgh University and Ecometrica will continue to establish a leading position in Europe for this type of work. The benefits to the University of Edinburgh will be felt in terms of its international research and innovation ranking, and its reputation in the fields of forest ecology and the application of space technology. Ecometrica expects to continue its growth in this area:
Academics and students at the University of Edinburgh School of Geosciences are among the first to gain unlimited access to millions of pounds worth of state-of-the-art Earth Observation, geospatial intelligence and satellite mapping applications, thanks to a groundbreaking memorandum of understanding (MoU) signed between the University and Ecometrica. The MoU formalises the ongoing collaboration between Ecometrica and the University of Edinburgh, which is expected to be worth around £4.5m to both parties over a five year period. Ecometrica will make its Mapping suite – a web-based, universal, disruptive geographic information system (GIS) – available on a limitless basis to the University, so that it can be used for research and teaching purposes.
Ecometrica won a contract from the UK Space Agency's International Partnership Space Programme worth over £14m. The 'Forests 2020' project is to help countries improve the management and protection across 300 million hectares of tropical forests – 12 times the size of the United Kingdom – and sees Ecometrica lead an international consortium that brings together many of the world's leading experts on forest monitoring. The University of Edinburgh contributes to this project by expanding and automating their accuracy analysis of the existing University of Maryland products, and research alternatives for when this performs poorly (as well as expanding the deforestation analysis into the future using full carbon models to help with scenario analysis). This project also funded 3-year licences for University of Edinburgh staff to use Ecometrica's EO Labs to disseminate results of their analyses. The initiative, now involving seven countries, has already led to many new partnerships and collaborations worldwide, and has been invaluable in developing solutions, while ensuring they are ideally suited for monitoring every aspect of modern environmental concerns. 'Forests 2020' has recently been extended to include monitoring banana plantations, soya farms and palm oil plantations.
Both Indonesia and Ghana have made commitments to working with Ecometrica in the decade ahead, enabling a greater focus on sustainable forest management and the conservation of tropical forests. The company is also working with a growing number of blue chip corporates, committed to better understanding their roles and responsibilities in tackling climate change.
Through this project, Edward Mitchard at UoE developed a greater understanding of which forest cover change products work best in which landscapes. This knowledge led to a guidance document on forest change monitoring produced under contract from DFID, and to an understanding of areas and types of forest change where no current product works well. There is clearly a wide user base for forest change products. Dr Mitchard applied for funding from the EU and UK research councils and other sources to develop better, satellite radar-based methods for mapping forest change, with clear long-term commercial implications (that could potentially be developed in partnership with Ecometrica).
Background
Plansafe Solutions Ltd is a leading expert in health and safety legislation, solutions and services. Based in Dumfries, the company has customers throughout the UK, Ireland and Europe. Plansafe is also a UKAS accredited asbestos surveying body and has extensive experience across a wide range of properties in this field.
A third division of the company provides Engineering Services and a key aspect of this team is inspecting plant and machinery to ensure that it is fit for purpose, and issuing certificates, similar to a car MOT. This is a statutory requirement for all types of equipment such as cranes and forklift trucks, construction plant and farm machinery, and also minor pressure systems such as air compressors and ventilation equipment.
Challenge
The company had outgrown its manual method of recording the inspection results, and producing client reports and certificates, all of which are a legal requirement, and wanted to move to a streamlined online system. There was nothing commercially available in the present market which met all their needs, so the company, through a referral from Scottish Enterprise, turned to academic expertise to help develop their own tailor-made solution. 
"What we needed was a bespoke and innovative IT system that cut down on data inputting time, reduced administrative burden, and offered customers a web-based, easily accessible and streamlined service," explained Robert Burton, Senior Engineer Surveyor at Plansafe Solutions.
"The new system also had to be compatible with tablets, so that our engineers could input the information as they were out and about visiting client premises and businesses throughout the region. The system also had to be designed so that the information would be fully protected at all times," he added.
Solution
Mari Findlay, Business Engagement Executive at Interface, met Robert Burton, Senior Engineer Surveyor and Plansafe Solutions' Managing Director, David Wood to discuss the company's specific needs and a brief was developed for circulation to universities across Scotland for consideration.
After selecting two universities to speak to in more detail about their proposals, Plansafe chose to collaborate with Dr Robert Kukla and Dr Alan Cannon at The Institute for Informatics and Digital Innovation (IIDI) Edinburgh Napier University to develop the new innovative IT system.
A Scottish Funding Council Innovation Voucher for £5,000 was awarded to fund the initial collaborative work, with Plansafe making a financial contribution towards the final first phase software programme.
Benefits
Robert Burton, Senior Engineer Surveyor at Plansafe Solutions, said:
"Thanks to Interface, Plansafe found the ideal collaborative partner in Edinburgh Napier University whose team were quick to grasp exactly what the project requirements were and to offer a suitable solution.
"The system developed has enabled Plansafe to increase efficiency, rationalise resources and provide clients with a reliable, cost effective service, in order to satisfy their legal obligations." 
Dr Alan Cannon, Research Fellow at Edinburgh Napier University's Institute for Informatics and Digital Innovation, said:
"The funding from the SFC allowed us to transform a very good idea into a commercially viable system to assist safety engineers in their working practice.
Using an iterative methodology, we were able to explore, develop, refine and expand the system whilst addressing the practical conditions of conducting robust safety inspections in the field. The research has shown the system can free up highly valuable time for inspectors allowing them to further concentrate on utilizing their safety expertise.
As researchers, we found it highly satisfying to apply our skills to working closely with such an innovative company with a vision for the future of their industry."
Follow on opportunity
Following this successful collaboration, Plansafe completed a Follow-on Innovation Voucher to further develop the second phase of their software development with Edinburgh Napier University which allowed the refinement of the system to be a viable potential product for other companies in the safety engineering field to adopt. To address the needs of Plansafe and the wider industry other features were investigated and incorporated such as: the inspection of other types of equipment; protected online access for clients to their inspection certificates; the managing of the full inspection lifecycle.
Please note that Interface administers the Innovation Voucher Scheme on behalf of the Scottish Funding Council. All funding applications are reviewed on a case by case basis by the Scottish Funding Council, guidelines can be found here.