The creative and heritage sectors are widely viewed as incredibly fertile spaces for innovation, consistently stepping outside the boundaries of traditional thinking to find new ways of working. As these sectors continues to navigate uncertainly, now more than ever, businesses, organisations and networks are looking to reach their customers in different ways and develop new processes, services and products. However, from identifying possible areas of innovation- to articulation, funding and undertaking R&D – embarking on the journey can seem like a daunting and complicated process.
In this practical workshop, John Mackenzie, Senior Development Manager for Innovation at Highlands and Islands Enterprise (HIE), will break down their range of innovation services, how to access them and talk through the dynamic opportunities it could offer the creative and heritage sectors.
John Mackenzie provides innovation support to both HIE staff and clients providing advice on innovation funding, IP, access to external expertise and support on how to structure an innovation project. He is also HIE'S lead on their partnerships with the Censis and Best innovation centres, the advanced manufacturing cluster builder programme, and Interface.
Background
Smartify is a tech company originally based out of London. It has developed an online platform serving the arts, culture and heritage sector, connecting destinations with their visitors. It provides cultural institutions with cutting-edge digital capabilities to manage the visitor experience; and at the same time, it acts as a platform to help them reach a broader audience. Smartify currently has a reach of over 4 million users as of June 2023.
The Challenge
Smartify was looking to develop its XR (Extended Reality) infrastructure to allow the company to develop experiences which could be easily scaled in a cost-effective manner and across multiple platforms (iOS, Android and Web).  Smartify were needing to develop a novel XR platform to be integrated within the Smartify app. They were looking for academic expertise in AR/VR/XR but also an understanding of the tourism and heritage sector.
The Solution
Smartify were already an active member of the Travel Tech for Scotland (TTfS) community with a strong customer base including Scottish National Galleries, Kelvingrove, National Museums of Scotland, Blair Castle, Highlife Highland, and National Trust for Scotland.
Lesley Judge of TTfS referred Smartify to Interface who made them aware of the *Inward Investment Catalyst Fund. Through Interface's search and matchmaking services, Smartify were introduced to Dr Marco Gilardi from the Division of Computing at the University of the West of Scotland, who has a wealth of experience in AR/VR/XR and has been part of an academic group providing knowledge exchange on this subject for the tourism and heritage sector.
The project aimed to support the company in developing XR applications using web technologies and, in the process, help them develop their market presence in Scotland. The objective of the project was to develop proof of concepts and test them with the market which was achieved successfully with a commercial project delivered as result.
*The Inward Investment Catalyst Fund has been set up by Interface and the Scottish Government to attract and support businesses, not yet located in Scotland to collaborate with academic institutions on their research and development activity to strengthen the case for developing a base in Scotland. 
The Benefits
For the Company
Development of prototype IP leading to continued building of tech infrastructure and creative pipeline
Helped Smartify create a clear tech capabilities roadmap and strategy through a better understanding of the existing technology landscape, capabilities, limitations and opportunities
Enabled a pipeline of projects and helped secure a further contract with major Scottish National cultural institutions.
For the University
Established a sustained and strategic partnership with an innovative tech company
Supported a PhD student to gain hands-on industry experience
Has led to further knowledge transfer activity namely an Accelerated Knowledge Transfer to Innovate Project and a further Knowledge Transfer Partnership
For Scotland
Smartify have set up a Scottish division, creating two new jobs and they have projected that this will double annually over the next three years
With digital increasingly driving transformative new national and international opportunities for the creative and heritage sectors across the Highlands and Islands, Shared Perspectives offers a thought-provoking one day conference exploring what this could mean for your business, project, organisation or network.
Delivered by XpoNorth Digital, this free event will take a practical look at how digital technologies are unlocking ambitious new areas for regional businesses. It will also offer a platform for creative and heritage networks to meet with other sectors, make new connections and discuss collaborative approaches to shared challenges and opportunities.
Hear from a range of inspirational speakers and take part in workshop sessions on how digital storytelling can drive key parts of your business, regional impact and opportunities around the use of AI, crowdsourcing for the heritage sector and how creativity can power rural economies. There will also be an opportunity to meet 1-2-1 with XpoNorth Digital's specialist advisors, HIE's Creative Industries team and members of local development networks.
One-to-one sessions are now available to book on the day with our XpoNorth Digital Sector Specialists:
-Jessica Fox, Screen and Broadcast Specialist Advisor
-Nicola Henderson, Heritage Specialist Advisor
-Tim Wright, Digital Specialist Advisor
Email info@xponorth.co.uk to secure your space!
Produced as a hybrid event, attendees can connect with the programme in-person or online.
The Get Set Yeti app is in development, themed around a clan of yeti characters, that allows younger children to understand their emotions, through discovering 'emotion beasties', enabling difficult concepts to be put across in an age accessible and engaging way.
Background
Get Set Yeti is a Digital Education business, that specialises in using storytelling and character-based learning to make Growth Mindset accessible to younger children at school and at home. They aim to level the 'educational playing field' by helping children from all walks of life develop the skills to become confident, resilient learners. They also provide materials for parents to build their confidence and capacity to do the things at home that have an impact on creating solid school foundations in Early Literacy and Early Numeracy.
Get Set Yeti supports educators and parents to help children develop learning resilience and confidence through building a growth mindset, and through emotional literacy. They offer a range of programmes and resources themed around a clan of yeti characters.
The company came into existence through recognition of a need in the field and has been developed by its founder Carol Arnott. An experienced practitioner both in Primary and Community Education, Carol employed Growth Mindset techniques initially to develop a rhyming story to help local families struggling with learning confidence. The story of "The Yeti's Roar" was born, developed into a book which grew into a learning programme that was successfully trialled in several local schools and nurseries in the Dundee area.
Developing the programme became a passion of Carol's and with the help of Business Gateway and the Elevator Business Accelerator, where Carol was introduced to Interface, her business began and demand quickly developed to the stage of looking to grow the team and expand into other cities – then Covid hit. Unable to get into schools due to closures and distancing regulations and with other contracts put on hold it became apparent that digital learning was the way forward. A new site was built and 'Get Set Yeti' evolved and grew.
The Challenge
Get Set Yeti was created to provide Growth Mindset resources for children under 8 due to the lack of material available. In the educational climate, there was a growing need for children to learn to be more resilient in learning and it was widely recognised that learning to develop a 'Growth Mindset' could successfully meet this need.
Get Set Yeti was interested in developing an app or platform that could help young children understand and process emotions using Growth Mindset to help maintain positive mental health.
The Solution
Through the Accelerator in Dundee, Carol met Lorna Watson of Interface who identified University of Dundee's Dr Michael Crabb (School of Science and Engineering) and Dr Alexia Barrable (School of Education and Social Work) who had the required academic expertise to develop an app that could help younger children develop emotional literacy and self-regulation. This initial project was taken forward with a £5000 Standard Innovation Voucher.  
The team at the University of Dundee helped initialise 'The Yeti Field Guide to Feelings' app to help children develop emotional literacy, supported by parents and educators.
Based on the premise that deep in the forest on top of Yeti Mountain the yetis sometimes come across 'Emotion Beasties' that have escaped from children in the villages below. Once caught, the yetis learn how to look after them using their special book 'The Yeti Field Guide to Feelings'. They learn that caring for feelings takes practise and learn techniques to manage them through online interaction and additional printable activities and resources.
The app will incorporate:
Simple gameplay to capture the engagement of the user.
Diagnostic tool Information on emotions.
A range of resources and tools to reinforce and support, designed by appropriate mental health experts.
This innovation sits right at the heart of Get Set Yeti's core strategy as it uses process design to help children and families understand difficult concepts and gives them the tools to develop skills to learn successfully using Growth Mindset techniques.
The Benefits
Get Set Yeti created a collaborative co-design programme for children and are in the process of securing funding to create the app with all the necessary building blocks in place.
Get Set Yeti have developed an ongoing partnership with the University of Dundee and are able to provide opportunities for current students and graduates.
Further opportunities to connect to the School of Education, CLD and Social Work during the testing phase of the app, along with the Department of Science and Engineering.
The Next Steps
Get Set Yeti have transitioned through the restrictions brought about by Covid19, transforming from a localised, face-to-face delivery company to an online-learning portal with international potential.
Following on from this initial project the relationship between Interface and Get Set Yeti has continued to grow and there have been several more successful student projects/placements for a range of things from marketing to behavioural analysis as follows:
Due the restrictions brought about through Covid19 Get Set Yeti pivoted to produce a digital version of their material and with the help of Abertay University the company developed a digital marketing strategy to promote their digital offering and transform from a localised business to offer their products nationally and develop a marketing campaign to appeal to local authorities, head teachers, infant teachers and parents.

A successful student placement project with the University of West of Scotland helped Get Set Yeti achieve a targeted marketing campaign appealing to potential clients and partners; utilising social media and other appropriate available channels.
The University of Stirling undertook some behavioural analysis to help Get Set Yeti understand and develop customer personas to allow them to enter new markets and target their future campaigns for maximum impact.

University of Highlands and Islands students are currently working directly with the Musical Director and CEO to help devise a digital marketing and social media campaign to promote an album of original 'Yeti Songs' to enhance the delivery of Growth Mindset learning to younger children and their families.


Leanne Cairns Millinery designing and producing Occasion Wear Bio Hats, which are 3D printed, environmentally friendly, Low Carbon, Zero Waste and Industrially Bio-degradeable.
Background
Leanne Cairns, a milliner, based in rural Ayrshire has been designing and creating hats, fascinators and wedding head dresses for her clients from her studio for several years. She is dedicated to creating bespoke luxury and elegant millinery for special occasions.
The Challenge
Leanne saw potential in the largely untapped Scottish market within the wedding and up market, occasion wear, events sector for individually crafted, bespoke hats that could be created in exactly the right colour for matching outfits, as well as being made from locally sourced environmentally circular materials that offered very individual, ethically sourced and quickly manufactured hats.
Leanne from an early age enjoyed sewing, making, drawing and painting. She originally studied an Interior Design BSC and then through various design related employment, Leanne developed a love of 3D design Auto CAD, spacial and technical design, ingenuity of structural design and pattern making.
Leanne has always been of the mindset of 'Make Do and Mend' having always been someone that never throws away anything if it can be re-used in a creative way. An avid recycler from childhood this was always the background driver in her traditional craft of millinery and so a mission to be more sustainable in the design and production was a natural progression.
Leanne Cairns Millinery's clients were mainly in the 35+ age bracket however Leanne identified a potential market segment in the 18-35 age bracket that didn't understand or know about the social and confidence building benefits of wearing hats. Market research of this potential target market was undertaken by students in Fashion Marketing at Glasgow Caledonian University supported by Interface. The research clarified that the 18- 35 age segment were very eco-conscious and wanted to make a difference to the planet by not buying fashion that would contribute to landfill accumulation.
The findings of this research lead onto a further collaboration with the team at Napier University to discover a circular, zero waste product that would lead onto a commitment to providing innovative new hat design and manufacturing utilising 3d printing with industrially bio-degradeable materials that are locally and ethically sourced, with a low carbon footprint.
The Solution
Leanne was originally referred to Interface by West Coast Accelerator. Mari of Interface was able to identify Edinburgh Napier University as a partner and academic Dr Samantha Vettese who had the interest and experience required for Leanne's project. A Scottish Funding Council Innovation Voucher was secured.
Leanne worked with Dr Samantha Vettese and Dr Xingyu Chloe Tao, on 3D product designing, 3D prototyping and general development of 3D recycled millinery which included:
Design Modelling on 3D software
Product Development
Creative Input
Manufacturing Prototype /design
The Benefits
Leanne very much believes in designing and producing products, which can be 3D printed, are environmentally friendly with recycling and re-using the wearable hats at the end of their life cycle. A take back scheme of the manufactured designs would be a differentiator and make a difference to the planet and the surrounding environment by re-using the product in the biodegration process to create energy and other products, thus prolonging a circular end of life.
Some of the main benefits of the collaboration are:
Successful development of prototypes for market testing helping showcase the possibilities of 3D printing in occasion wear hats.
The capability to produce environmentally friendly, recycled, wearable hat art to be sold via e-commerce, designed using STEM (Science, Technology, Engineering and Mathematics) and digital products to be sold to 3D printing enthusiasts with no wastage and low carbon footprint.
Potential to push the boundaries of this traditional based industry in a more STEM and modern approach to climate change.
Ability to make more sculptural and futuristic head pieces designed by Leanne Cairns Millinery and sell utilising online, e-commerce and bespoke commissions within the fashion houses or private clients.
Ability to rapidly prototype and manufacture efficiently with digital adoption.
Opening up new markets for Leanne Cairns Millinery in the online sector with branding via tourism, metaverse, blockchain and e-commerce.
Leanne Cairns Millinery becoming a South Ayrshire Carbon Champion with the prototype and organisation carbon auditing achieved with low results and a commitment to Net Zero by 2050 via the SME Climate Hub
Continuation of R&D via Student Innovation Voucher with a brilliant relationship now established with Napier University.
How can your clothes be the interface to a better tomorrow?
Edinburgh Futures Institute would like to invite you to consider new ways of considering the clothes you wear as a landscape for technology innovation.
From AI enabled design and co-creation, to robotic textile surfaces, data driven business models and hybrid human experiences across emergent metaverse worlds.
Our requirement to consider sustainable applications for production and consumption of clothing and its potential, leads us to create an event for the hackers, builders, entrepreneurs, material specialists, roboticists, data scientists, anthropologists and fashion experts ready to tackle some of the key challenges of innovating in the sector.
With application across business, care, manufacture, design, material innovations, circular economy, architecture and more, this event aims to collaboratively explore opportunities to re-imagine fashion and technology together at a FashionTech Gathering on 2 December 2022 at the University of Edinburgh entitled 'Shaping the Future of Fashion'.
As the industry is considering sustainable methods of production, how to harness technology and data to improve production, distribution and customer understanding, we wish to support the journey towards solutions. We need to co-design new circular systems, develop new production methods and the talent that this future needs.
The Institute of Design Informatics recognising these challenges and skills needs is preparing to pilot new Masters opportunities in areas of Fashion Informatics, to which industry can contribute, and in the year ahead draw those skills into your company to undertake a challenge project, and a cohort you can recruit from in the near future.
Register
Rabbie Burns goes virtual – Robert Burns Ellisland Farm recreated in Minecraft highlighting the life and great works of the National Bard.
Ellisland Museum & Farm was the farmhouse built by Robert Burns, Scotland's National Bard in 1788. It was his home, where he farmed, and where he worked as an Excise officer. Today Ellisland is a much-celebrated museum housing one of the world's most important collections of Burns treasures.
Background
Ellisland Museum & Farm near Dumfries was the farmhouse built by Robert Burns and was his home until 1791 where he farmed and worked as an Excise officer. During his time living there he experienced his most creative and fruitful years in terms of his poetry and song. This is where he wrote Tam O'Shanter and Auld Lang Syne. Today Ellisland is a much-celebrated museum housing one of the world's most important collections of Burns treasures.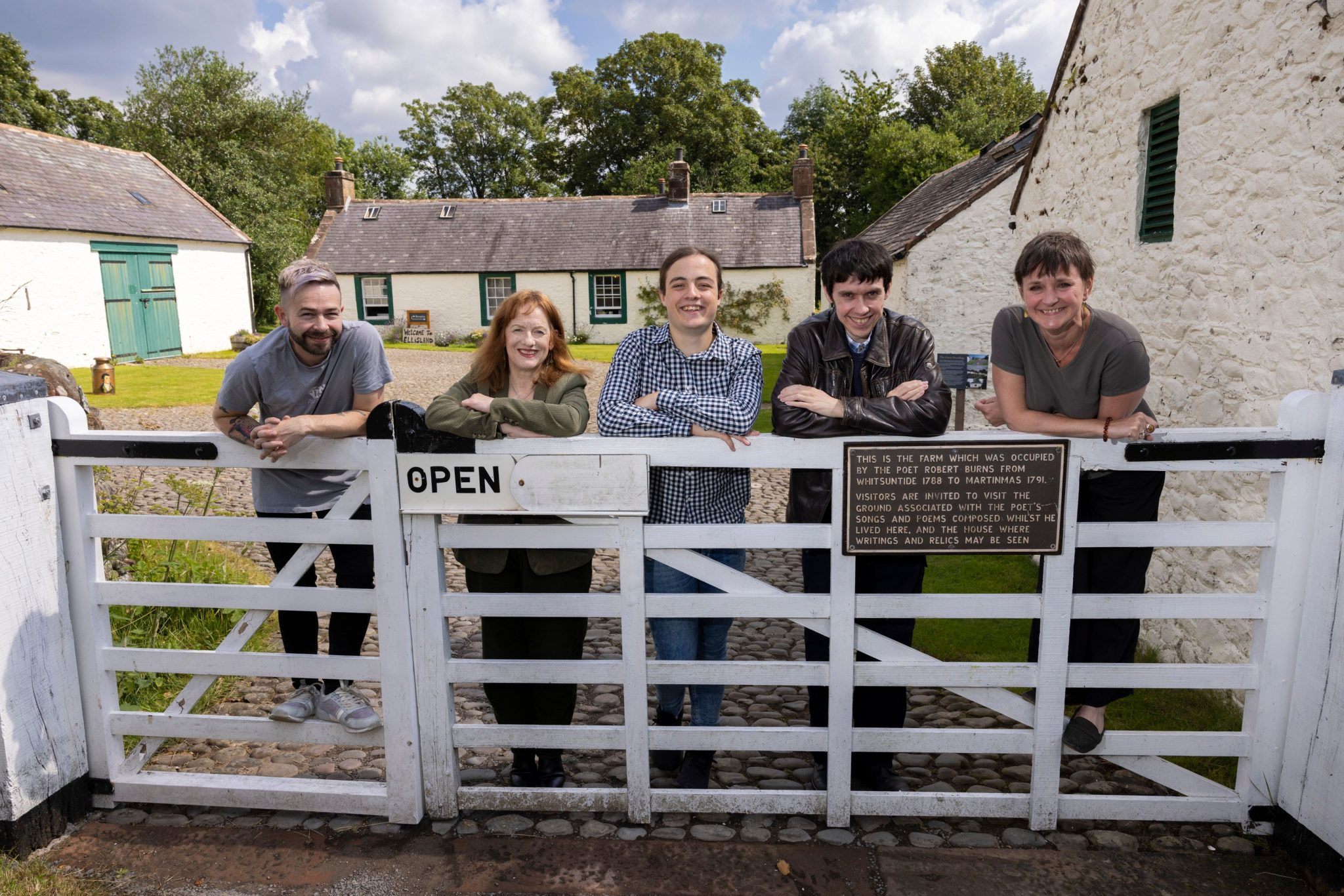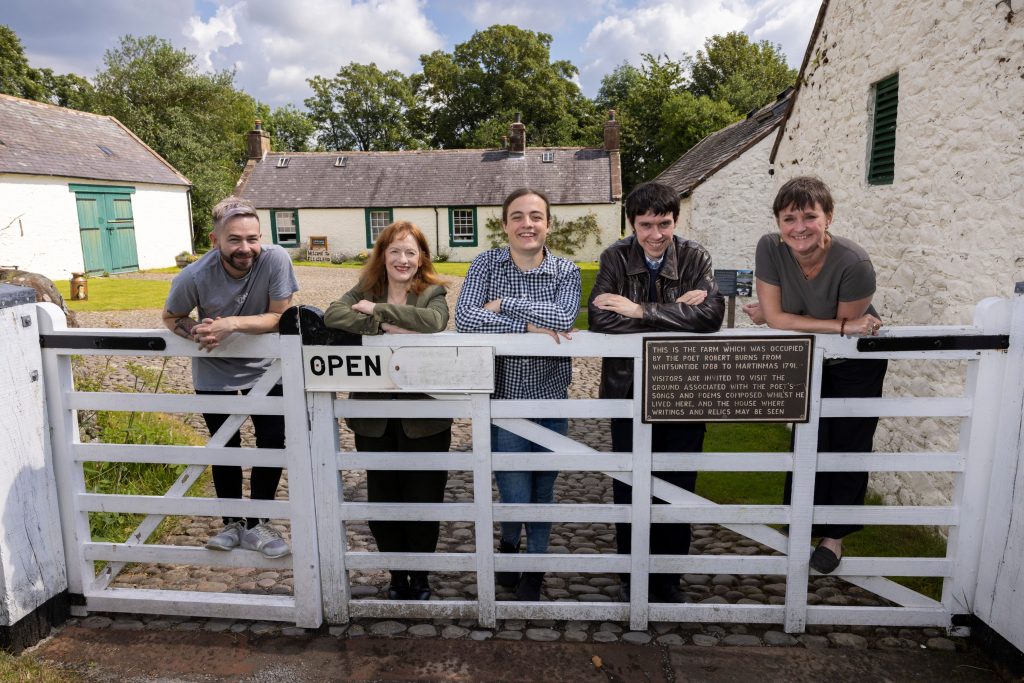 The Challenge
During 2020/21 Covid-19 saw visitor numbers drop dramatically and visitor attractions closing their doors for a significantly long period, some of them indefinitely. The main challenge during this time was how to maintain interest, widen reach and encourage visitors to return.
The Ellisland Trust, who run the Ellisland Museum & Farm wanted to develop an interactive Robert Burns Minecraft digital experience appealing to a younger audience to highlight the life and great works of the National Bard. Their idea was to depict his life as an Excise Officer and farmer as well as highlighting his poems and songs and other Burns associated landmarks in Dumfries and Ayrshire.
The Solution
Ellisland Farm, where Burns lived from 1788-1791, has been brought back to virtual life in Minecraft.
Students and academics at the University of Glasgow worked with the Robert Burns Ellisland Trust to faithfully recreate, in Minecraft, the 18th-century farm as Burns and his family knew it.
The Minecraft Ellisland world was built by around 15 students – undergraduates and postgraduates drawn from a range of different subjects – who are part of the University's Minecraft Society.
Bailey Hodgson, the Minecraft Society's President and one of its founders, who has been using Minecraft for 12 years, played a significant role both in project setup and delivery.
The Minecraft Ellisland project was led by Dr Timothy Peacock and Dr Matthew Barr from the University's Game and Gaming Lab, a cross-disciplinary lab – based in the University's College of Arts – with a focus on how games and gaming can be used in research and teaching.
Interface were able to find an academic partner at very short notice to tie in with funding from South of Scotland Destination Alliance (SSDA) and made the relevant introductions between the University of Glasgow, SSDA and Ellisland Trust.
The project was funded through SSDA from the Scottish Government's Tourism Leadership & Recovery Fund which supports tourism enterprises taking the lead in the sector's COVID-19 recovery.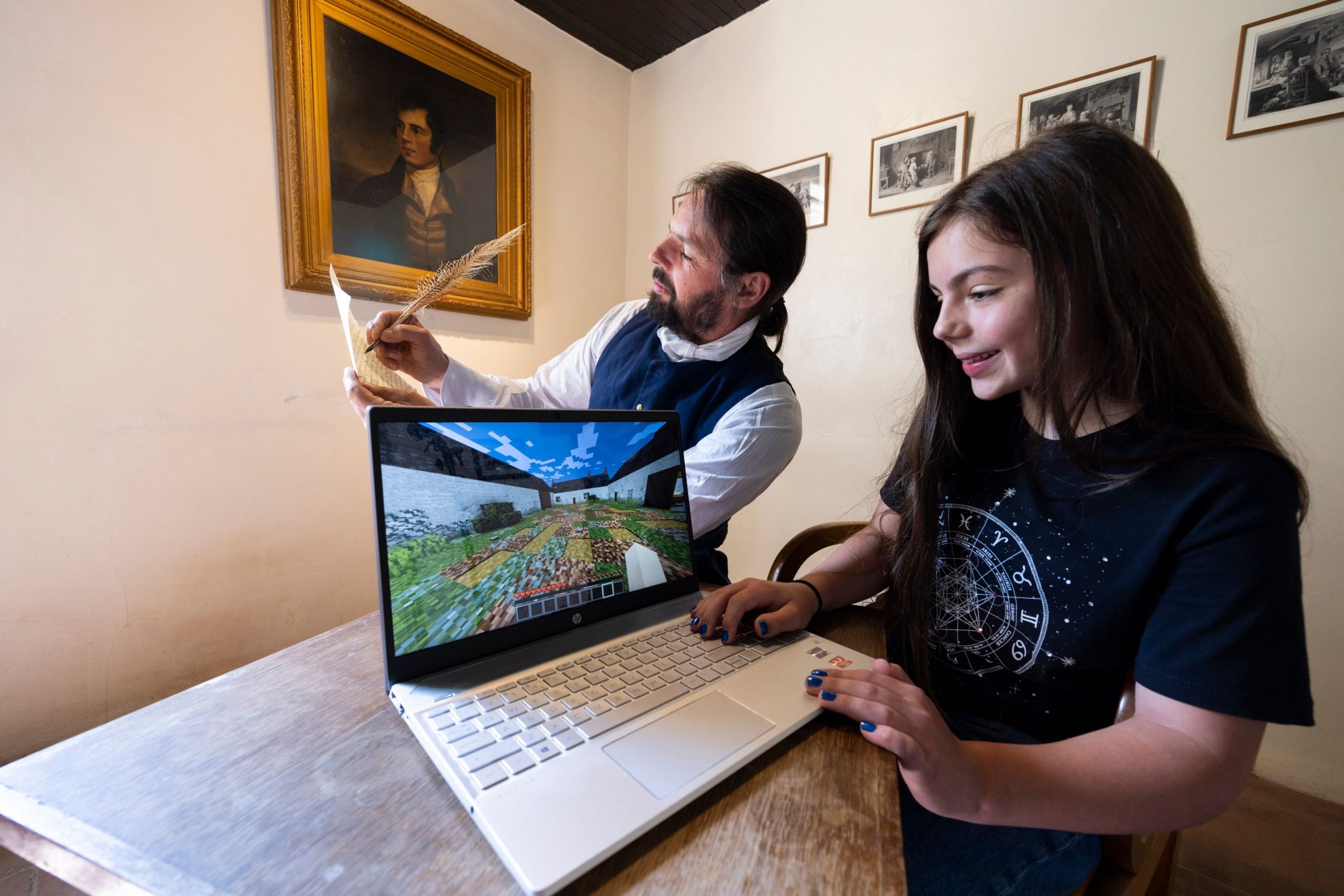 The Benefits
The Robert Burns Minecraft experience is an innovative use of gaming technology to reach a wider, younger audience. Engaging young people with Robert Burns in a modern, appealing way will help to raise the profile of his work and lead to an increase in visitors to the Ellisland Farm and other associated Robert Burns visitor attractions in and around Dumfries and Ayrshire.
Players have an opportunity to not only hear Burns' poetry and song while in the Minecraft world but are also able to converse in Scots with the poet and his wife Jean Armour. It is believed to be the first time Scots has been spoken on Minecraft, which has nearly 140 million monthly active users around the world.
The Burns Minecraft experience has widened the reach and appeal of Robert Burns, his life and works, attracted a younger demographic and helped the Ellisland Museum and Farm thrive and survive post Covid-19.
Background
In his spare time, Mark Yeadon, founding Director of c-monsta, is an avid surfer. It was during his surfing trips that Mark became frustrated about the lack of way to allow his surf kit to dry, keep it all together and transport in a convenient manner. This led to the development of an early-stage prototype of a wetsuit dryer, a form of hanger, shaped so that boots and gloves could be hung in an inverted position, allowing them to dry; with a further row that could also hold a wetsuit.
It just so happened that the shape Mark had created looked very much like a sea-monster, and so c-monsta was born!
Throughout the development stage, Mark produced several working prototypes, so he knew the concept was viable and that it functioned effectively.
Challenge
Mark was looking to work in collaboration with a university partner to develop the product further by enhancing the design, minimising the use of materials, and identifying the best possible materials that could be used in the manufacturing process. Design expertise was needed to make the product fully market ready.
Solution
After being referred by Business Gateway in Moray, Carol-Ann Adams from Interface successfully partnered Mark with Nick Bell from the Product Design Engineering Department at Glasgow School of Art (GSA).
The project focused on optimising the design by taking advantage of the product design skills, detailed materials knowledge, and extensive network of manufacturers that GSA has, to develop a design that would have great functionality and could be manufactured at a price point that would make the product commercially viable.
The collaboration was an immediate success, using GSA's skills and the client's network of surfers to develop a product that was viable for manufacture in Scotland. Glasgow School of Art has excellent facilities – including 3D Computer Aided Design software, 3D printing facilities and a full wood and metal workshop – all of which were utilised for this project.
This first stage project was funded by a Scottish Funding Council Standard Innovation Voucher.
Benefits
Company
The novel aspect of this product is the combination of features that allow the surfer or watersports enthusiast to air dry their wetsuit, boots and gloves effectively and without using electrical power. The geometry of the product allows the optimal positioning of the equipment – enabling water to drain out and to allow airflow to quickly dry the kit ready for the next session. By keeping the equipment dry, this design also extends its lifespan.
The added bonus is that the hanger keeps all the equipment organised and in one place – so the surfer should never forget a key item. There are no products on the market that have this combination of features and functionality.
The product has now been developed and sales have surpassed expectations, as more people have been taking up outdoor pursuits such as wild water swimming.
Scottish Economy
It is hoped that the manufacturing of the final product will be done in Scotland – building on links that both the client and GSA have with Scottish manufacturers and as part of GSA's commitment to the reshoring of manufacturing jobs. The geometry and manufacturing processes employed will be selected so that recycled plastic material can be used where possible.
Follow-on Activity
The company and academic then successfully applied for a Scottish Funding Council Student Placement Voucher to build on the solid foundation of the c-monsta product design. Callum Leitch, a student from GSA, worked with the company to refine the existing product architecture and materials to make it suitable for the needs of the snow sports market.
Benefits – Company
This follow-on project provided the company with a great opportunity to engage with the knowledge and expertise of the student and academic supervisor – reinforcing the links formed during the initial Innovation Voucher funded project. By utilising the student's Project Design Engineering skillset, the company is hoping to penetrate new markets and increase sales.
Benefits – Academic
This provided an excellent opportunity for the student to see first-hand the real-world commercial value and application of the skills they had developed during their degree studies and allow them to produce invaluable content for their portfolio.
The project also provided the basis of an excellent case study for the Product Design Engineering (PDE) department at GSA, showing the current students the real-world application of the PDE skills and processes; taking an initial idea right through the development process, through sketches, prototypes, design reviews and ultimately to a manufactured product.
Students do not often get the opportunity to see projects make it to market, so these types of client projects are invaluable at highlighting the value of the skills they are learning. It's also a fantastic opportunity to show the value of the teaching/research/enterprise linkages, reinforcing the links between the PDE academic staff and Scottish entrepreneurs.
"From the outset, Callum not only brought enthusiasm to the project, he also took a solid analytical, methodical and practical approach to the problem of drying and storing ski kit. Callum's design skills were bolstered by great communication skills which made him a pleasure to work with." Mark Yeadon, Director, c-monsta
Background
Scottish Ballet, founded in 1969, is Scotland's national dance company and one of five national performing companies in Scotland. It is a registered charity, employing 37 professional dancers, a dedicated support staff, and a freelance orchestra of up to 70 musicians.
Challenge
Within Scottish Ballet, training is entrenched in traditions that do not reflect other related performance domains (e.g., sport). Their dance artists have relatively brief careers because it is common for a career-threatening injury to occur as a result of incorrect technique execution. This comes at a cost to the organization and its artists.
Solution
Scottish Ballet and the Institute for Sport, Physical Education and Health Sciences at the University of Edinburgh connected as a result of a networking opportunity at an international dance science conference. Their collaborative project proposed that existing practices within Scottish Ballet would benefit from tailoring new 'cutting edge' evidence-based approaches, recently applied in other domains (i.e., golf and weightlifting), to enhance training outcomes.
As the company had previously received a Scottish Funding Council Standard Innovation Voucher for a project with the Glasgow School of Art, they were able to apply for an Advanced Innovation Voucher, administered by Interface, to fund this collaboration with the University of Edinburgh.
In contrast to traditional practices that copy an entrenched (but not always appropriate) way of teaching, this project was grounded in the view that each dancer possesses important characteristics (e.g., physical, psychological, social) that require bespoke teaching considerations. Understanding "what is required and why", followed by consideration of "how to do it" reflects an "expertise-approach" that is currently not employed within Scottish Ballet. Work funded by the Advanced Innovation Voucher would introduce a model and its requisite thinking skills, using the expertise-approach, to enhance workplace practices.
Benefits
Company
Collaboratively translating the latest innovations within movement science/coaching research would provide Scottish Ballet with an interdisciplinary understanding and practical tool; enabling a sustainable future pathway for modifying well-learnt skills in a way that is safe, long-term permanent, timely and resistant to negative effects of performance anxiety. Specifically, the University of Edinburgh created a new framework for classical ballet from a recent but non-domain specific five-stage holistic framework to be used by teachers, choreographers and support practitioners: analysis, awareness, adjustment, automation, and a series of proactive steps to test and secure the change under high pressure conditions.
This project provided insight into new, innovative ways of approaching training and performance within the realm of elite ballet. It will advance physical and psychological practices proposed by sport research and provide a template to guide new and safe workplace behaviours in Scottish Ballet. The framework is important when needing to adapt performances based on choreographic nuances, changes to performance space/surfaces/equipment/costume and avoidance of injury caused by existing bad habits. The project further strengthened the realisation of supporting their elite performers in a holistic manner.
Following this project, it is the intention of Scottish Ballet to further embed this work with the support from the University of Edinburgh. Once implemented with high efficacy, they expect positive outcomes towards the longevity of their dancers' careers, improved safety and, ultimately, performance standard.
Once this has been achieved within Scottish Ballet, the plan is to extend such a service to other professional ballet companies and their feeder schools within the UK, in partnership with the University of Edinburgh. Currently Scottish Ballet work in association with the Royal Ballet, Birmingham Royal Ballet and the English National Ballet, all of whom would benefit from this innovation.
Whilst there have been no cost savings as a direct result of this project, and during COVID-19 circumstances, Scottish Ballet anticipates that future collaboration with the University will lead to these being achieved.
Academic
This project has served to expand and consolidate the University's understanding of the professional ballet domain. They are now confident that there is alignment between the company's and their pragmatic philosophy towards professional practice. The interactions between Scottish Ballet and the University of Edinburgh were highly professional and collaborative in nature and the University looks forward to working together in the future to bring these ideas into fruition.
Scottish Economy
If this framework were to be scaled up across other organizations, it could lead to savings for the NHS related to rehabilitation from injury.
For more in-depth information about the project, and a chance to hear directly from the partners, check out our webinar, Finding Funds and Expertise for Scottish Governing Bodies of Sport