The 50th anniversary of SPE Offshore Europe takes place between 5-8 September 2023 at the P&J Live Aberdeen, to secure sustainable and equitable energy for the next 50 years and beyond.
If you are ready to connect with the Offshore Energy industry, network with brands across the entire value chain to find the latest innovations and developments within the industry and discover cutting-edge insights and trends attend the SPE conference designed around the four key themes of Energy Security, Energy Transition, Innovative Technology and Future Talent.
Reconnect with the industry to explore the evolving nature of the energy industry.
To find out more and to register visit SPE Offshore Europe
Evolve™ green energy technology is the first hydrogen electrolysis solution that can extract hydrogen from any natural water source including groundwater, tap water, and seawater, without desalination.
Background
Evolve Hydrogen Ltd wants to develop novel Proton Exchange Membrane (PEM) electrolyser technology to produce "green" hydrogen for use in industrial processes. This innovation unlike the traditional flat-stack designs of common PEM and alkaline electrolysers is designed in a honeycomb configuration with reactive parts placed in a concentric layout. The reactive parts are fabricated via injection moulding of a custom polymer which allow this technology to utilise impure water sources.
The Challenge
In developing their technology Evolve Hydrogen Ltd required a bespoke polymer material that enabled direct electrolysis of impure water sources, for example, seawater without the need for desalination. Optimisation of this material required a thorough understanding of its electrochemical performance and transport mechanism in various electrolysis environments. To improve the efficiencies of their prototypes this project required electrochemical engineering expertise to give a full characterisation of the polymer raw material and to recommend improvements in composition to advance Evolve™ technology.
The Solution
Evolve Hydrogen Ltd sought the expertise of the University of Strathclyde to perform this project based on recommendations by their technical advisors, two of whom were alumni of Strathclyde University. Funding provided by Interface's Inward Investment Catalyst Fund permitted the material characterization of the original polymer and suggestions for efficiency improvements to be carried out by the University of Strathclyde.
Evolve Hydrogen Ltd provided samples and previous technical data to the University's research staff, who performed the physical and electrochemical characterisation required as part of Evolve's aim to achieve TRL 4 (Technology Readiness Level) status. Dr Edward Brightman and his team of electrochemical engineers used their expertise to create a specialised test cell. They also demonstrated the knowledge and the flexibility to adjust the research scope to address new questions of the materials being analysed.
The work performed by the team of electrochemical engineers successfully characterised the original polymer material and suggested material and dimensional changes to improve the efficiencies of Evolve Hydrogen's technology.
The Future
Evolve Hydrogen Ltd is committed to working with the University of Strathclyde because of their demonstrated level of professionalism, knowledge, creative thought, and the working relationship that has been established. The University, the Power Networks Demonstration Centre (PNDC), and their industrial partners plan to collaborate for the testing of future prototypes and the fabrication of Minimal Viable Products for Evolve Hydrogen's demonstrations. They are seeking joint funding together to support an R&D pathway towards commercialisation in Scotland.
The Benefits
The benefit of this project is to further the development of a novel green hydrogen production technology and to commercialise the technology in Scotland.
Decarbonization of transportation and many industrial processes with the integration of Evolve's technology throughout Scotland.
Development of future strategic partnerships with key industry players in manufacturing, polymer production, and hydrogen end users such as offshore wind farms, utilities, and the transportation sector.
With the global demand for electrolysers far exceeding the supply Evolve see a tremendous growth in exports of their technology for Scotland starting in 2024.
This project benefitted from the Scottish Inward Investment Catalyst Fund. The Scottish Inward Investment Catalyst Fund launched by Interface and the Scottish Government promotes Scotland as a leading destination for inward investment and supports businesses not yet located in Scotland but seeking to establish stronger ties with academia here. As well as funding research and development it provides an opportunity for the company to establish relationships and give insight into other aspects of the Scottish landscape, such as further investment opportunities, supply chains and the skills base to strengthen the case for investing in Scotland.
Subsea Expo is the world's leading annual subsea exhibition and conference, held annually at P&J Live in Aberdeen, and also includes the industry's prestigious awards ceremony, the Subsea Expo Awards.
The exhibition and conference are completely free to attend.
The exhibition is a quality-focused event showcasing the capabilities, innovations and cutting-edge technologies of the underwater sectors, with over 185 exhibitors and 6,500 delegates attending the latest show.
The conference runs multiple parallel sessions and attracts a broad range of experts to discuss the challenges facing the industry, new and transformational technologies, digitalisation, clean energy and the path to net zero, among other topics.
The Subsea Expo Awards dinner is an opportunity to join friends, colleagues and peers in celebrating the accomplishments of the industry's standout individuals and companies and is held at P&J Live in Aberdeen.
Subsea Expo is organised by the Global Underwater Hub.
Background
Entergaia Technologies located in Aberdeen, Scotland is a holding company for value creating entities in the areas of energy technology and AI and Analytical software development. Entergaia Technologies aims to push the boundaries of innovation and technology.
Formed in 2018, Entergaia Technologies were looking to develop a long-range wireless power transfer (WPT) solution that would result in the creation of a new portfolio focusing on long range wireless power transfer.
Wireless power transfer (WPT), wireless power transmission, wireless energy transmission (WET), or electromagnetic power transfer is the transmission of electrical energy without wires as a physical link. The technology of wireless power transmission can eliminate the use of the wires and batteries, thus increasing the mobility, convenience, and safety of an electronic device for all users. Wireless power transfer is useful to power electrical devices where interconnecting wires are inconvenient, hazardous, or are not possible.
The Challenge
The manufacturing process of electrical wire, steel and batteries emit enormous greenhouse gases into the atmosphere. Entergaia Technologies wanted to develop a Wireless Power Transfer System (WPT) that demonstrated the long-range transmission of electrical power which could gradually reduce the use of steel wires and reduce the number of batteries used in storing electricity, which would in turn, reduce greenhouse emission and improve environmental sustainability. There was evidence to suggest that Entergaia's WPT model worked but only over short distances.
Entergaia Technologies required assistance from an academic institution to investigate potentially three projects. Initially a proof of concept to look at the notion of beaming electricity from the point of production to the point of utilisation without electrical cables or batteries, followed by testing of such a model and then the development of a demonstrator.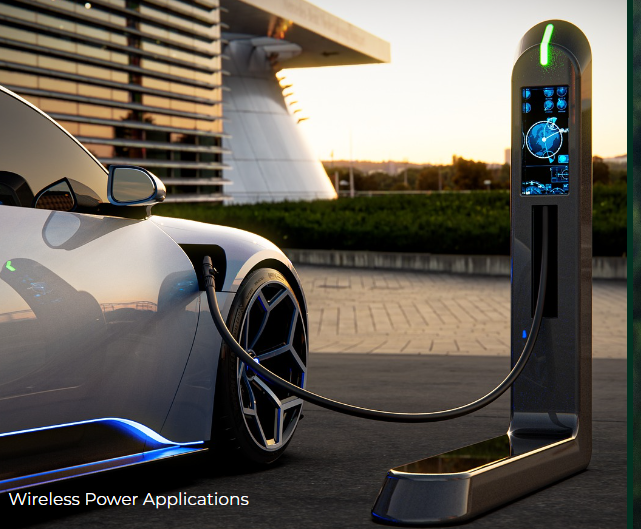 The Solution
Entergaia Technologies with assistance from Dr Peng Li of the University of Aberdeen aimed to develop a Wireless Power Transfer System (WPT) that demonstrated the long-range transmission of electrical power. The solution would gradually reduce the use of steel wires and reduce the number of batteries used in storing electricity, which would in turn, reduce the amount of greenhouse gases emitted into the atmosphere through the production of steel cables and batteries.
During the initial phase, the application focussed on the possibility of a long-range wireless-powered electric vehicle charging system that was beyond any current near field deployments in existence. Subsequently simulations showed that long range transfer of electrical power is possible.
The work also established the possibility of electromagnetic beam tracking and directioning – which means tracking the transmitted electrical energy in motion. The beam technology would help in future developments of a wireless power charging solution that is mobile and semi-autonomous, enabling charging of electric vehicles in motion or beaming electrical energy from space, where there are no energy losses due to positional changes.
This phase also identified areas of the components analysed that require significant improvement and showed the possibility to combine some technologies to help future prototyping and product development. The understanding derived from this work would be beneficial for Entergaia's future strategy in deploying associated products such as beaming electricity from space, wireless electricity deployment during emergencies, beaming wireless electricity to charge robots, IOT devices and remote vehicles (ROVs).
The Future
The result from the initial collaboration with the University of Aberdeen showed that although it was possible to develop a Wireless Power Transfer System (WPT) that demonstrated the long-range transmission of electrical power there was the need to increase power efficiency received at the receiving end that would eventually charge the battery. Entergaia Technologies' focus then turned to optimising the receiving end that charges the battery – a rectenna, to enable effective conversion of the microwave radiation received, to electrical energy, and loading the charge effectively onto the battery or other alternative storage.
Entergaia Technologies secured an Advanced Innovation Voucher through Interface and partnered with Edinburgh Napier University who are producing an optimised prototype that improves power efficiency.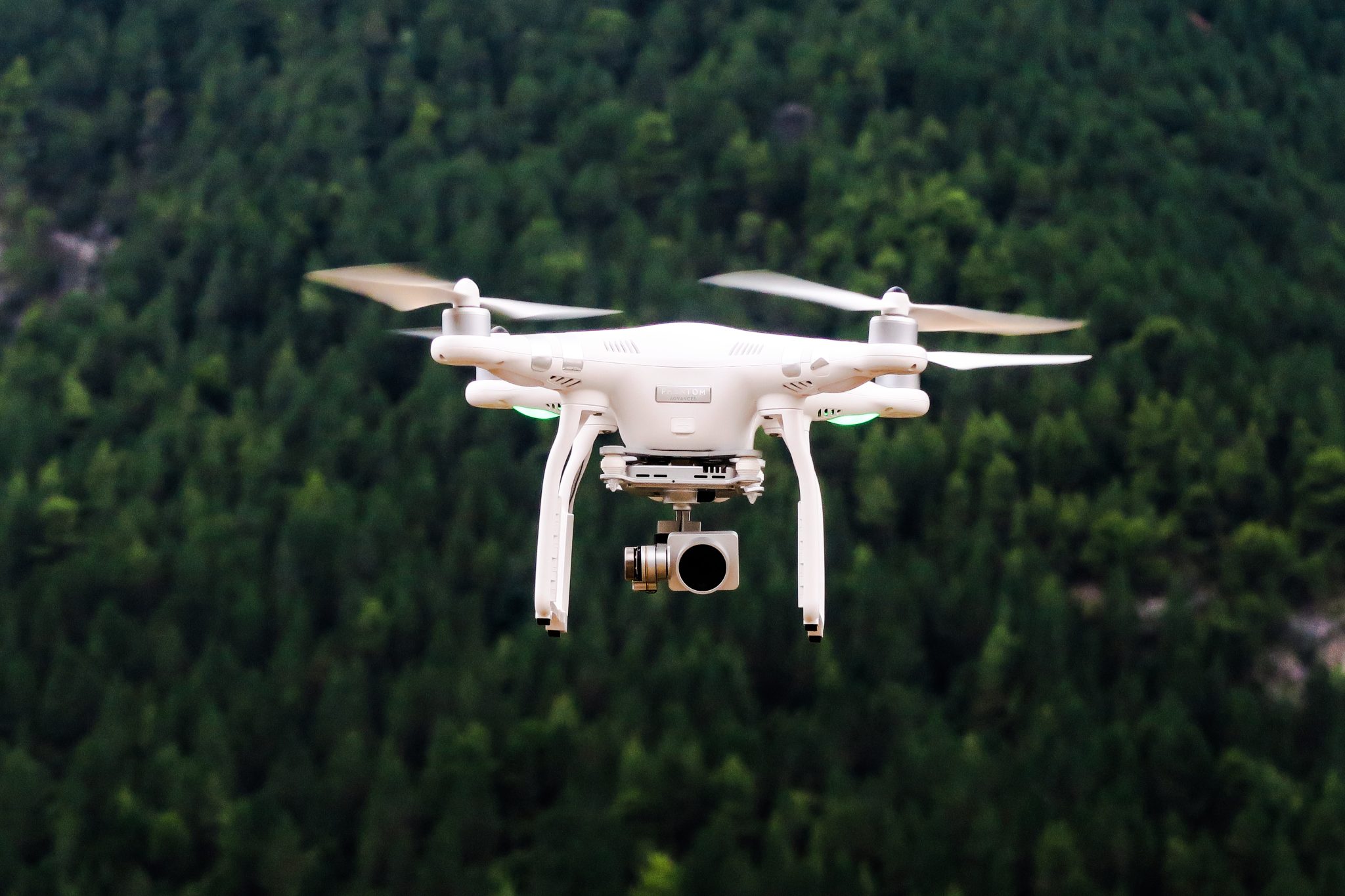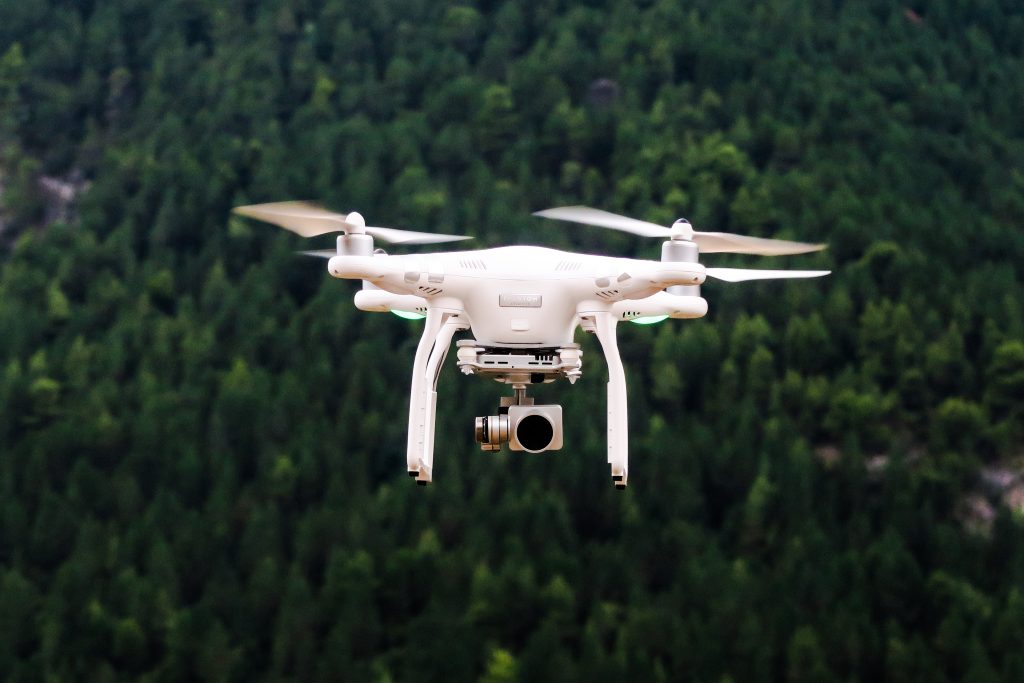 The Benefits
Initial proof of concept established that it was possible to develop a Wireless Power Transfer System (WPT) that demonstrated the long-range transmission of electrical power. Leading to a reduction in the use of steel wires and the number of batteries used in storing electricity, which would in turn, reduce the amount of greenhouse gases emitted into the atmosphere through the production of steel cables and batteries.
The initial collaboration helped Entergaia embark on further product development work with Edinburgh Napier University focussing on optimising both the transmitter and the rectenna (receiver end) to enable effective conversion of the microwave radiation received, to electrical energy, and loading the charge effectively onto the battery or other alternative storage.
The findings are helping inform Entergaia's future strategy in deploying associated products such as wireless electric vehicle charging, beaming electricity from space, wireless electricity deployment during emergencies, beaming wireless electricity to charge robots, IOT devices and remote vehicles (ROVs).
Background
Currently, there isn't a simple way for a heating engineer to determine how dirty a heating system is. This leads to inefficiencies, breakdowns, unnecessary costs and disruption for occupants.
Thermafy Group Ltd. has developed ThermaFy, a digital platform that can determine how dirty a heating system is. It is a leader in real-time thermal analysis; their software allowing the collection and interpretation of thermal data from a smartphone. The software highlights inefficiencies in a heating system and offers a treatment plan that improves efficiency, thus saving money for the customer as well as reducing carbon emissions.
Their current market is the domestic heating industry; working with boiler manufacturers, water treatment companies, installers, surveyors and energy companies.
Challenge
To ensure this software could be rolled out across the industry, it was vitally important that it was easy to use, saving engineers' time. No training modules currently exist that are designed specifically at educating heating engineers on how to use thermal cameras within the job and it is not possible to purchase off-the-shelf modules.
Developing new training modules would help standardise workplace skills, ensuring that engineers could adopt this software and develop new customer, IT and thermography / site based digital skills.
It was crucial that Thermafy Group Ltd. could provide their future customers with these new skills and extra knowledge to support the benefits of using their software.
Solution
Thermafy Group Ltd. had previously been referred to Fife College by the Fife Economic Partnership to use their specialist facilities in order to develop ThermaFy's software. It was during these tests that Fife College realised that the company needed more engagement with the end users, the engineers. Together, they submitted an application to Interface for a Scottish Funding Council Workforce Innovation Voucher, which aims to support innovation by funding the development of a company's workforce.
The expertise available within Fife College's gas training centre and their specialist facilities, combined with the expertise of Thermafy Group Ltd. on these new processes and software, helped develop the specialist accredited modules that would enable the industry to adopt new improved working practises, increasing both their productivity and trust with their customers. It is hoped that these training packages will give rise to a new breed of industry engineers with expertise and skills in the field of validating best practice supported by thermography skills.
Benefits
Company – Fife College assisted in helping and improving ThermaFY's thermal imaging software, used by heating engineers and surveyors to assess buildings in a cost-effective and non-invasive manner. It is a great illustration of a company collaborating with the right academic expertise, in this case, Peter Jones, an academic with 30 years' experience in the gas industry. With his input, the company quickly realised the importance of providing supplementary training material, allowing engineers to gain a better understanding of how to use the app and the thermal data obtained.
Academic – It is clear that the college has helped out ThermaFY significantly, but the benefits are mutual. The college has been able to engage in applied research and ThermaFY have equipped the lecturers with new knowledge from the concept. This knowledge has been disseminated to apprentices and students who have been able to improve their digital skills and given them the confidence to question existing practices within their organisations and the wider sector.
Follow-On Activity
In August 2020, Thermafy Group Ltd. had an Advanced Innovation Voucher to work with Robert Gordon University approved to develop the ThermaFy product in response to COVID-19. The existing ThermaFy product can already extract enough information from a thermal image to classify a subject as having an elevated temperature or not. The company wish to improve the accuracy of their product with respect to COVID-related fever by considering other reasons for elevated temperature (such as environmental, medical, physical factors). Robert Gordon University will provide expertise in data capture, machine learning and deep neural networks to support the product development. The product has already received significant interest with pilot installations of the first solutions being deployed in two hospitals for the Chelsea and Westminster Hospital NHS Trust – see how it's working here. 
Background
Re-Tek, who provide refurbishment and resale of used IT equipment, was established in 1996 and is based in East Kilbride, South Lanarkshire. The business has 45 employees in Scotland as well as partners in Europe, America and Asia. Operating on an 'incentivised return' business model, they are leaders in the IT disposal industry offering re-use as a secure, environmentally sustainable method of asset retirement. In 2018, Re-Tek extended the life of 200,000 used technology items for business and the consumer, therefore preventing the need for these items to be inefficiently or needlessly recycled or landfilled.
The company sources most of its equipment from medium to large-sized businesses and public sector organisations, and they aim to re-market as much of the material received as possible. Approximately 80% of all equipment received is refurbished and re-marketed. Only equipment which is non-functional or has no market value goes to conventional IT recycling partners. Re-Tek's facility has LED lighting throughout, a Biomass Boiler and a 62 Solar Panel Array, providing approximately 80% of their energy needs from renewable sources. They take sustainability and corporate responsibility seriously and work closely with WRAP (Waste and Resources Action Programme) and Zero Waste Scotland.
Challenge
The project partners, Re-Tek and Enscape, were keen to find a partner in academia, specifically individuals or teams with expertise in recycling/reclamation of rare earth minerals and in precious metals recovery from electronic waste. This was to partner in a bid for a €166k tender across four countries in the EU, released by EU Life/WRAP UK, which was designed to identify collection models in phase one, and recovery processes in phase two for Critical Raw Materials (CRMs).
Whilst Re-Tek were confident they could deliver Phase 1 (identifying collection models), they needed to identify a project partner to help them deliver Phase 2 (Recovery Phase), as the extraction process would be quite specialised given the recovery materials.
Solution
The Scottish Institute for Remanufacture referred Re-Tek on to Interface who, after putting out an expertise search to various universities within Scotland, was able to connect them with Professor Andrew S Hursthouse from the School of Computing, Engineering & Physical Sciences at the University of the West of Scotland (UWS).
Re-Tek and UWS were successful in their tender for WRAP and three years on presented the results of their collaboration at The Royal Society in London. The partners are still working together to develop their ideas and are currently involved in a Horizon 2020 two-stage bid. This has also involved Re-Tek and partners networking across the EU through a recent COST Action project co-chaired by Prof Hursthouse.
Benefits
The company received grant funding for approximately two years to support collection models underpinned by Circular Economy initiatives. This will increase the diversion of redundant IT products from traditional recycling and landfill and enhance opportunities for further employment and profitability, whilst income sharing with Social Enterprise partners.
Re-Tek recently won the Sustainability award, sponsored by The Scottish Institute for Remanufacture, at the CeeD Awards 2019.
Follow-on Activity
Whilst Re-Tek reuses approximately 80% of ICT equipment received, the remaining goods are sent to their Recycling Department for preparation before being sent to a downstream recycling partner for further treatment.
Currently, they only remove certain commodities from ICT equipment, e.g. memory, PCBs, hard drives, however they believed that there was a great opportunity to increase their revenues by fully disassembling equipment and segregating by commodity, e.g., aluminum, cables, plastics, etc., which would be advantageous to the recycling partner and should increase the rebate received.
A cost-benefit analysis was required, calculating the cost of disassembling various products and the calculation of the funds received from the recycling partner as a result of the separation. The company was also looking for suggestions for a re-design of the production space to ensure sufficient space was allocated to the disassembly functions.
Interface put out another expertise search to the universities looking for a collaborative partner for this project with the result that the company was allocated a student from the University of Strathclyde's MSc Business Analysis and Consulting programme. The student provided business insights about the project.
Background
Renewable Parts Ltd. (RPL) is one of the leading suppliers of parts for wind turbines in the UK. They are an independent supply chain specialist, providing worldwide delivery of quality parts and consumables direct to site from an extensive collection of centrally held stock.
Challenge
The UK & Ireland market for wind turbines is substantial and growing strongly, with the lifecycle of a wind turbine typically estimated to be 25 years.
Critically, as turbines age, parts consumption rises and customers begin to seek alternatives to long-term service agreements due to shortening planning horizons. This is the point that the need for repair development becomes particularly vital.
Renewable Parts Ltd were looking to develop an innovation programme for the repair of wind turbine parts requiring significant technical expertise from a Scottish university in the areas of market research, technical assessment, design and test before production-ready solutions could be delivered. Following on from this, they were also interested in setting up a Centre of Excellence hub in the field of wind turbine parts repair.
The company also wanted the academic partner to identify and work jointly with industry partners to develop these remanufactured component parts on a commercial basis.
Solution
The company was referred to Interface by Highlands & Islands Enterprise. Interface successfully matched the company with the University of Strathclyde who has expertise across the business and technology areas that the Renewable Parts Ltd project required.
In this collaborative project, the University was looking to apply a multi-disciplinary approach to identify the tasks and areas to be researched. They believed that the combination of the department of Electronic and Electrical Engineering, the Strathclyde Institute for Operations Management (SIOM) and the Scottish Institute for Remanufacture (SIR), hosted at the University of Strathclyde, provided the multi-disciplinary approach needed for the new business models/process that Renewable Parts wanted to investigate, as well as the technology expertise required for remanufacturing of wind turbines.
The project investigated data on wind turbine component failure rates to identify which components could be remanufactured/repaired/reconditioned, and the Strathclyde team completed a report for the company which outlined a number of potential components that might be of interest.
Benefits
Renewable Parts Ltd was successful in not only establishing a partnership with Strathclyde University but in securing funding from the Energy Technology Partnership. The total cost of their initial project was £23,075, with ETP contributing £13,575 in cash, and RPL contributing £9,500 in-kind.
The funding allowed RPL to develop implementation processes for two of these components, enabling the remanufacture/repair/recondition of said parts in-house. This meant that RPL could create a new manufacturing base in their original site of Lochgilphead in Argyll, an economically fragile region of the Highlands and Islands, creating jobs and supply chain opportunities.
In December 2018, the company secured a £171k grant from Zero Waste Scotland. Renewable Parts, which has an operations centre in Renfrew, will use the money for refurbishment projects developed out of Lochgilphead in conjunction with its research partner, the University of Strathclyde.
Chief executive James Barry said: "The opportunity to improve recycling rates within the wind industry is significant."  "The award provided a huge vote of confidence in Renewable Parts and the innovation programme it is driving with the university, in what is seen as a growth industry for Scotland."
Follow-on Activity
RPL are now in phase two of project implementation, pursuing funding opportunities through Government bodies and Industry, and working with University of Strathclyde as their innovation partner.
The company was a finalist for the 2018 VIBES (Scottish Environment Business Awards) in the Circular Economy category, in recognition of their commitment to tackling environmental challenges. They also reached the finals of the Glasgow Business Awards, the Scottish Resources Awards and the Inspiring City Awards.
Impacts of COVID-19 on the business
Certain commitments were pushed back for the initial few weeks of lockdown, however, with a business-as-usual approach, Renewable Parts Ltd continued to grow throughout this time and employed new members of the team in sales, HR, marketing and procurement.
This is (June 2020) a critical time for the business as the first generation of wind turbines are approaching the end of their operational lives – at around 20/25 years old – providing a significant opportunity to capture new business. The company is in the application phase for a second grant with Zero Waste Scotland to continue working with the University of Strathclyde as a partner for developing new capabilities to help its customers reach sustainable business models.
Background
Interface has a strong track record of successfully matching businesses to academics with an overall aim of enabling companies to be more competitive in national or global markets. Innovation can lead to transformation within an industry sector, not only for individual businesses but also for groups of businesses working together to address common challenges.
Many economic reviews, testimonies and new and existing interactions demonstrated that facilitating opportunities for academics to work with groups of companies is an effective way of increasing the impact and reach of innovation on the Scottish economy.

Introduction
The Resource Efficiency Industry Advisory Group for Food & Drink (REIAG) was set up in 2012 as a result of a partnership between Interface Food & Drink, Zero Waste Scotland and the Food and Drink Federation (FDF) Scotland. The aim was to raise awareness and promote opportunities related to environmental sustainability and to stimulate innovation in the food and drink industry.
The membership comprises of 25 prominent Scottish food manufacturers of all sizes and food types, from bakers to brewers and fish processors to fruit growers. The group has a flexible structure where members attend meetings and participate in collaborative projects with academic partners depending on the theme and its relevance to their own business challenges.
Challenge
The Scottish Government's new Circular Economy Strategy has set ambitious goals such as the new food waste reduction target. There is a need to change the way things are currently done from developing new processes to changing the culture of the workforce, so innovation is key in meeting these targets. Measures to reduce and reuse energy and waste support companies to improve efficiencies in a sector where in general, prices are remaining competitive but costs are rising. The sector has become increasingly competitive but can't just rely on developing new products and markets to flourish and achieve the ambitious target of £30bn in revenue for the Scottish food and drink industry by 2030.
Solution
The aim of the REIAG is to drive activities which will improve the environmental sustainability of the businesses and the wider industry. This is achieved through delivering innovation projects with academia, learning journeys and by providing a forum for direct interaction between businesses and experts to share best practices in issues such as waste, water and energy efficiency. Companies with a common purpose are encouraged to collaborate around innovation and can gain easy access to academic and business expertise in a nurturing and supportive environment.
Key outcome
A selection of impactful projects are listed below which have de-risked early stage concepts, providing independent evidence of new ways to enhance the sustainability of the Scottish Food and Drink Industry.
Bacterial removal from recycled water – Shellfish Processors
This project was led by the Scottish Shellfish Marketing Group who collaborated with the University of Edinburgh and the James Hutton Institute to carry out research into the effectiveness of UV lighting to kill bacteria in the wash process and by doing so to increase the number of times the water can be recycled. This has led to a further project using UV and filtration techniques to further enhance the water treatment system.
Heat recovery
This feasibility project was carried out with one of the large companies in the group and Edinburgh Napier University to recycle heat required in the drying process. By deploying the outputs of the project in house, savings of £600,000 a year are forecasted. In addition, the results were disseminated to the other members of the group to explore the viability and application for their own business.
Bio-treatability of food industry effluents
This project was a collaboration with the University of Aberdeen on bio-treatability of waste effluent with six of the companies providing quantitative data and a deeper understanding of what their waste could generate in value whether through anaerobic digestion or other processes. This led to the Scottish Salmon Company winning an Interface Food & Drink competition to undertake more in-depth work with the University assessing viability and return on investment for converting their waste effluent into energy and by-products. The company now have the data to make a commercial decision on investing and integrating the processes across their Scottish operations, which has saved them considerable resource, both staff and financial.
Business benefits
By working together, groups of companies can share best practice, partner on projects of scale with a broad range of academics and industry experts and access funding that encourages new ways of collaborating.
Les McArthur, Operations Director at Dean's of Huntly commented:
The group provides an excellent platform to work together, sharing knowledge and experiences which, along with technical expertise brought in by the organisers, allows us to develop and implement new sustainability measures in our businesses and saves us time and money. These measures range from high to very low cost so there is something for every type of business. The merit of being able to meet with your peers is also invaluable as we can discuss and collectively solve issues. Many of the topics covered can then be supported by onsite surveys meaning that only some time needs to be invested to establish if a particular topic can save your business money whilst also becoming more sustainable.
Academic benefits
The benefits for academia gained are also significant, including establishing new areas for research and knowledge exchange, collaboration with other academics across other disciplines and institutions and greater visibility of academia to industry.
Professor John Currie, Director of the Scottish Energy Centre at Edinburgh Napier University added:
"Edinburgh Napier University and the Scottish Energy Centre have benefited enormously from our involvement in groups such as the Resource Efficiency Industry Advisory Group and the Scottish Craft Distillers Association. Through Interface, they have provided us with the opportunity to work in collaboration with a variety of companies and bring academic thinking to real-life industry challenges."
Background
Whilst two and a half times more heat is consumed than electricity globally, new developments in heat have not been the focus on considerable innovation in recent years.
Sunamp Ltd, which is based in East Lothian, was founded in 2005 by successful technology entrepreneur, Andrew Bissell, who wanted to produce an innovative solution to develop heat batteries that store energy as heat, which can be released on-demand to provide heat and hot water.

Challenge
As over half the world's population live in densely populated cities and countries there is a clear need for heat energy stores in homes to move beyond gas and for homeowners to adopt solar and heat pumps without compromising on space requirements. Therefore Andrew set out to develop a truly practical heat energy store that was much more efficient and compact than hot water tanks and physically small enough for people to easily store in their homes.
Sunamp's innovative idea was to create heat storage systems, using Phase Change Materials (PCMs) that are capable of storing and releasing heat as they change phase. In this way excess energy, which would normally be wasted, can be stored as heat for later use. The patented, non-toxic Sunamp Heat Battery stores and provides heat to warm a building or deliver hot water. The energy is released in much the same way as a hand warmer works.
The issue that Sunamp faced with PCMs is incongruent melting, which affects the PCMs ability to store and release heat over a long lifetime. As a consequence, this was hampering the performance in Sunamp's heat batteries.

Solution
Through Interface, Sunamp was successfully matched with Colin Pulham, Professor of High-Pressure Chemistry and Head of the School of Chemistry at the University of Edinburgh, to analyse the PCMs to develop systems that store renewable energy as heat. They did this by developing additives, which would reduce the effects of any incongruent melting and, therefore, significantly improve the PCM's heat storage properties. This initial project was funded through a Scottish Funding Council Innovation Voucher and although provided some early results, it was only in the close out meeting that the discussions led to further areas to be investigated. The resulting project proposal was successfully awarded an Engineering and Physical Sciences Research Council (EPSRC) Case studentship which subsequently resulted in the PhD student upon graduation joining the Sunamp team as their Materials Scientist.

Benefits
Since the initial partnership that Interface brokered with the University of Edinburgh in 2008, Sunamp has continued to develop their relationship with Professor Pulham and commenced a new relationship through Interface with Dr Tadhg O'Donovan, School of Engineering and Physical Sciences; Mechanical, Process and Energy Engineering at Heriot-Watt University. The value of the relationship between University of Edinburgh and Sunamp has supported career development and employment for post graduate and undergraduate students, a new area of research into phase change materials, leveraged several £100k of funding and facilitated access to facilities such as the Diamond Light Source UK facility. The collaborative partnership will be submitted as an Impact case study to the Research Excellence Framework (REF) 2021 highlighting the significant benefits that have been realised.

Professor Colin Pulham stated:
Follow on Projects
Under an Energy Technology Partnership ​(ETP) student agreement two significant discoveries in relation to Sunamp have been published. Professor Pulham now has a Sunamp focussed team working within the University and some of the collaborative projects have secured EPSRC Impact accelerator and Innovate UK funding.
In 2014 Sunamp secured a Knowledge Transfer Partnership with Heriot- Watt University which aimed to integrate and optimise Heat Batteries with Solar Thermal and Solar Hybrid PV-T (Photovoltaic-Thermal) Panels to develop a competitive, on-demand heat supply solution for domestic households.
In April, 2016, Sunamp raised £3.2m for its sales and manufacturing function in its latest funding round led by an international private investor in the energy market.
"The global thermal energy storage market is expected to reach $1.8 billion by 2020 and we are excited about the potential of our product to solve a worldwide problem," said Chief Executive, Andrew Bissell.
In August 2017 a consortia, which includes Professor Colin Pulham ​with Sunamp and Vantage Power, was awarded £250k from Innovate UK for a project that will look to develop a novel vehicle thermal management solution that addresses hybrid electric bus cabin warm up and thermal loads in stop/start and all electric modes.
In 2017, Sunamp and the University of Glasgow's School of Engineering partnered on a £2 million project linked to clean power and heat generation from the China-UK Research and Innovation Bridges programme, a joint UK/China initiative under the Newton Fund, developing solutions for agri-food, energy, healthcare, and urbanisation.
Andrew Bissell from Sunamp and Prof Pulham from the University of Edinburgh's School of Chemistry won the Powerful Partnership Award at the Scottish Knowledge Exchange Awards 2019.
Sunamp signed a Memorandum of Understanding (MoU) with Chinese company Trina Solar, the world's largest solar solutions company. Trina Solar aims to jointly address the 66m Chinese homes that are heated by coal, converting instead to solar PV-powered heat pumps backed up by energy storage in Sunamp heat batteries so heat is available whenever needed. The excellent performance, quality and stability of the PCM developed early in the University of Edinburgh/Sunamp partnership was foundational to Trina selecting to work with Sunamp. There is potential for very large orders benefiting Sunamp, University of Edinburgh, the inventors and the UK and Scottish economies, and also benefiting the environment via decarbonisation and improved air quality.
The company also secured £2.2 million in funding from Japanese energy provider Osaka Gas.
Sunamp also signed a memorandum of understanding (MoU) with Jiangsu Gomon Renewable Energy Development Co which aims to create an "innovative and unique" heat pump water heater for household use. The partnership aims to develop an innovative and unique heat pump water heater for the residential market, using Gomon heat pumps and Sunamp high energy-density, high power-density Heat Batteries.
Watch the interview with Professor Pulham and Andrew Bissell here: 
Please note that Interface administers the Innovation Voucher Scheme on behalf of the Scottish Funding Council. All funding applications are reviewed on a case-by-case basis by the Scottish Funding Council, guidelines can be found here.