Background
Therme Group is an industry leader in the wellbeing sector with multiple major water-based wellbeing facilities throughout Europe with new facilities in the UK and Canada under construction.
Therme's guiding philosophy is "Wellbeing for all" which delivers a holistic approach to wellbeing and includes a social outreach dimension to make the facilities available to all of the community in the city regions where they have sites. This holistic approach encompasses the aesthetics and design of the built environment, the impact of the water based, and other wellbeing treatments offered and extends to nutrition and the sources of food offered on site.
Therme UK has plans to open a major new £125M facility on the Clyde serving as the regional centre in Scotland to deliver Therme UK's 90:90 UK access strategy. This seeks to position Therme facilities such that 90% of the UK population are within 90 minutes' drive of a Therme facility.
The Challenge
Therme Group have five main guiding principles and areas of focus around which they build their business model and facilities. These are Health, Equity, Security, Learning and Environment. In each case they are interested in strategic research partners that can help Therme as a group deliver improved operational delivery, minimise environmental impact and ultimately improve customer experience.
They have developed subject specific strategic research & development (R&D) relationships with the University of Florence for the built environment and in Scotland they have supported research activity in the University of Glasgow and James Hutton Institute (Dundee) developing frameworks of wellbeing and food technology respectively.
The collaboration facilitated by Interface came about from the combination of a planned major facility in Glasgow and the recognition of the strength in the University of Glasgow in four key areas of research, Wellbeing Research, Informing Policy, Wellbeing Technology and Environmental Technology directly relevant to Therme's long term needs. This led to a feasibility study, supported by Interface, which provided an evidence base for exploring the creation of a global Centre of Wellbeing Research Excellence (WellEX) in Glasgow.
The Solution
Interface made initial introduction and discussions between Therme Group and the University of Glasgow who successfully applied to the Inward investment Catalyst Fund to support a WellEX feasibility.
The basis of the feasibility study was to raise awareness of the opportunity and develop connections between senior management at the Therme Group responsible for Innovation and the relevant Business, Social Science, Health and Technology academics and departments within the University. In particular, the feasibility exercise and subsequent discussions identified four areas of future collaboration where Therme's interests and the University of Glasgow's expertise aligned.
These included:
Wellbeing innovations: Therme Group is primarily interested in understanding how wellbeing improvement can be brought about for individuals and populations, and the broader benefits of wellbeing on society, the economy, and the environment through evidence-based research.
Informing policy: Through close collaboration with the local government and communities, the research conducted by WellEX is expected to support the work of the University of Glasgow to explore, validate, and inform wellbeing strategies and policies at the local and national levels, working to understand the complexity of policy intervention.
Wellbeing technology: To explore, develop and test "wellbeing technology" focused on improving the effects of wellbeing innovations and users' experience within and outside Therme Group sites.
Sustainability practices: To explore and validate sustainability practices for Therme wellbeing activities and facilities to leverage renewable energy sources and reduce carbon emissions.
The feasibility study validated the concept of a Global Centre of Excellence, providing an evidence base for a Business, Energy and Industrial Strategy (BEIS) funding application in 2022 and ongoing funding applications.
The findings showed that the University of Glasgow was well placed to both anchor and act as an international R&D hub for Therme's aspirations to develop a world-class centre of excellence in wellbeing. The planned development of a major new facility in Glasgow, serving the Scottish population catchment area, offers a unique opportunity to create such a WellEX and capture the significant research, societal and economic benefits this would bring to Scotland.
The University of Glasgow are commited to developing this proposition further and presenting a full business case for consideration by Therme Group, the University, and strategic partners such as Glasgow City Council and Scottish Government agencies, including Scottish Funding Council (SFC), Scottish Development International (SDI), and Scottish Enterprise (SE).
The Benefits
Validated the concept of a Global Centre of Excellence to be based in Glasgow, providing an evidence base for a BEIS funding application in 2022 and ongoing funding applications.
Development of a much deeper relationship with Therme Group as partners on wellbeing which can be developed further as the new Glasgow facility is built.
Development of a cross disciplinary working group in Glasgow in response to Therme's interest and catalyzed by the Interface report. This cross disciplinary group is currently developing funding applications around the theme of healthy ageing.
Potential to generate a strategic new initiative at the institutional level by encouraging the University of Glasgow for the first time to carry out a strategic review of all its wellbeing research strengths across all disciplines for Therme Group as a serious industrial partner.
The WellEX initiative has the potential to generate significant new jobs and economic activity in Glasgow, provisionally estimated between 10-20 net additional FTEs.
This collaborative research also aligns well with the developing Wellbeing Economy policy of the Scottish Government.
This project benefitted from the Scottish Inward Investment Catalyst Fund. The Scottish Inward Investment Catalyst Fund launched by Interface and the Scottish Government promotes Scotland as a leading destination for inward investment and supports businesses not yet located in Scotland but seeking to establish stronger ties with academia here. As well as funding research and development it provides an opportunity for the company to establish relationships and give insight into other aspects of the Scottish landscape, such as further investment opportunities, supply chains and the skills base to strengthen the case for investing in Scotland.
The DHI Rural Centre of Excellence project in Moray is supporting the delivery of additional educational opportunities, courses, and skills provision – both for people interested in a career in digital health and care and for current and future frontline health and care staff in need of understanding digital ways of working. We also want to raise awareness about the types of jobs, career opportunities, and skills requirements associated with digital health and care.
Digital technology is transforming the health and care sector. This will affect the way health and social care is delivered in Moray and will have an impact on the skills and capabilities required by the workforce.
The event is free to attend, and you can expect to:
Learn more about digital health and care developments in Moray – and broader Scotland-wide challenges and opportunities.
Hear from local and national employers about the digital skills and competencies that health and care employers need.
Learn how digital technology can support people with their health and wellbeing needs.
Discover more about DHI's current projects, and the skills-related research we have been carrying out over the last few years.
Hear an update on new online courses supporting the adult social care workforce in Moray.
Share best practices and understand how digital health & care stakeholders can learn from one another, work together and partner with local and national agencies.
SPEAKERS
Simon Bokor-Ingram, Chief Officer, Health and Social Care Moray
Janette Hughes, Director of Planning and Performance, Digital Health & Care Innovation Centre (DHI)
Sanna Rimpiläinen, Head of Research and Skills, Digital Health & Care Innovation Centre (DHI)
Rosemary McCormack, Head of Curriculum, UHI Moray
Dylan White, Principal Lead, NHS Youth Academy
Ruth Cochrane, Lead Academic, Glasgow School of Art Innovation School
Andrew Ord, Account Executive, Microsoft

There will also be representatives from NHS Grampian, Scottish Care, the Cognitive Assistive Robotic Environments (CARE) Group at Heriot-Watt University, Scottish AI Alliance, Skills Development Scotland, Education Scotland, and the Scottish Ambulance Service.
Overview
Bubble FLO® has created a fun, child friendly, visually engaging, and effective physiotherapy medical device the Bubble FLO® PEP (Positive Expiratory Pressure) Device for the treatment of chronic lung conditions.
Background
Bubble FLO® was set up by Katie Vance to develop a child friendly, engaging and effective physiotherapy medical device- a Bubble Positive Expiratory Pressure (PEP) Device for the treatment of chronic lung conditions.
Positive-expiratory-pressure (PEP) therapy is a respiratory therapy that applies resistance to expiration, to produce positive airway pressure. Since the 1930s, PEP has been used to improve oxygenation, increase lung volume and reduce venous return in patients with congestive heart failure. PEP improves collateral ventilation, secretion clearance, aerosol distribution and functional residual capacity. (Respiratory Care:April 2009, Vol 54, No.4)
Challenge
The idea of creating a Bubble PEP device evolved when Katie's daughter was diagnosed with a lifelong respiratory condition and the equipment supplied to carry out vital twice daily physiotherapy was very basic and lacked visual engagement for children. Katie discovered there was no specific Paediatric equipment available, so she decided to develop a Bubble PEP Device which was fun, engaging and effective in clearing secretions from the lungs, and that was aesthetically pleasing, easily portable and easy to empty and re-fill.
The technology did not exist to meet these key practical needs and Katie recognised that such a product could be revolutionary in this critical field. The prototype that she developed was given very positive feedback from physiotherapists who worked with Katie's daughter, and they expressed a need for a similar device for use by other patients and so Bubble FLO® was born.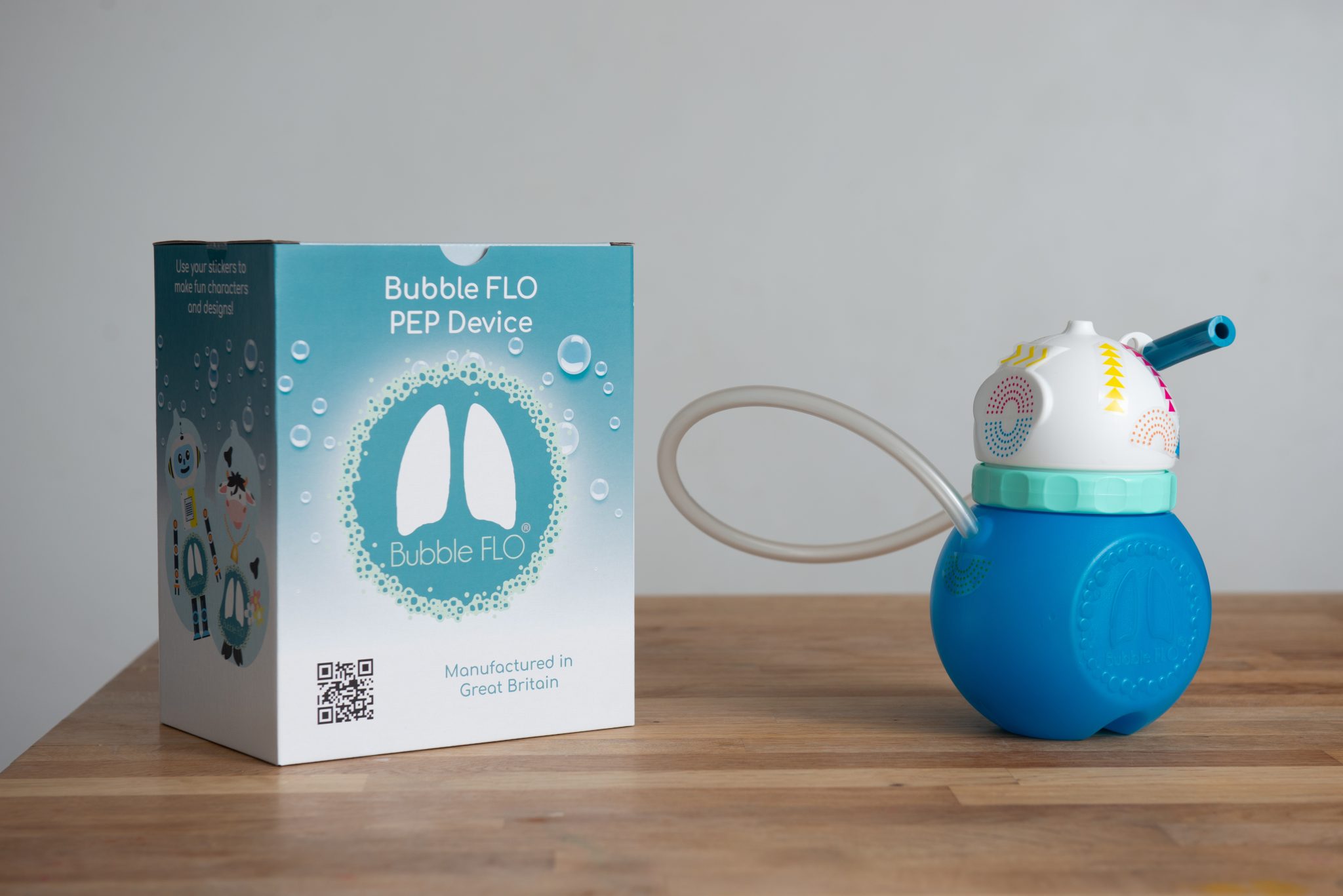 Solution
To develop the concept Katie contacted Interface, who, after putting out a search to Scotland's universities and research institutes, partnered her with Kath Sharp, NHS Team Lead in Paediatric physiotherapy at Glasgow Caledonian University, (who introduced the technique to the West of Scotland and acted as a consultant on the project), and Professor Terence Gourlay, from the University of Strathclyde's Biomedical Engineering Department, who has extensive experience in the design, development and commercialisation of medical devices.
This collaborative project, funded by a Scottish Funding Council Innovation Voucher, focused on the development of a novel respiratory improvement technology aimed at the paediatric sector, but based on known and well-established approaches. The novelty in the proposed approach is centred around making what can be a tiresome therapy for children, fun and engaging.
The experience the Department of Biomedical Engineering has in the production of laboratory, test-ready prototype devices was applied to the project to produce near clinically deliverable prototypes of the proposed technology which were then successfully tested under laboratory conditions.
Subsequently Bubble FLO® was awarded a By Design Grant from Scottish Enterprise, which allowed the prototype design and ergonomics to be developed further.
Through the support of South of Scotland Enterprise, Bubble FLO® worked with an engineer to develop manufacturing tools, create 40 prototypes and completed bio burden and chemical compatibility testing.
Regulatory work has been completed with the support of CPI and Innovate UK to ensure the product is suitable for use.
BubbleFLO are hoping to start clinical trials with the West of Scotland Innovation Hub at the Royal Hospital for Children in Glasgow soon.
Interface have continued to assist Bubble FLO® brokering collaborations with the University of Strathclyde to create a brand and marketing strategy to target families of children with respiratory conditions and with Edinburgh Napier University to develop a "How to Set Up and Use" animated video with the aim of using animated characters to turn what can be a very daunting experience for a child into a fun and engaging one.
Benefits
As the Bubble FLO® PEP Device will be more engaging for children than the current NHS equipment; children will be much more motivated to carry out effective physiotherapy sessions and, in turn, this has the potential to save the NHS budget considerably through a reduction in hospital admissions for respiratory treatment.
Whilst initially, sales of the Bubble FLO® PEP Device will be to parents online, it is hoped the NHS will purchase this new medical equipment as a long-term investment to reduce their overall budget after completion of an upcoming clinical trial with the West of Scotland Innovation Hub, Royal Hospital for Children in Glasgow.
The development of the proposed technology will underpin the foundation of the commercial activity around this novel product. The company have benefitted from the University's expertise in the development of prototypes, their laboratory evaluation and expertise in tooling design and production of the medical devices.
Subsequent collaborations have provided Bubble FLO® with a marketing and targeting strategy and produced a novel animated guide for children and parents to be able to use the device at home.
The academic partner has benefitted through this new research activity in the paediatric respiratory sector and in the use of this project as a case study for teaching purposes. In addition, the project fits very well with the Department's objective of being supportive of the Scottish life science and med tech sectors.
This project was nominated for Innovator of the Year at the Scottish Knowledge Exchange Awards and won a Wild Card at the Scottish EDGE.
This is a collaborative event for everyone interested in engaging in health and life sciences innovation in the Highlands and Islands. Hosted by Highlands and Islands Enterprise, NHS Highland and the University of the Highlands and Islands at the new Life Sciences Innovation Centre on the Inverness Campus.
This event will highlight mechanisms and routes for growing health innovation opportunities throughout the Highlands and Islands. This includes regional expertise, infrastructure, funding and services available within HIE, NHS Highland, and UHI, as well as through relevant regional and national partner organisations.
This event is open to all involved parties in health science (including in MedTech and Digital Health) such as entrepreneurs and third sector organisation interested in health product and service development, evaluation and assessment, as well as implementation for clinical and/or commercial benefit. NHS staff from outside Highland are welcome along with anyone in the health and social care sector.
The SCOUT Project, in partnership with PwC UK LLP, is running an innovation clinic for SME leaders and line managers to gain insights from industry experts on what lies ahead for the sector and how SMEs can best take advantage of upcoming future opportunities. Topics up for discussion will include; Designing your operating model; R&D Tax Credits and incentives; Moving into manufacturing and Getting support.
In addition, attendees will also be granted a guided tour of the new, state-of-the-art Medicines Manufacturing Innovation Centre, hearing first-hand about the exciting work already underway within this world leading, carbon neutral facility – including how cutting edge technologies are delivering; a reduction of API, solvent and energy usage in manufacturing; leveraging digital twins to maximise operational efficiency; and reducing <50% wastage in automated clinical trial manufacture.
Spaces are limited, and demand is expected to be high, so book your place today by emailing ERDF.SCOUT@uk-cpi.com.
The SCOUT Project is a fully funded service which aims to accelerate and de-risk the growth of Scottish SMEs in chemical, biochemical and life science sectors, who are seeking or developing disruptive technologies and is jointly funded by the European Regional Development Fund (managed by Scottish Enterprise) CPI, CMAC Future Manufacturing Research Hub (CMAC) and the Industrial Biotechnology Innovation Centre (IBioIC).
The Medical Device Manufacturing Centre (MDMC) is hosting its 2nd Annual Conference which will bring together industry, NHS and academia to discuss the latest services offered by stakeholders in the life sciences and healthcare sector.
This conference is unique in its breadth and offers the opportunity for delegates to find out more about initiatives set by the NHS and government, as well as learn about the latest advances by companies in the sector.
It will provide invaluable networking opportunities and companies will be offered free exhibition space on a first come, first served basis. Academia will have the opportunity to present their research work through a posters exhibition.
If you are interested in the latest MedTech news and tips, or seek further insight into growing your business, come along and be a part of this invaluable opportunity to network with like-minded individuals, companies and stakeholders in the Scottish life sciences and healthcare sector.
Programme:
The morning session focus is on the services that SMEs can access to accelerate innovation.
The afternoon session will explore the activities and services in health and care offered by organisations such as Scottish Enterprise, the Centre for Process Innovations (CPI), and the Digital Health and Care Innovation Centre (DHI-Scotland).
About MDMC
The mission of the MDMC is to provide expert advice on manufacturing engineering, regulatory issues and funding, coupled with technically supported access to manufacturing facilities, to assist small- and medium-sized companies in the translation of medical device concepts through to small batch commercial prototypes. Services provided by the MDMC are free of charge to SMEs, with priority to Scottish SMEs at all times.
A consortium of 4 universities led by Heriot-Watt and funded from the Advancing Manufacturing Challenge Fund (AMCF) and the Edinburgh City Deal, the MDMC offers medical device development and manufacture in Scotland, providing companies with an enabling step towards first-in-patient-studies.
Join Innovate UK KTN at the University of Strathclyde Technology and Innovation Centre to explore all things microbiome across the One Health Microbiome spectrum including human, animal, plant, and environment.

Bringing these sectors together is an opportunity to learn from each other and make new connections.
The conference will explore common challenges and discuss how the community can work together to make the UK a key destination in Europe for microbiome research and innovation.
There will also be an opportunity for early-stage microbiome entrepreneurs to pitch their ideas to find new partners.
Meet with leading microbiome researchers and innovators from academia and industry.
Learn about advances being made in microbiome research and innovation across different sectors.
Understand common challenges and solutions across the different sectors involved in microbiome research and innovation.
Hear from some of the UK's pioneering microbiome start-ups and experts in IP, regulatory and manufacturing.
Forge new connections and collaborations that could fast-track your research or project.
Join the UK's microbiome innovation community.
This event is for:
Academics
Industry scientists
Entrepreneurs
Supporting organisations
Funders
ZAZA & CRUZ to create a unique natural skincare blend using by-products of the whisky distillation process to rejuvenate and moisturize the skin whilst also shielding against cellular damage and anti-aging.
Background
ZAZA & CRUZ is a natural skin care company that aims to provide high-quality natural ingredients at a reasonable price. Its mission is to make its customers feel confident in their skin.
Rebecca Hastings, a makeup artist, and beauty specialist founded the company in 2013. Her children inspired the company's name. As a make-up artist, she became increasingly concerned about what was in the products applied to the skin of her clients and her children. Consequently, she researched the most beneficial natural oils and botanicals in 2011 and created her unique natural blend of ingredients that rejuvenated and moisturized the skin while also shielding against cellular damage and anti-aging.
The Challenge
Kirsty of Interface met Rebecca at a HIE event in 2019, where they discussed the innovation potential of her business. They chatted about the beneficial effects on aging of the skin that the sake yeast fermentation process was proven to have by a Japanese company SK 11 in the 1970's. The resulting complex that was created is now used throughout the whole Japanese skincare range. This led on to a conversation about the potential of whisky in skincare.
ZAZA & CRUZ were looking to use natural ingredients and processes to develop an active antioxidant/enzyme extract from whisky which would help with skin rejuvenation and could be used in their luxury skincare range.
Rebecca, founder of ZAZA & CRUZ was seeking to find out if the antioxidants and enzymes produced during the whisky distilling process could prove beneficial for skin rejuvenation in collagen and cell turnover, and if they could be extracted to become a natural ingredient in her skincare products.
The use of the findings will enable ZAZA & CRUZ to infuse a brand of whisky into their luxury skincare line. This in turn will benefit the partner of the whisky brand to tap into a wider cosmetics market.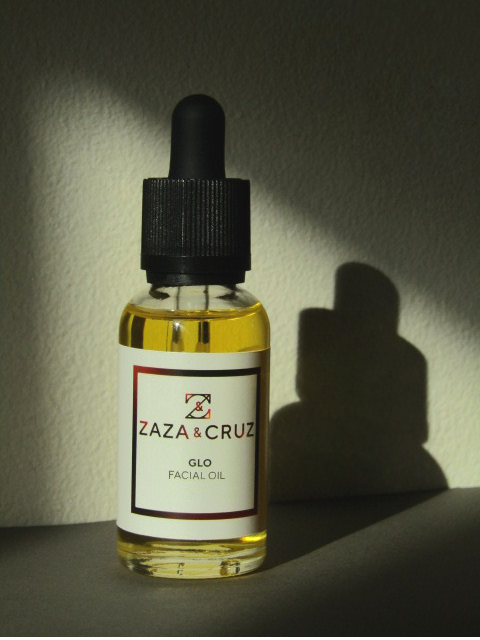 The Solution
Robert Gordon University came forward to support Rebecca's ideas, and Kirsty stayed on hand to support Rebecca with discussions. Rebecca felt that the expertise and enthusiasm from the team at RGU were the right fit for her and so moved forward with an Innovation Voucher
The project focussed on extraction, analysis and testing to discover and prove that the active and complex mix of antioxidants, enzymes and plant phenols released from whisky during the distillation and fermentation process could be extracted and provide a natural and safe solution for the skin which could then be used in the whole luxury line of skincare products for the consumer.
Firstly, the project looked at the antioxidant capacity of pot ale and effluent samples from whisky distillation using different assays as well as evaluating their toxicity at a cellular level. This was then applied into the formulation of the skincare products. Finally, an assessment of their antioxidant activity, that is, their protective effects on skin, was investigated. It was found that placing the nutrients from whisky in skincare can help to boost the skin and help fight free radical damage from the environment. In addition, polyphenols from whisky have the added benefit of helping to reduce inflammation, puffiness, and calms redness in the skin; making is a great ingredient to use in a moisturiser every day.
The findings from this collaboration will enable ZAZA & CRUZ to infuse a brand of whisky products into their luxury skincare line that can benefit consumers' skin.
The Benefits
The benefits to ZAZA & CRUZ:
Being able to work with a highly specialized and qualified team at RGU with great knowledge of the extraction process for antioxidants.
A better understanding about the process of extraction and how to adopt a more scientific approach towards testing and incorporating ingredients into skincare products.
Quality results that can be used to push the project forward and be innovative in the skincare industry.
About Opportunity:
For a patient recovering from a major operation, from COVID19 or those requiring access to a portable / Home Oxygen supply, "Breathing safely and Securely" at all times is life critical.
When a ventilated or Oxygen supported patient is repositioned for a medical procedure, is moved intentionally or moves unintentionally, the flexible
tubing providing Oxygen to the face mask (or tracheotomy) can be pulled or tugged to such an extent that the ventilator or respirator tube can become dislodged from the patient.
As a potential solution, the tubing anchor firmly grips the oxygen tubing to reduce/avoid pulling / snagging or tugging which can cause friction or more critically, detachment or displacement of an endotracheal or tracheostomy tube. It can be attached to a bed or chair or embedded into a belt if patients are mobile.
Key Benefits:
Offers secure yet adjustable positioning of tubing. Mass producible using plastics moulding or 3D Printing technology (CAD file is available). Could be used with a wide range of medical tubing styles & diameters (smooth/ corrugated)
Applications:
Ventilators, respiratory and CPAP devices
Medical tubing and medical fastening
IP Status:
IP fully owned by Edinburgh Napier and the patent family, (WO2019092457 Tube Fastener Device) is available for immediate license.