Background
Therme Group is an industry leader in the wellbeing sector with multiple major water-based wellbeing facilities throughout Europe with new facilities in the UK and Canada under construction.
Therme's guiding philosophy is "Wellbeing for all" which delivers a holistic approach to wellbeing and includes a social outreach dimension to make the facilities available to all of the community in the city regions where they have sites. This holistic approach encompasses the aesthetics and design of the built environment, the impact of the water based, and other wellbeing treatments offered and extends to nutrition and the sources of food offered on site.
Therme UK has plans to open a major new £125M facility on the Clyde serving as the regional centre in Scotland to deliver Therme UK's 90:90 UK access strategy. This seeks to position Therme facilities such that 90% of the UK population are within 90 minutes' drive of a Therme facility.
The Challenge
Therme Group have five main guiding principles and areas of focus around which they build their business model and facilities. These are Health, Equity, Security, Learning and Environment. In each case they are interested in strategic research partners that can help Therme as a group deliver improved operational delivery, minimise environmental impact and ultimately improve customer experience.
They have developed subject specific strategic research & development (R&D) relationships with the University of Florence for the built environment and in Scotland they have supported research activity in the University of Glasgow and James Hutton Institute (Dundee) developing frameworks of wellbeing and food technology respectively.
The collaboration facilitated by Interface came about from the combination of a planned major facility in Glasgow and the recognition of the strength in the University of Glasgow in four key areas of research, Wellbeing Research, Informing Policy, Wellbeing Technology and Environmental Technology directly relevant to Therme's long term needs. This led to a feasibility study, supported by Interface, which provided an evidence base for exploring the creation of a global Centre of Wellbeing Research Excellence (WellEX) in Glasgow.
The Solution
Interface made initial introduction and discussions between Therme Group and the University of Glasgow who successfully applied to the Inward investment Catalyst Fund to support a WellEX feasibility.
The basis of the feasibility study was to raise awareness of the opportunity and develop connections between senior management at the Therme Group responsible for Innovation and the relevant Business, Social Science, Health and Technology academics and departments within the University. In particular, the feasibility exercise and subsequent discussions identified four areas of future collaboration where Therme's interests and the University of Glasgow's expertise aligned.
These included:
Wellbeing innovations: Therme Group is primarily interested in understanding how wellbeing improvement can be brought about for individuals and populations, and the broader benefits of wellbeing on society, the economy, and the environment through evidence-based research.
Informing policy: Through close collaboration with the local government and communities, the research conducted by WellEX is expected to support the work of the University of Glasgow to explore, validate, and inform wellbeing strategies and policies at the local and national levels, working to understand the complexity of policy intervention.
Wellbeing technology: To explore, develop and test "wellbeing technology" focused on improving the effects of wellbeing innovations and users' experience within and outside Therme Group sites.
Sustainability practices: To explore and validate sustainability practices for Therme wellbeing activities and facilities to leverage renewable energy sources and reduce carbon emissions.
The feasibility study validated the concept of a Global Centre of Excellence, providing an evidence base for a Business, Energy and Industrial Strategy (BEIS) funding application in 2022 and ongoing funding applications.
The findings showed that the University of Glasgow was well placed to both anchor and act as an international R&D hub for Therme's aspirations to develop a world-class centre of excellence in wellbeing. The planned development of a major new facility in Glasgow, serving the Scottish population catchment area, offers a unique opportunity to create such a WellEX and capture the significant research, societal and economic benefits this would bring to Scotland.
The University of Glasgow are commited to developing this proposition further and presenting a full business case for consideration by Therme Group, the University, and strategic partners such as Glasgow City Council and Scottish Government agencies, including Scottish Funding Council (SFC), Scottish Development International (SDI), and Scottish Enterprise (SE).
The Benefits
Validated the concept of a Global Centre of Excellence to be based in Glasgow, providing an evidence base for a BEIS funding application in 2022 and ongoing funding applications.
Development of a much deeper relationship with Therme Group as partners on wellbeing which can be developed further as the new Glasgow facility is built.
Development of a cross disciplinary working group in Glasgow in response to Therme's interest and catalyzed by the Interface report. This cross disciplinary group is currently developing funding applications around the theme of healthy ageing.
Potential to generate a strategic new initiative at the institutional level by encouraging the University of Glasgow for the first time to carry out a strategic review of all its wellbeing research strengths across all disciplines for Therme Group as a serious industrial partner.
The WellEX initiative has the potential to generate significant new jobs and economic activity in Glasgow, provisionally estimated between 10-20 net additional FTEs.
This collaborative research also aligns well with the developing Wellbeing Economy policy of the Scottish Government.
This project benefitted from the Scottish Inward Investment Catalyst Fund. The Scottish Inward Investment Catalyst Fund launched by Interface and the Scottish Government promotes Scotland as a leading destination for inward investment and supports businesses not yet located in Scotland but seeking to establish stronger ties with academia here. As well as funding research and development it provides an opportunity for the company to establish relationships and give insight into other aspects of the Scottish landscape, such as further investment opportunities, supply chains and the skills base to strengthen the case for investing in Scotland.
Background
Smartify is a tech company originally based out of London. It has developed an online platform serving the arts, culture and heritage sector, connecting destinations with their visitors. It provides cultural institutions with cutting-edge digital capabilities to manage the visitor experience; and at the same time, it acts as a platform to help them reach a broader audience. Smartify currently has a reach of over 4 million users as of June 2023.
The Challenge
Smartify was looking to develop its XR (Extended Reality) infrastructure to allow the company to develop experiences which could be easily scaled in a cost-effective manner and across multiple platforms (iOS, Android and Web).  Smartify were needing to develop a novel XR platform to be integrated within the Smartify app. They were looking for academic expertise in AR/VR/XR but also an understanding of the tourism and heritage sector.
The Solution
Smartify were already an active member of the Travel Tech for Scotland (TTfS) community with a strong customer base including Scottish National Galleries, Kelvingrove, National Museums of Scotland, Blair Castle, Highlife Highland, and National Trust for Scotland.
Lesley Judge of TTfS referred Smartify to Interface who made them aware of the *Inward Investment Catalyst Fund. Through Interface's search and matchmaking services, Smartify were introduced to Dr Marco Gilardi from the Division of Computing at the University of the West of Scotland, who has a wealth of experience in AR/VR/XR and has been part of an academic group providing knowledge exchange on this subject for the tourism and heritage sector.
The project aimed to support the company in developing XR applications using web technologies and, in the process, help them develop their market presence in Scotland. The objective of the project was to develop proof of concepts and test them with the market which was achieved successfully with a commercial project delivered as result.
*The Inward Investment Catalyst Fund has been set up by Interface and the Scottish Government to attract and support businesses, not yet located in Scotland to collaborate with academic institutions on their research and development activity to strengthen the case for developing a base in Scotland. 
The Benefits
For the Company
Development of prototype IP leading to continued building of tech infrastructure and creative pipeline
Helped Smartify create a clear tech capabilities roadmap and strategy through a better understanding of the existing technology landscape, capabilities, limitations and opportunities
Enabled a pipeline of projects and helped secure a further contract with major Scottish National cultural institutions.
For the University
Established a sustained and strategic partnership with an innovative tech company
Supported a PhD student to gain hands-on industry experience
Has led to further knowledge transfer activity namely an Accelerated Knowledge Transfer to Innovate Project and a further Knowledge Transfer Partnership
For Scotland
Smartify have set up a Scottish division, creating two new jobs and they have projected that this will double annually over the next three years
The award-winning event series, Art of Possible returns in August alongside the World Cycling Championships, and this time we will explore how innovation and technology can unlock Scotland's pedal-based transport industry.
Art of Possible: Beyond Bikes – Unlocking Scotland's pedal-based transport industry
14.00 – 17.00 on 8 Aug 2023
Free, In-person at Glasgow Science Centre, and livestreamed
Cycling is one of Scotland's fastest growing sectors, with huge research and development potential for associated industries. Join Glasgow City of Science and Innovation as they bring together the tech and innovation community for the chance to network over beers, wine and nibbles – and hear how our SMEs are leading the way to developing sustainable, practical alternatives to traditional forms of transport – from electric pedal-assisted vehicles to innovative cycling accessories!

The event will also include a special-edition exhibition where you can network, meet the companies shaking up Scotland's cycling industry and experience the latest tech from virtual reality to space data-based products and the newest e-bikes disrupting the pedal-based markets.

As well as hosting the inaugural Cycling World Championships this year (bringing together 13 international competitions in one country for the first time in 2023), Scotland is home to the Mountain Biking Centre of Scotland (MTBCOS), the world's first centre for open innovation in the mountain bike industry – and a new Innovation Centre at Innerleithen, in the Scottish Borders, providing industry support with market research, developing, testing and launching new products. With strong infrastructure and market opportunities, the future of the Scottish bike industry is bright. Hear how new tech and innovations in the circular economy and remanufacturing are revolutionising the industry.
Scotland's commitment to reaching Net Zero means that businesses have realised that sustainability is essential to making their business fit for the future.
Whether its reducing carbon emissions, managing resources more efficiently or a commitment towards continuous improvement, introducing changes now will bring many benefits to businesses and also the environment, society and economy.
At this event you will hear from Gail Cleaver, Operations Manager, National Trust for Scotland – Culloden Cluster about how they are developing solutions to ensure more sustainable tourism. You will learn about their e-bike points, and their work to reduce single use plastic, their efforts to source 100% recycled retail products, and learn more about conservation grazing – using livestock to help restore the balance to natural habitats that have become overgrown or in poor quality and increase biodiversity to those areas.
Takeaways from the session:
meaning of sustainable tourism
practical ideas to reduce carbon emission
Get ready to discuss with your peers about what sustainability means to your organisation and share what actions you are taking to reduce your carbon footprint. Wherever you are in your sustainability journey, this event is for you.
The event will take place online and will be interactive with group discussion, Q&A and networking opportunities.
With digital increasingly driving transformative new national and international opportunities for the creative and heritage sectors across the Highlands and Islands, Shared Perspectives offers a thought-provoking one day conference exploring what this could mean for your business, project, organisation or network.
Delivered by XpoNorth Digital, this free event will take a practical look at how digital technologies are unlocking ambitious new areas for regional businesses. It will also offer a platform for creative and heritage networks to meet with other sectors, make new connections and discuss collaborative approaches to shared challenges and opportunities.
Hear from a range of inspirational speakers and take part in workshop sessions on how digital storytelling can drive key parts of your business, regional impact and opportunities around the use of AI, crowdsourcing for the heritage sector and how creativity can power rural economies. There will also be an opportunity to meet 1-2-1 with XpoNorth Digital's specialist advisors, HIE's Creative Industries team and members of local development networks.
One-to-one sessions are now available to book on the day with our XpoNorth Digital Sector Specialists:
-Jessica Fox, Screen and Broadcast Specialist Advisor
-Nicola Henderson, Heritage Specialist Advisor
-Tim Wright, Digital Specialist Advisor
Email info@xponorth.co.uk to secure your space!
Produced as a hybrid event, attendees can connect with the programme in-person or online.
Scotland's national parks and rural and coastal spaces are developing diverse projects deploying sensors, IoT, digital tools such as apps and dashboards to help manage visitors responsibly. This workshop, in partnership with CENSIS, explores how data collected from sensor projects can be used strategically. We'll also learn more about some of the work being developed in visitor destinations to understand how digital tools such as apps can influence visitor behaviour, and get an introduction to some of them from those active in visitor management across Scotland.
This event is aimed at: Organisations and stakeholders involved in managing responsible tourism; visitor spaces, tourism networks, councils and third sector organisations.
Speakers:
Lesley Judge, Sector Engagement for Tourism & Project Manager, Interface & Traveltech for Scotland
Cade Wells, Business Development Director, CENSIS
Kevin Power, Software Systems Architect, CENSIS
Professor Angela Tregear, University of Edinburgh Business School
Leanne Dickson, Visitor Ranger, Perth & Kinross Council
Rabbie Burns goes virtual – Robert Burns Ellisland Farm recreated in Minecraft highlighting the life and great works of the National Bard.
Ellisland Museum & Farm was the farmhouse built by Robert Burns, Scotland's National Bard in 1788. It was his home, where he farmed, and where he worked as an Excise officer. Today Ellisland is a much-celebrated museum housing one of the world's most important collections of Burns treasures.
Background
Ellisland Museum & Farm near Dumfries was the farmhouse built by Robert Burns and was his home until 1791 where he farmed and worked as an Excise officer. During his time living there he experienced his most creative and fruitful years in terms of his poetry and song. This is where he wrote Tam O'Shanter and Auld Lang Syne. Today Ellisland is a much-celebrated museum housing one of the world's most important collections of Burns treasures.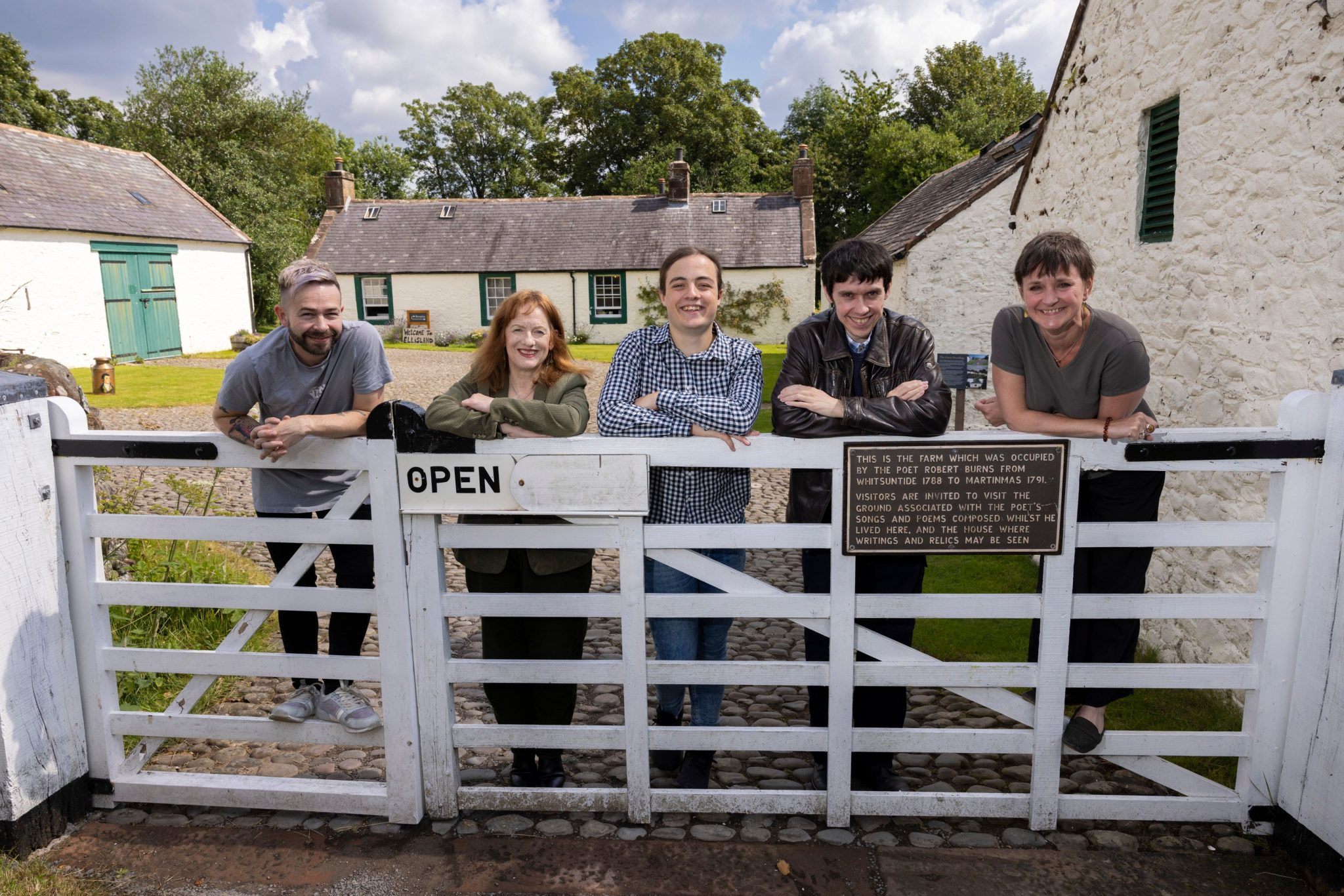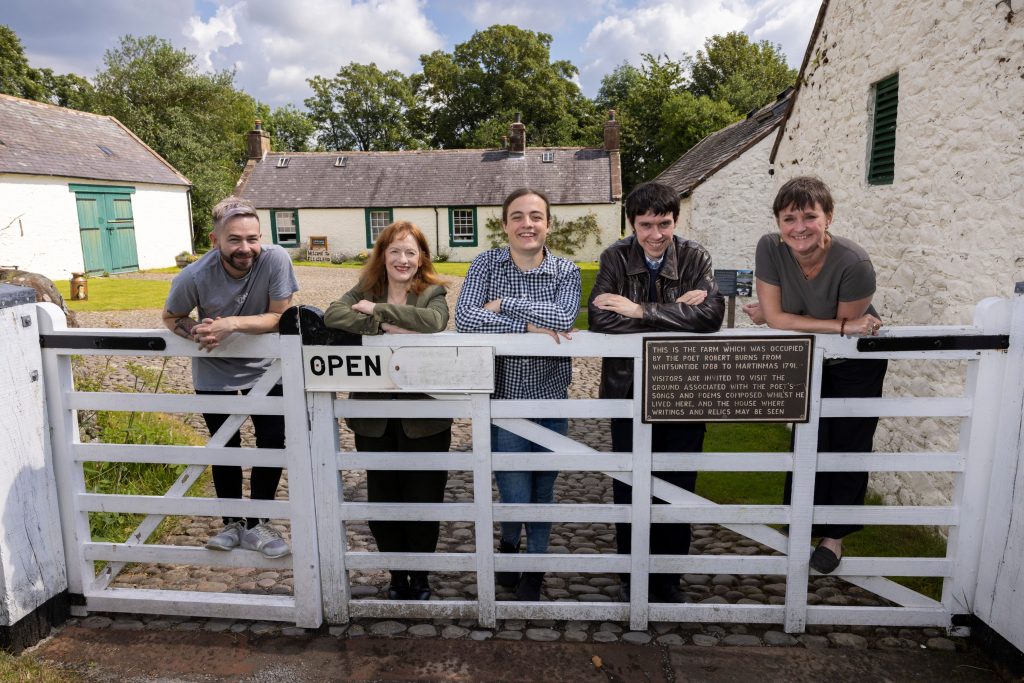 The Challenge
During 2020/21 Covid-19 saw visitor numbers drop dramatically and visitor attractions closing their doors for a significantly long period, some of them indefinitely. The main challenge during this time was how to maintain interest, widen reach and encourage visitors to return.
The Ellisland Trust, who run the Ellisland Museum & Farm wanted to develop an interactive Robert Burns Minecraft digital experience appealing to a younger audience to highlight the life and great works of the National Bard. Their idea was to depict his life as an Excise Officer and farmer as well as highlighting his poems and songs and other Burns associated landmarks in Dumfries and Ayrshire.
The Solution
Ellisland Farm, where Burns lived from 1788-1791, has been brought back to virtual life in Minecraft.
Students and academics at the University of Glasgow worked with the Robert Burns Ellisland Trust to faithfully recreate, in Minecraft, the 18th-century farm as Burns and his family knew it.
The Minecraft Ellisland world was built by around 15 students – undergraduates and postgraduates drawn from a range of different subjects – who are part of the University's Minecraft Society.
Bailey Hodgson, the Minecraft Society's President and one of its founders, who has been using Minecraft for 12 years, played a significant role both in project setup and delivery.
The Minecraft Ellisland project was led by Dr Timothy Peacock and Dr Matthew Barr from the University's Game and Gaming Lab, a cross-disciplinary lab – based in the University's College of Arts – with a focus on how games and gaming can be used in research and teaching.
Interface were able to find an academic partner at very short notice to tie in with funding from South of Scotland Destination Alliance (SSDA) and made the relevant introductions between the University of Glasgow, SSDA and Ellisland Trust.
The project was funded through SSDA from the Scottish Government's Tourism Leadership & Recovery Fund which supports tourism enterprises taking the lead in the sector's COVID-19 recovery.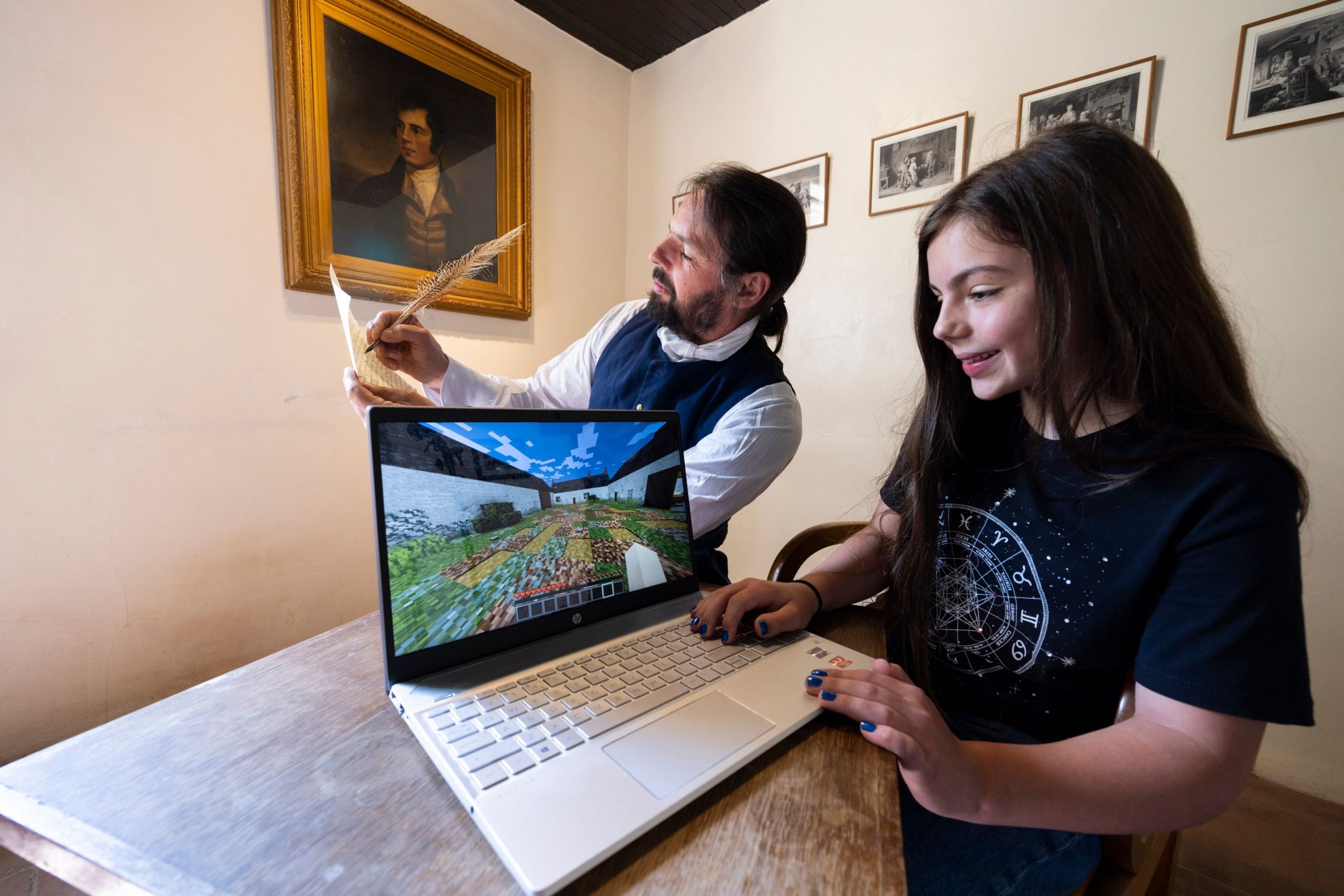 The Benefits
The Robert Burns Minecraft experience is an innovative use of gaming technology to reach a wider, younger audience. Engaging young people with Robert Burns in a modern, appealing way will help to raise the profile of his work and lead to an increase in visitors to the Ellisland Farm and other associated Robert Burns visitor attractions in and around Dumfries and Ayrshire.
Players have an opportunity to not only hear Burns' poetry and song while in the Minecraft world but are also able to converse in Scots with the poet and his wife Jean Armour. It is believed to be the first time Scots has been spoken on Minecraft, which has nearly 140 million monthly active users around the world.
The Burns Minecraft experience has widened the reach and appeal of Robert Burns, his life and works, attracted a younger demographic and helped the Ellisland Museum and Farm thrive and survive post Covid-19.
Background
In his spare time, Mark Yeadon, founding Director of c-monsta, is an avid surfer. It was during his surfing trips that Mark became frustrated about the lack of way to allow his surf kit to dry, keep it all together and transport in a convenient manner. This led to the development of an early-stage prototype of a wetsuit dryer, a form of hanger, shaped so that boots and gloves could be hung in an inverted position, allowing them to dry; with a further row that could also hold a wetsuit.
It just so happened that the shape Mark had created looked very much like a sea-monster, and so c-monsta was born!
Throughout the development stage, Mark produced several working prototypes, so he knew the concept was viable and that it functioned effectively.
Challenge
Mark was looking to work in collaboration with a university partner to develop the product further by enhancing the design, minimising the use of materials, and identifying the best possible materials that could be used in the manufacturing process. Design expertise was needed to make the product fully market ready.
Solution
After being referred by Business Gateway in Moray, Carol-Ann Adams from Interface successfully partnered Mark with Nick Bell from the Product Design Engineering Department at Glasgow School of Art (GSA).
The project focused on optimising the design by taking advantage of the product design skills, detailed materials knowledge, and extensive network of manufacturers that GSA has, to develop a design that would have great functionality and could be manufactured at a price point that would make the product commercially viable.
The collaboration was an immediate success, using GSA's skills and the client's network of surfers to develop a product that was viable for manufacture in Scotland. Glasgow School of Art has excellent facilities – including 3D Computer Aided Design software, 3D printing facilities and a full wood and metal workshop – all of which were utilised for this project.
This first stage project was funded by a Scottish Funding Council Standard Innovation Voucher.
Benefits
Company
The novel aspect of this product is the combination of features that allow the surfer or watersports enthusiast to air dry their wetsuit, boots and gloves effectively and without using electrical power. The geometry of the product allows the optimal positioning of the equipment – enabling water to drain out and to allow airflow to quickly dry the kit ready for the next session. By keeping the equipment dry, this design also extends its lifespan.
The added bonus is that the hanger keeps all the equipment organised and in one place – so the surfer should never forget a key item. There are no products on the market that have this combination of features and functionality.
The product has now been developed and sales have surpassed expectations, as more people have been taking up outdoor pursuits such as wild water swimming.
Scottish Economy
It is hoped that the manufacturing of the final product will be done in Scotland – building on links that both the client and GSA have with Scottish manufacturers and as part of GSA's commitment to the reshoring of manufacturing jobs. The geometry and manufacturing processes employed will be selected so that recycled plastic material can be used where possible.
Follow-on Activity
The company and academic then successfully applied for a Scottish Funding Council Student Placement Voucher to build on the solid foundation of the c-monsta product design. Callum Leitch, a student from GSA, worked with the company to refine the existing product architecture and materials to make it suitable for the needs of the snow sports market.
Benefits – Company
This follow-on project provided the company with a great opportunity to engage with the knowledge and expertise of the student and academic supervisor – reinforcing the links formed during the initial Innovation Voucher funded project. By utilising the student's Project Design Engineering skillset, the company is hoping to penetrate new markets and increase sales.
Benefits – Academic
This provided an excellent opportunity for the student to see first-hand the real-world commercial value and application of the skills they had developed during their degree studies and allow them to produce invaluable content for their portfolio.
The project also provided the basis of an excellent case study for the Product Design Engineering (PDE) department at GSA, showing the current students the real-world application of the PDE skills and processes; taking an initial idea right through the development process, through sketches, prototypes, design reviews and ultimately to a manufactured product.
Students do not often get the opportunity to see projects make it to market, so these types of client projects are invaluable at highlighting the value of the skills they are learning. It's also a fantastic opportunity to show the value of the teaching/research/enterprise linkages, reinforcing the links between the PDE academic staff and Scottish entrepreneurs.
"From the outset, Callum not only brought enthusiasm to the project, he also took a solid analytical, methodical and practical approach to the problem of drying and storing ski kit. Callum's design skills were bolstered by great communication skills which made him a pleasure to work with." Mark Yeadon, Director, c-monsta
Background
Outer Hebrides Tourism (OHT) is the official DMO (Destination Management Organisation) for the islands from Barra & Vatersay up to the northern tip of Lewis. The islands have seen a growth in the number of food trucks over recent years. Seafood shacks and other more traditional fast-food outlets have always been popular due to the nature of their market and the small local population which makes it hard to start a formal restaurant. Many trucks are in stunning locations, getting a good following from extending their menus and focusing more on local sourcing. Due to COVID, outdoor eating became an even more important component of the islands' food offering.
Challenge
OHT was looking to develop a strategy for the food trucks that could help these businesses take advantage of this opportunity and turn this into a type of island "street food" to include:
• Menu/offering to reflect visitor needs and the limited facilities
• Operations to comply with COVID restrictions
• Promotional campaign strategy to help the food sector contribute to the islands' reputation as a tourism destination
Solution
In May of 2020, Interface joined forces with VisitScotland and the Scottish Tourism Alliance to launch the Adopt a Business scheme; a new initiative aimed at boosting the sector's recovery from COVID by connecting tourism businesses to university academics and students for research and development projects; helping businesses to diversify and adapt to the new environment.
Dr Jaylan Azer, Adam Smith Business School at Glasgow, kindly agreed to help support Rob McKinnon Street Food – Outer Hebrides Tourism through the Adopt a Business initiative. She successfully applied for funding from the University of Glasgow and the Economic and Social Research Council (ESRC) to fund the project; employing professional graphic artists to create images for new branding.
After a site visit, Dr Azer recommended an overarching branding for the 19 independent food trucks located in Stornoway, Isle of Harris and Barra. The branding was called 'Food with a view'. The rationale behind the name related to the main common factor of the trucks' locations, overlooking stunning views of the isles. The brand was also used to market the variety of food provided by the trucks.
To counter the distance between the trucks and the limited awareness of the variety of food, Dr Azer suggested a collaborative menu with the brand name and logo of 'Food with a view' and showcase the type of food each truck provided, facilities they have (e.g. payment method, seating, dietary offerings, etc.) and a graphical map, showing the route between trucks and location.
Dr Azer also made recommendations as to their social media presence and the incorporation of the overarching brand in both their social media platforms and their signposts.
Benefits
The Food with a View social media campaign was the first stage of this project and fully embraced by both consumers and businesses.
The project has supported businesses by raising the awareness of local produce through a social media campaign and collateral, enabling excellent visitor engagement.
There are many opportunities that will support businesses going forward in further phases of this project; developing the food and drink offer in the islands and achieving economic growth.