The Medical Device Manufacturing Centre (MDMC) is hosting its 2nd Annual Conference which will bring together industry, NHS and academia to discuss the latest services offered by stakeholders in the life sciences and healthcare sector.
This conference is unique in its breadth and offers the opportunity for delegates to find out more about initiatives set by the NHS and government, as well as learn about the latest advances by companies in the sector.
It will provide invaluable networking opportunities and companies will be offered free exhibition space on a first come, first served basis. Academia will have the opportunity to present their research work through a posters exhibition.
If you are interested in the latest MedTech news and tips, or seek further insight into growing your business, come along and be a part of this invaluable opportunity to network with like-minded individuals, companies and stakeholders in the Scottish life sciences and healthcare sector.
Programme:
The morning session focus is on the services that SMEs can access to accelerate innovation.
The afternoon session will explore the activities and services in health and care offered by organisations such as Scottish Enterprise, the Centre for Process Innovations (CPI), and the Digital Health and Care Innovation Centre (DHI-Scotland).
About MDMC
The mission of the MDMC is to provide expert advice on manufacturing engineering, regulatory issues and funding, coupled with technically supported access to manufacturing facilities, to assist small- and medium-sized companies in the translation of medical device concepts through to small batch commercial prototypes. Services provided by the MDMC are free of charge to SMEs, with priority to Scottish SMEs at all times.
A consortium of 4 universities led by Heriot-Watt and funded from the Advancing Manufacturing Challenge Fund (AMCF) and the Edinburgh City Deal, the MDMC offers medical device development and manufacture in Scotland, providing companies with an enabling step towards first-in-patient-studies.
ZAZA & CRUZ to create a unique natural skincare blend using by-products of the whisky distillation process to rejuvenate and moisturize the skin whilst also shielding against cellular damage and anti-aging.
Background
ZAZA & CRUZ is a natural skin care company that aims to provide high-quality natural ingredients at a reasonable price. Its mission is to make its customers feel confident in their skin.
Rebecca Hastings, a makeup artist, and beauty specialist founded the company in 2013. Her children inspired the company's name. As a make-up artist, she became increasingly concerned about what was in the products applied to the skin of her clients and her children. Consequently, she researched the most beneficial natural oils and botanicals in 2011 and created her unique natural blend of ingredients that rejuvenated and moisturized the skin while also shielding against cellular damage and anti-aging.
The Challenge
Kirsty of Interface met Rebecca at a HIE event in 2019, where they discussed the innovation potential of her business. They chatted about the beneficial effects on aging of the skin that the sake yeast fermentation process was proven to have by a Japanese company SK 11 in the 1970's. The resulting complex that was created is now used throughout the whole Japanese skincare range. This led on to a conversation about the potential of whisky in skincare.
ZAZA & CRUZ were looking to use natural ingredients and processes to develop an active antioxidant/enzyme extract from whisky which would help with skin rejuvenation and could be used in their luxury skincare range.
Rebecca, founder of ZAZA & CRUZ was seeking to find out if the antioxidants and enzymes produced during the whisky distilling process could prove beneficial for skin rejuvenation in collagen and cell turnover, and if they could be extracted to become a natural ingredient in her skincare products.
The use of the findings will enable ZAZA & CRUZ to infuse a brand of whisky into their luxury skincare line. This in turn will benefit the partner of the whisky brand to tap into a wider cosmetics market.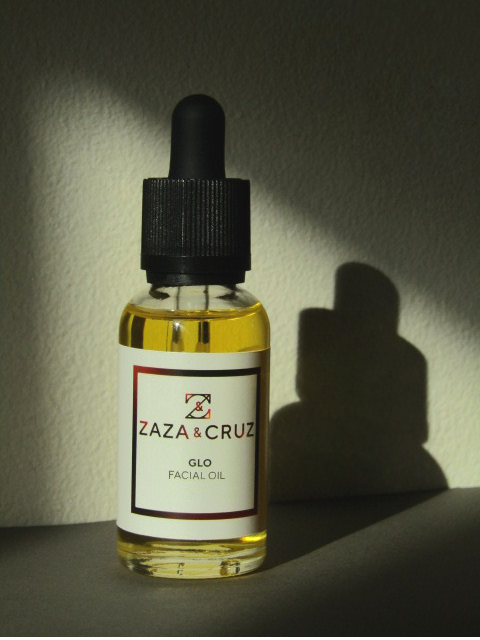 The Solution
Robert Gordon University came forward to support Rebecca's ideas, and Kirsty stayed on hand to support Rebecca with discussions. Rebecca felt that the expertise and enthusiasm from the team at RGU were the right fit for her and so moved forward with an Innovation Voucher
The project focussed on extraction, analysis and testing to discover and prove that the active and complex mix of antioxidants, enzymes and plant phenols released from whisky during the distillation and fermentation process could be extracted and provide a natural and safe solution for the skin which could then be used in the whole luxury line of skincare products for the consumer.
Firstly, the project looked at the antioxidant capacity of pot ale and effluent samples from whisky distillation using different assays as well as evaluating their toxicity at a cellular level. This was then applied into the formulation of the skincare products. Finally, an assessment of their antioxidant activity, that is, their protective effects on skin, was investigated. It was found that placing the nutrients from whisky in skincare can help to boost the skin and help fight free radical damage from the environment. In addition, polyphenols from whisky have the added benefit of helping to reduce inflammation, puffiness, and calms redness in the skin; making is a great ingredient to use in a moisturiser every day.
The findings from this collaboration will enable ZAZA & CRUZ to infuse a brand of whisky products into their luxury skincare line that can benefit consumers' skin.
The Benefits
The benefits to ZAZA & CRUZ:
Being able to work with a highly specialized and qualified team at RGU with great knowledge of the extraction process for antioxidants.
A better understanding about the process of extraction and how to adopt a more scientific approach towards testing and incorporating ingredients into skincare products.
Quality results that can be used to push the project forward and be innovative in the skincare industry.
Background
Yoti is a digital ID and credential management platform that allows organisations to verify identities and trusted credentials online and in person. Yoti's products span identity verification, age assurance, document e-signing, access management and biometric authentication.
They are working on Challenge 9 of CivTech 5.0 to help NHS Scotland tackle COVID-19 through innovative approaches to testing and the application of technology. They have partnered with a bioscience company GeneMe, who produce rapid COVID tests and have built the first prototype 'Testing Cube'. They have integrated Yoti technology to securely link a person to a test and to receive the test result securely into a Yoti digital wallet. They are now driving further innovation around near patient COVID testing and the development of a mass testing machine.
Challenge
Yoti has developed a testing system called FRANKED that delivers results to an individual's phone in 30 minutes without the need for them to be processed in a laboratory. To date, the work involved with CivTech has focused on evaluating innovative tests to speed up the existing processes in laboratories as well as reduce costs and achieve high rates of accuracy. They were at a stage whereby they needed to develop the 'Testing Cube', a highly portable and low-cost testing machine capable of running LAMP based tests. Yoti will be integrated into the Testing Cube for the secure and rapid delivery of test results as well as being integrated into the NHS Integration Hub to capture this information.
Yoti took the design to an initial working prototype and required additional expertise to develop it further, creating the potential for the Testing Cube to be manufactured in Scotland for a global market.
Solution
After being referred by CivTech, Interface introduced Yoti to relevant expertise within Robert Gordon University (RGU). RGU has a proven track record and exceptional research output in the field of manufacturing for many engineering applications. RGU undertook a rigorous investigation into how the proposed COVID testing cube could be further improved and offered feasible solutions in terms of different techniques.
The project was funded by a Scottish Funding Council Advanced Innovation Voucher.
Benefits
Company
The company wants to bring the Testing Cube to the market to make access to testing fairer and available to more people across the world. Yoti will benefit from an increased volume of tests ordered as a result of the new capability.
University:
This partnership has resulted in a base of investigators and students who have undertaken this research; enhancing knowledge and providing benefits to the emerging sector. RGU will also have a case study for students who will benefit from understanding the real-life engineering problem solution.
Scottish Economy:
In Scotland, the intention is to manufacture the Testing Cube for approved use in the NHS for an innovative approach to near patient care using the innovative FRANKED Lamp test so that rapid and accurate tests can be carried out without the need to transport samples to a laboratory. This will dramatically improve the current testing regime and potentially save lives. It will also help reduce pressure on laboratory processing capacity as well as the infrastructure required to capture samples and transport them to centralised laboratories. The Testing Cube could also be deployed on a student campus for on-site rapid and accurate student COVID testing.
The Testing Cube and the FRANKED test will transform the way testing is carried out and help build an infrastructure that makes Scotland, particularly in rural settings and places of high vulnerability, more resilient and capable of dealing with similar public health emergencies in the future. This project has the potential to make Scotland an innovation hub for COVID-19 related technology development.
The aim is to successfully develop the Testing Cube, leading to its manufacturing at scale in Scotland. This will secure jobs and attract potential inward investment into the Scottish economy.
Background
Loch Electronics innovate, engineer, design and bring to market consumer electronics products focused on reducing global carbon footprint in households and offices.
Conventional dishwashers are incompatible with the most common household sizes in the UK; they are too big. Loch Electronics has been developing a concept dishwasher design, suitable for small households. In their design, the water spray system was modified to take less space and increase water flow directed at the dishes. As a result, the design is anticipated to offer increased process efficiency, reduced operational time and energy usage.
Challenge
To prove their concept, the company was looking to collaborate with an academic partner with expertise in fluid dynamics.
Solution
Referred by Business Gateway, Interface was able to successfully match Loch Electronics to the academic team at Robert Gordon University (RGU). The team has considerable expertise in fluid dynamics and thermo-fluids, with years of experience working on a wide variety of collaborative research studies on the performance evaluation of complex flow handling systems; leading to optimal designs and enhanced operational efficiencies.
Funded by a Scottish Funding Council (SFC) Standard Innovation Voucher, the project involved detailed investigation into the performance characteristics of the dishwasher.
The primary outcome of this project was the hydrodynamic characterisation of the concept dishwasher design. This involved detailed investigation into the performance characteristics of the dishwasher. A systematic parametric investigation was carried out to achieve this. This scientific research will enable the company to develop and market these dishwashers with enhanced knowledge of its working; allowing prototypes to be built for real world testing and analysis, leading to further developments.
Benefits
The innovative water spray system will result in a compact dishwasher design, ideally suited for small households. In this concept dishwasher design, the water spray system was modified to take less space and increase water flow directed at the dishes. This innovation results in enhanced process efficiency, reduced operational time and energy usage, higher power and cost savings, and lower carbon footprint of the device. It is therefore a very saleable product, easy to store and maintain, and with a low cost to manufacture and ship.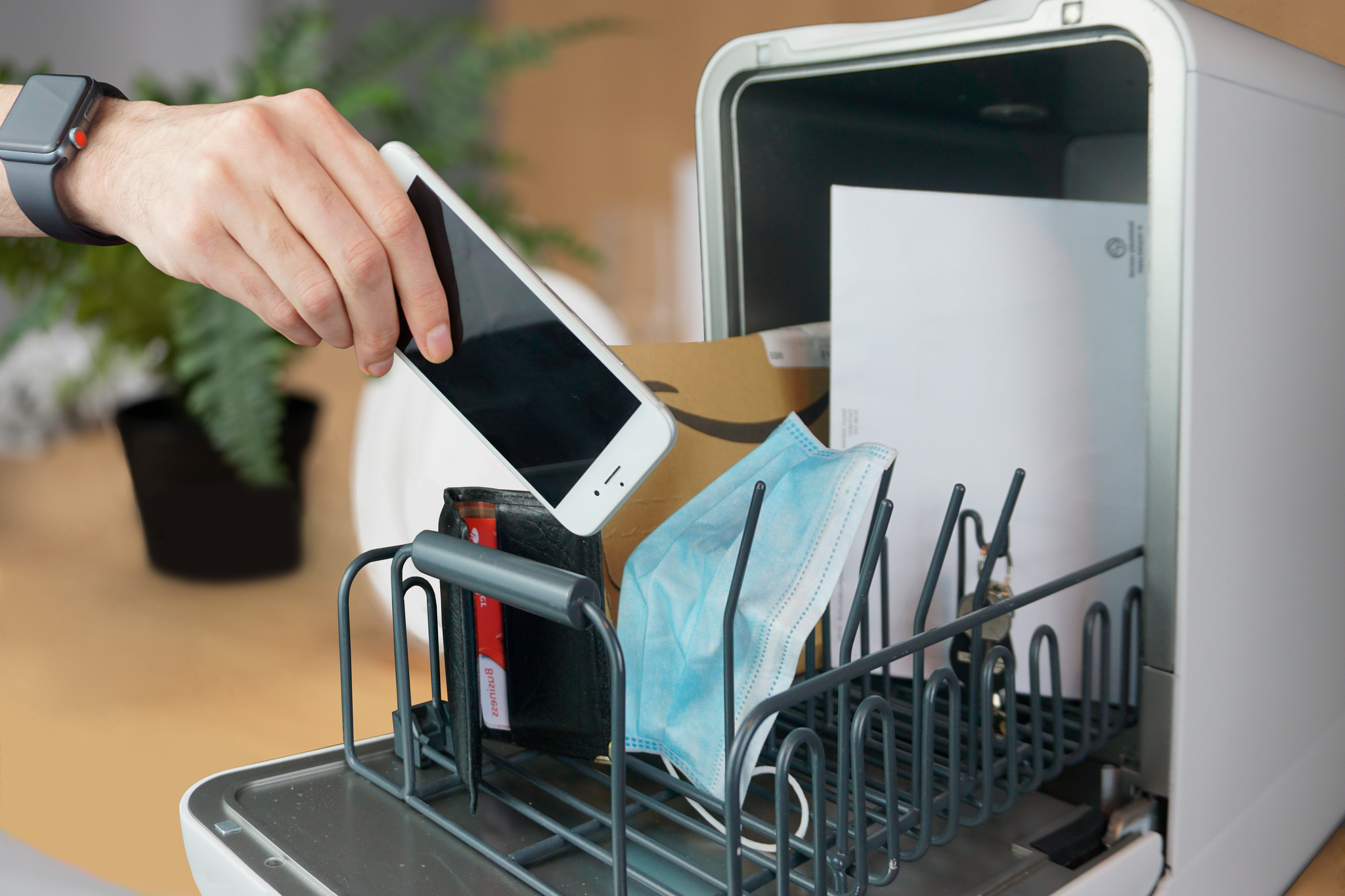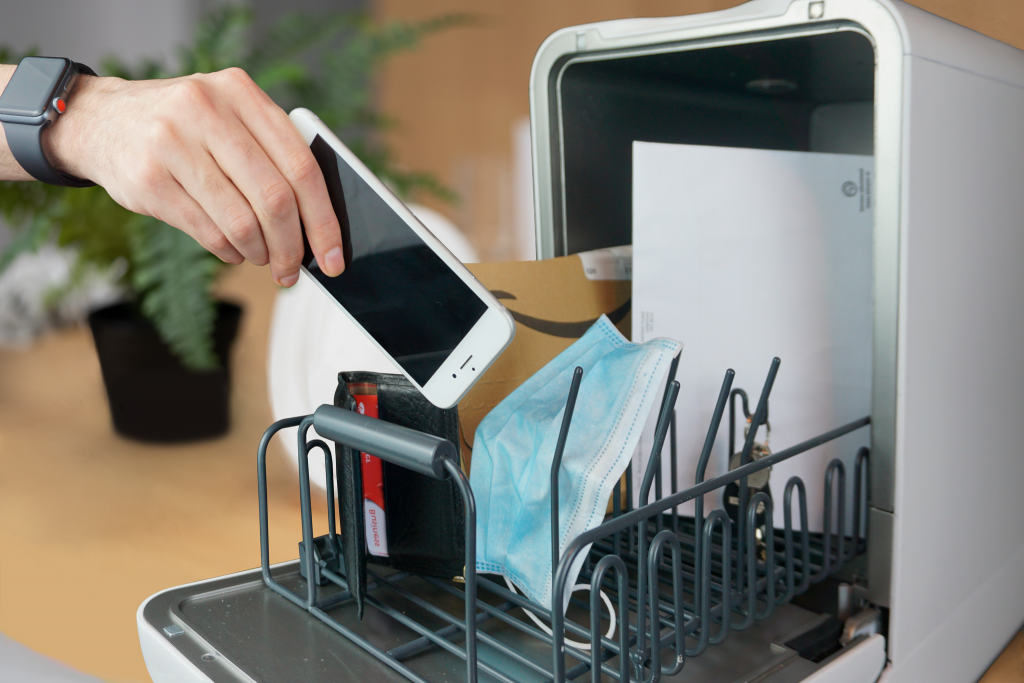 Follow-on Activity
After successful completion of the initial collaborative project, both Loch Electronics and RGU wanted to collaborate further on the capsule dishwasher, specifically on the integration of UV lights, to enhance its capabilities through the inclusion of sanitisation and disinfection functions for protection against COVID-19.
Laboratory tests carried out by an American working group on COVID-19 show that the virus can remain infectious for up to 2-3 days on stainless steel and plastics. UVC (Ultraviolet type C) lights have long been used for sanitation and disinfection purposes and a recent study in the American Journal of Infection Control found that UVC light exposure completely inactivated the virus in 9 minutes.
A SFC Advanced Innovation Voucher was awarded to create prototypes and carry out testing to prove the theory in practice.
Benefits
With precise control of the amount of exposure to the UVC lights, many different items made of different materials could be disinfected of any bacteria and viruses, limiting the spread of COVID-19. As dishwashers are used in 49% of the households across the UK, and 45% of households across Europe, the impact of this UVC integrated dishwasher would be substantial in helping to stop the spread of COVID-19 and any future viruses as well. As the dishwasher will be compact, it will be ideal for use in small households, nursing homes, hospitals etc.
As well as disinfecting cooking utensils, eating utensils and medical tools, it could also disinfect through UV light, items that would get damaged with water, like face masks, phones, keys, wallets, letters, etc.
Background
Creative Carbon Scotland (CCS) believes that arts and culture organisations have an essential role in achieving transformational change to a sustainable future. Their vision is of a Scotland where this role is recognised, developed, and utilised by both the cultural world and others interested in sustainability.
Creative Carbon Scotland provide training and support for arts organisations to reduce their carbon footprint and help nearly 120 key organisations in mandatory carbon reporting to Creative Scotland. Their culture/SHIFT programme builds connections and collaborations between arts and sustainability practitioners to apply their different skills, practices and working methods to address challenging and complex climate change-related issues.
Challenge
It is widely recognised that artists across all artforms can offer new insights and alternative perspectives to bring about change in wider society. Creative Carbon Scotland are among several organisations who have worked on projects with embedded artists to address environmental sustainability and climate change. The artists have worked over extended periods, using cultural approaches to address these complex issues within organisations in the private, public and third sectors. Creative Carbon Scotland were keen to promote this type of collaboration, and the development of a library of case studies was a key step in the process of disseminating this approach. It aims to enable new users to discover a range of new ways of working with artists to address sustainability challenges.
The organisation recognised that for the case study library to deliver maximum impact, the evidence from a very wide and diverse range of 'embedded artist' projects needed to be presented in a unique and engaging way. Consequently, they sought to collaborate with an academic team to co-design an innovative categorisation and tagging framework to enable rapid and effective searching within the Library.
Solution
Funded by a Scottish Funding Council Innovation Voucher, Creative Carbon Scotland collaborated with Gray's School of Art at Robert Gordon University to prototype the Library of Creative Sustainability hosted on the CCS website: a new digital resource showcasing best practice examples of collaborations between sustainability partners and artists seeking to make the world a better place. The framework was co-designed with end users to ensure that it met the needs of managers and decision makers within the sustainability and regeneration sectors.
Benefits
The Library of Creative Sustainability has allowed Creative Carbon Scotland to support advocacy and engagement with sustainability leaders in private, public and third sector organisations; presenting an opportunity for artists, designers, and other creative practitioners to share their skills, knowledge, and perspectives to not only address environmental sustainability, but also change the way we interact in society – thus re-imagining culture and embedding sustainability within it.
The prototyping of the Library web page benefitted Creative Carbon Scotland by further positioning it as a vital partner for leaders in the private, public and third sectors at the intersection of arts and culture with sustainability. The research work provided CCS with further examples on which to base new work and the resource itself will help introduce and persuade new partners to take up these opportunities.
The academic partner at RGU benefitted by having their research utilised, specifically through the creation of a suite of user-focused case studies. Both parties will benefit from the development of the framework for categorisation and tagging, generating new ways of engaging users.
Additional Activity
Following the successful delivery of the partnership with RGU, CCS received further support from Dr. Siobhán Jordan, Director, Interface who matched the company with University of Strathclyde Department of Management Science.  Iain Phillips, a student at the Department collaborated with CCS to review the key outcomes of several years of mandatory carbon reporting and reduction across artists, designers and other creative practitioners funded by Creative Scotland.  CCS have a long-standing track record of undertaking research and are also collaborating with University of Stirling Management School.
The Company
Scotmas is a leading manufacturer of water treatment, hygiene and environmental care products. Best known for its extensive range of chlorine dioxide systems, developed with over 25 years experience in the market, it is now actively involved in developing microbial biotechnology, insect repellents, insecticidal textiles and consumer product ingredients.
With a strong and continued commitment to R&D, Scotmas is always on the look-out for strategic investment opportunities with other companies and projects which can provide experience and capabilities that will add value to its offering.
The Business Challenge
An introduction to Interface – The knowledge connection for business, presented an opportunity to advance two research projects, one looking at bacteria identification and another on bacteria and virus tests. Following an extensive search of expertise in the field, Interface helped the company to develop active partnerships with several academic institutions.
The company produces microbe-based products used for a variety of applications in waste water treatment and land remediation, but wanted to expand this into a range of domestic cleaners and products for specific industrial contamination.
The Solution
Following discussions with the University of Aberdeen, it was learnt that spin out company NCIMB was undertaking the characterisation of the bacteria strains on a routine basis.
Scotmas was looking for help to investigate the effectiveness of one of its products for a client. Interface facilitated a project with Glasgow Caledonian University's Dr Chris Woodall, from the School of Life Sciences, offering specialist testing services for bacteriological and viral testing. The project resulted in a continued relationship and subsequent testing work.
Following the success of the initial project, Scotmas embarked on a number of new collaborative projects, including corrosion studies and a project on microencapsulation and was in active discussions with other academic groups including Scottish Crop Research Institute and the University of Glasgow.
Benefits
The company advanced two research projects with the help of university expertise
The company accessed specialist testing facilities to validate the effectiveness of one of its products.
The collaboration has resulted in a continued and sustained partnership between the company and Glasgow Caledonian University.
The success of the project initiated new collaborative projects with other academic groups

Alistair Cameron, Technical Director at Scotmas commented:
"We were looking to strengthen our range of microbe-based products in a variety of domestic cleaners and products for tackling specific industrial contamination. Interface linked us to academic partners who helped in the commercial culturing of these microbes, in order to supply a powdered product to Scotmas's commercial operations."
Scotmas went on to collaborate with the engineering department at Heriot Watt University, an academic team that were included in the University's research submission to REF 2014* (Research Excellence Framework), 94% of which was judged as "world-leading" or internationally excellent.
In November 2016 Scotmas announced that they are sending new self-sustaining technology to Botswana to bring properly treated water supplies to some of its most remote areas.The Bravo Hydro system runs without grid electricity or solar power, using a tiny generator in the water pipe. Scotmas said the technology could bring reliably disinfected water to areas where it had not been possible before.It is being sent to 40 villages in Botswana thanks to a major investment by the country's government. ​
Scotmas undertook around ten collaborative projects with academia since the original project facilitated by Interface including two Knowledge Transfer Partnerships (KTPs) with Heriot-Watt University. The family business employs 42 people and provides chlorine dioxide water solutions around the world – including in Doha for the Qatar World Cup 2022 and in villages in southern India.
In 2020 Interface linked Scotmas to Robert Gordon University to support the development of a new and innovative method of producing disinfectants without harmful by-products for use in hospitals, water supplies and food production applications. The project was funded through an Advanced Innovation Voucher and won Innovation of the Year at The Scottsh Knowledge Exchange Awards 2021.
*The REF is the system for assessing the quality of research in UK higher education institutions.
Background
Headquartered in Glenbervie near Stonehaven, Scotland, Macphie is the UK's leading, independent, added-value food ingredients manufacturer, and has been producing premium quality food ingredients and solutions for customers across 40 countries for over 85 years.
Challenge
The company approached Interface to seek help in finding relevant academic collaborators to provide solutions to a range of challenges facing their business. These ranged from reducing saturated fat content and creating "cleaner label" products to rethinking their packaging and storage.

Solution
Interface has facilitated a series of collaborative projects with numerous Scottish Universities to support the business challenges.
Project areas have included:
Use of Ultrasound in thermal processing to control food structure
Mechanical Engineering projects on packaging and energy efficiency
Starch/ protein chemistry for surface modification
Stabilisation of food emulsions
Packaging and Manufacturing Process Optimisation
Chemical Engineering – UHT process flow characterisation and improvement
New packaging designs for sustainability and manufacturing efficiency improvement
Sugar reduction in key products
To date, Macphie has been involved in more than 15 individual collaborative research projects with multiple universities which have yielded cost savings to the business of many hundreds of thousands of pounds.

Business benefits
"Innovation is a cornerstone for Macphie, developing new technologies, products, processes and packaging to add value to our business and better meet our customer needs.
Macphie utilises Interface as a Scottish brokering service that brings businesses and universities together. Interface has facilitated a series of collaborative projects across a range of business requirements with Scottish universities. Using the Interface network, we have managed to completely accelerate our innovation agenda.
At Macphie we now have a rich heritage of academic projects across many aspects of our business. These translate into shaping and driving our innovation agenda. Interface is a crucial partner in enabling us to pair up with the very best academic organisations to achieve success. Our ongoing outlook is to continue to invest resources in long-term, transformational projects to ultimately add even greater value to our customer offering." Martin Ruck, Macphie's Head of Research and Development.
Academic benefits
Following a successful masters project with Abertay University on computer and web Enabled Food Product Evaluation System:
"Abertay has a specific interest in pursuing links with industry as part of the University's Strategic Plan. The work with Macphie is an excellent example of how Abertay can be recognised for developing graduates equipped with the attributes and attitudes to contribute significantly to future economies.
The work has also been conducive for developing pathways to impact, allowing Abertay to generate an excellent track record with respect to KE activities that generate further income and reputation for the University."  Dr Nia White, Head of the Graduate School, Abertay University.
Interface also supported Macphie and the University of Edinburgh to develop and test a series of emulsions to use in a commercial setting. This led on to further studies on the role of fat crystallisation in the process of stabilizing emulsions and foams which enabled the company to increase the unsaturated fats in their products.
"It was very interesting for us to apply our expertise in the physics of emulsion technology to support a company developing healthier products."
Dr Tiffany Wood, Director of the Edinburgh Complex Fluids Partnership, The University of Edinburgh.
Additional notes
Macphie have worked with the following Universities and Research Institutes: University of Edinburgh, Glasgow Caledonian University, University of Strathclyde, Heriot-Watt University, Rowett Institute of Nutrition and Health at the University of Aberdeen, Robert Gordon University, Abertay University, Queen Margaret University.