Background
Therme Group is an industry leader in the wellbeing sector with multiple major water-based wellbeing facilities throughout Europe with new facilities in the UK and Canada under construction.
Therme's guiding philosophy is "Wellbeing for all" which delivers a holistic approach to wellbeing and includes a social outreach dimension to make the facilities available to all of the community in the city regions where they have sites. This holistic approach encompasses the aesthetics and design of the built environment, the impact of the water based, and other wellbeing treatments offered and extends to nutrition and the sources of food offered on site.
Therme UK has plans to open a major new £125M facility on the Clyde serving as the regional centre in Scotland to deliver Therme UK's 90:90 UK access strategy. This seeks to position Therme facilities such that 90% of the UK population are within 90 minutes' drive of a Therme facility.
The Challenge
Therme Group have five main guiding principles and areas of focus around which they build their business model and facilities. These are Health, Equity, Security, Learning and Environment. In each case they are interested in strategic research partners that can help Therme as a group deliver improved operational delivery, minimise environmental impact and ultimately improve customer experience.
They have developed subject specific strategic research & development (R&D) relationships with the University of Florence for the built environment and in Scotland they have supported research activity in the University of Glasgow and James Hutton Institute (Dundee) developing frameworks of wellbeing and food technology respectively.
The collaboration facilitated by Interface came about from the combination of a planned major facility in Glasgow and the recognition of the strength in the University of Glasgow in four key areas of research, Wellbeing Research, Informing Policy, Wellbeing Technology and Environmental Technology directly relevant to Therme's long term needs. This led to a feasibility study, supported by Interface, which provided an evidence base for exploring the creation of a global Centre of Wellbeing Research Excellence (WellEX) in Glasgow.
The Solution
Interface made initial introduction and discussions between Therme Group and the University of Glasgow who successfully applied to the Inward investment Catalyst Fund to support a WellEX feasibility.
The basis of the feasibility study was to raise awareness of the opportunity and develop connections between senior management at the Therme Group responsible for Innovation and the relevant Business, Social Science, Health and Technology academics and departments within the University. In particular, the feasibility exercise and subsequent discussions identified four areas of future collaboration where Therme's interests and the University of Glasgow's expertise aligned.
These included:
Wellbeing innovations: Therme Group is primarily interested in understanding how wellbeing improvement can be brought about for individuals and populations, and the broader benefits of wellbeing on society, the economy, and the environment through evidence-based research.
Informing policy: Through close collaboration with the local government and communities, the research conducted by WellEX is expected to support the work of the University of Glasgow to explore, validate, and inform wellbeing strategies and policies at the local and national levels, working to understand the complexity of policy intervention.
Wellbeing technology: To explore, develop and test "wellbeing technology" focused on improving the effects of wellbeing innovations and users' experience within and outside Therme Group sites.
Sustainability practices: To explore and validate sustainability practices for Therme wellbeing activities and facilities to leverage renewable energy sources and reduce carbon emissions.
The feasibility study validated the concept of a Global Centre of Excellence, providing an evidence base for a Business, Energy and Industrial Strategy (BEIS) funding application in 2022 and ongoing funding applications.
The findings showed that the University of Glasgow was well placed to both anchor and act as an international R&D hub for Therme's aspirations to develop a world-class centre of excellence in wellbeing. The planned development of a major new facility in Glasgow, serving the Scottish population catchment area, offers a unique opportunity to create such a WellEX and capture the significant research, societal and economic benefits this would bring to Scotland.
The University of Glasgow are commited to developing this proposition further and presenting a full business case for consideration by Therme Group, the University, and strategic partners such as Glasgow City Council and Scottish Government agencies, including Scottish Funding Council (SFC), Scottish Development International (SDI), and Scottish Enterprise (SE).
The Benefits
Validated the concept of a Global Centre of Excellence to be based in Glasgow, providing an evidence base for a BEIS funding application in 2022 and ongoing funding applications.
Development of a much deeper relationship with Therme Group as partners on wellbeing which can be developed further as the new Glasgow facility is built.
Development of a cross disciplinary working group in Glasgow in response to Therme's interest and catalyzed by the Interface report. This cross disciplinary group is currently developing funding applications around the theme of healthy ageing.
Potential to generate a strategic new initiative at the institutional level by encouraging the University of Glasgow for the first time to carry out a strategic review of all its wellbeing research strengths across all disciplines for Therme Group as a serious industrial partner.
The WellEX initiative has the potential to generate significant new jobs and economic activity in Glasgow, provisionally estimated between 10-20 net additional FTEs.
This collaborative research also aligns well with the developing Wellbeing Economy policy of the Scottish Government.
This project benefitted from the Scottish Inward Investment Catalyst Fund. The Scottish Inward Investment Catalyst Fund launched by Interface and the Scottish Government promotes Scotland as a leading destination for inward investment and supports businesses not yet located in Scotland but seeking to establish stronger ties with academia here. As well as funding research and development it provides an opportunity for the company to establish relationships and give insight into other aspects of the Scottish landscape, such as further investment opportunities, supply chains and the skills base to strengthen the case for investing in Scotland.
This one-day event will showcase impact success stories, offer you a chance to find a partner from another Scottish university, and give you the opportunity to access funds for impact collaborations. Inspirational sessions include a keynote speech from Mark Miodownik and skills development and networking facilitated by Skillfluence.
The IAA Impact Festival is organised by the five Scottish universities with EPSRC Impact Acceleration Accounts (IAAs): University of Edinburgh, University of Strathclyde, University of Glasgow, Heriot-Watt University and University of St Andrews.
Plenary sessions
Our keynote speaker is Mark Miodownik, Professor of Materials and Society at UCL. He champions materials science research that links to the arts and humanities, medicine and society. Mark established the Institute of Making, where he is a director and runs the research programme. He also recently set up the Plastic Waste Innovation Hub to carry out research into solving the environmental catastrophe of plastic waste. Mark is a broadcaster and writer on science and engineering issues, and believes passionately that to engineer is human. In 2018 he was awarded an MBE for services to materials science, engineering and broadcasting.
The keynote will be followed by lightning talks from impact leaders from the five leading Scottish universities in science and engineering. The speakers will share their experiences of creating different types of impact from social and policy impact to industry collaboration, commercialisation and company creation. Learn how our speakers have leveraged the support available to them to further their career and translate their research into impact. The speakers are:
Larissa Naylor, University of Glasgow
Dan Hodgson, University of Edinburgh, The Physics of Goo: Impact from soft matter and complex fluids
Laura Wicks, Heriot-Watt University, Lothian Lugs – flipped the model of university engagement
Charles McLeod, University of Strathclyde, Innovation to impact: Enhancing through-life asset management, from cradle to grave
Ross Gillanders, University of St Andrews
Networking sessions
Skillfluence will facilitate structured networking that will allow you to meet other researchers from across Scotland and creatively explore opportunities to collaborate.
Interface will be exhibiting at this event so come and join us.
The Medical Device Manufacturing Centre (MDMC) is hosting its 2nd Annual Conference which will bring together industry, NHS and academia to discuss the latest services offered by stakeholders in the life sciences and healthcare sector.
This conference is unique in its breadth and offers the opportunity for delegates to find out more about initiatives set by the NHS and government, as well as learn about the latest advances by companies in the sector.
It will provide invaluable networking opportunities and companies will be offered free exhibition space on a first come, first served basis. Academia will have the opportunity to present their research work through a posters exhibition.
If you are interested in the latest MedTech news and tips, or seek further insight into growing your business, come along and be a part of this invaluable opportunity to network with like-minded individuals, companies and stakeholders in the Scottish life sciences and healthcare sector.
Programme:
The morning session focus is on the services that SMEs can access to accelerate innovation.
The afternoon session will explore the activities and services in health and care offered by organisations such as Scottish Enterprise, the Centre for Process Innovations (CPI), and the Digital Health and Care Innovation Centre (DHI-Scotland).
About MDMC
The mission of the MDMC is to provide expert advice on manufacturing engineering, regulatory issues and funding, coupled with technically supported access to manufacturing facilities, to assist small- and medium-sized companies in the translation of medical device concepts through to small batch commercial prototypes. Services provided by the MDMC are free of charge to SMEs, with priority to Scottish SMEs at all times.
A consortium of 4 universities led by Heriot-Watt and funded from the Advancing Manufacturing Challenge Fund (AMCF) and the Edinburgh City Deal, the MDMC offers medical device development and manufacture in Scotland, providing companies with an enabling step towards first-in-patient-studies.
Rabbie Burns goes virtual – Robert Burns Ellisland Farm recreated in Minecraft highlighting the life and great works of the National Bard.
Ellisland Museum & Farm was the farmhouse built by Robert Burns, Scotland's National Bard in 1788. It was his home, where he farmed, and where he worked as an Excise officer. Today Ellisland is a much-celebrated museum housing one of the world's most important collections of Burns treasures.
Background
Ellisland Museum & Farm near Dumfries was the farmhouse built by Robert Burns and was his home until 1791 where he farmed and worked as an Excise officer. During his time living there he experienced his most creative and fruitful years in terms of his poetry and song. This is where he wrote Tam O'Shanter and Auld Lang Syne. Today Ellisland is a much-celebrated museum housing one of the world's most important collections of Burns treasures.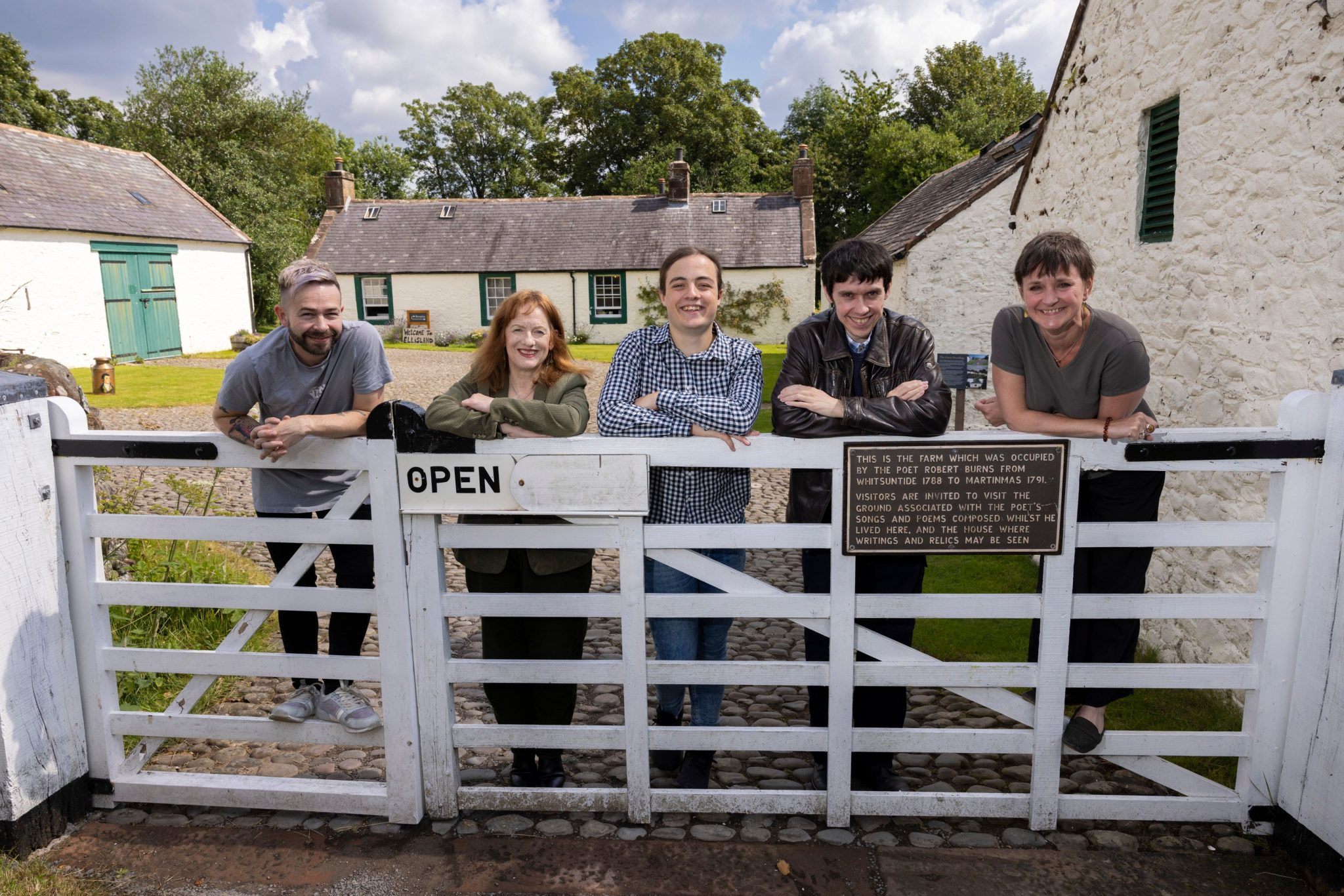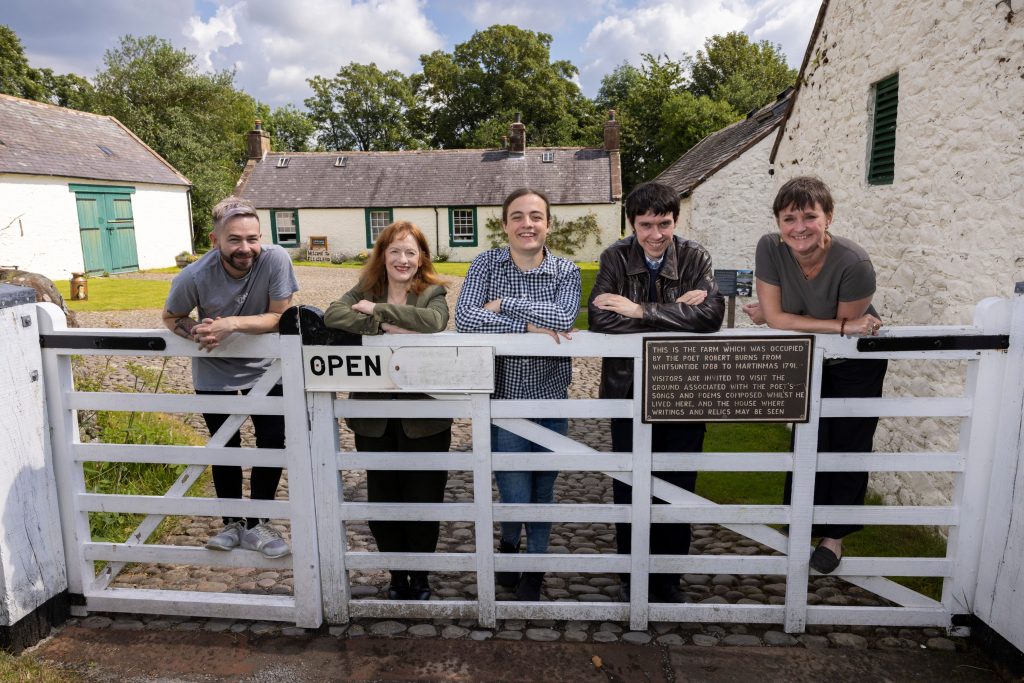 The Challenge
During 2020/21 Covid-19 saw visitor numbers drop dramatically and visitor attractions closing their doors for a significantly long period, some of them indefinitely. The main challenge during this time was how to maintain interest, widen reach and encourage visitors to return.
The Ellisland Trust, who run the Ellisland Museum & Farm wanted to develop an interactive Robert Burns Minecraft digital experience appealing to a younger audience to highlight the life and great works of the National Bard. Their idea was to depict his life as an Excise Officer and farmer as well as highlighting his poems and songs and other Burns associated landmarks in Dumfries and Ayrshire.
The Solution
Ellisland Farm, where Burns lived from 1788-1791, has been brought back to virtual life in Minecraft.
Students and academics at the University of Glasgow worked with the Robert Burns Ellisland Trust to faithfully recreate, in Minecraft, the 18th-century farm as Burns and his family knew it.
The Minecraft Ellisland world was built by around 15 students – undergraduates and postgraduates drawn from a range of different subjects – who are part of the University's Minecraft Society.
Bailey Hodgson, the Minecraft Society's President and one of its founders, who has been using Minecraft for 12 years, played a significant role both in project setup and delivery.
The Minecraft Ellisland project was led by Dr Timothy Peacock and Dr Matthew Barr from the University's Game and Gaming Lab, a cross-disciplinary lab – based in the University's College of Arts – with a focus on how games and gaming can be used in research and teaching.
Interface were able to find an academic partner at very short notice to tie in with funding from South of Scotland Destination Alliance (SSDA) and made the relevant introductions between the University of Glasgow, SSDA and Ellisland Trust.
The project was funded through SSDA from the Scottish Government's Tourism Leadership & Recovery Fund which supports tourism enterprises taking the lead in the sector's COVID-19 recovery.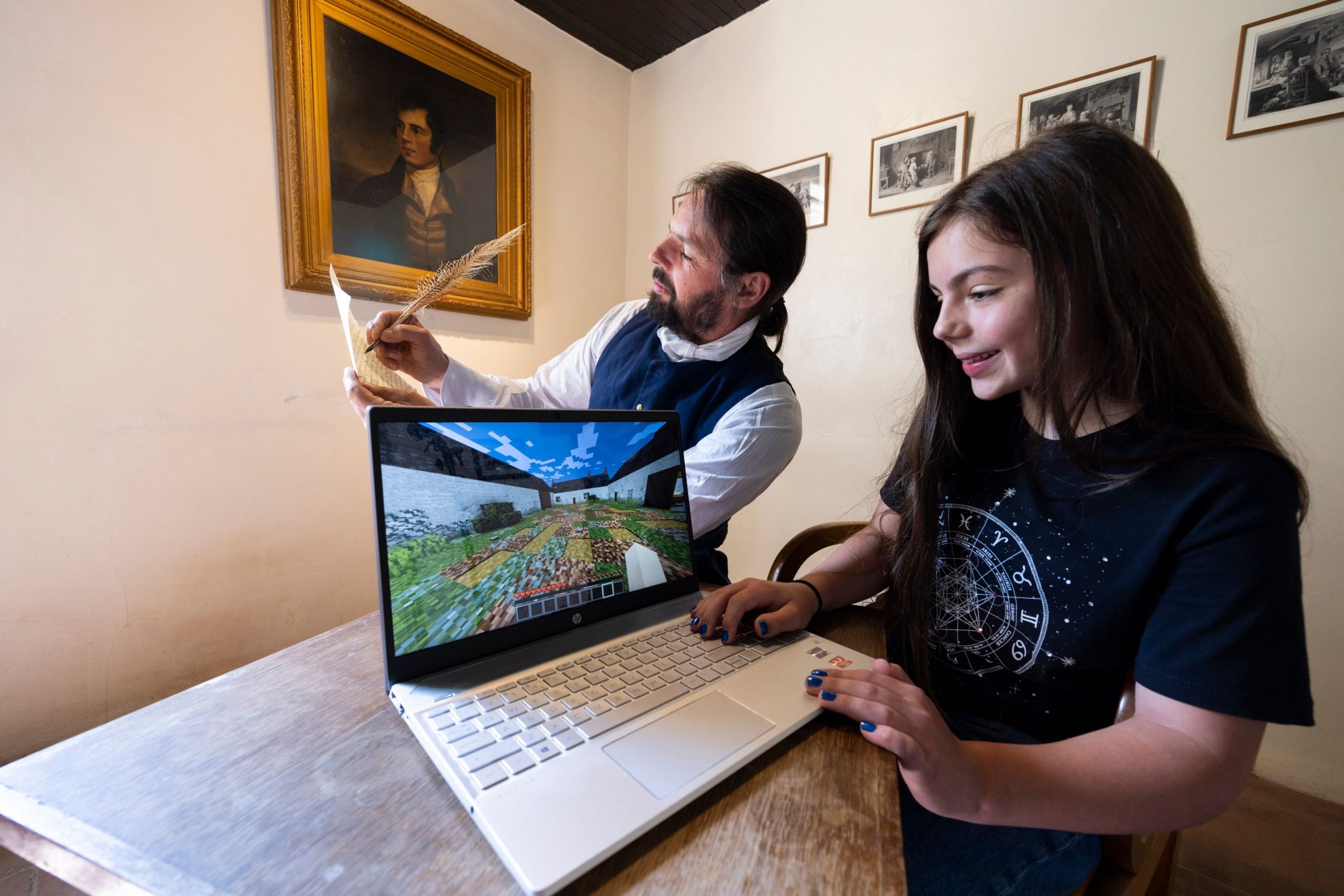 The Benefits
The Robert Burns Minecraft experience is an innovative use of gaming technology to reach a wider, younger audience. Engaging young people with Robert Burns in a modern, appealing way will help to raise the profile of his work and lead to an increase in visitors to the Ellisland Farm and other associated Robert Burns visitor attractions in and around Dumfries and Ayrshire.
Players have an opportunity to not only hear Burns' poetry and song while in the Minecraft world but are also able to converse in Scots with the poet and his wife Jean Armour. It is believed to be the first time Scots has been spoken on Minecraft, which has nearly 140 million monthly active users around the world.
The Burns Minecraft experience has widened the reach and appeal of Robert Burns, his life and works, attracted a younger demographic and helped the Ellisland Museum and Farm thrive and survive post Covid-19.
Unlocking Potential (U>P) – a powerful people analytics platform helping organisations of all sizes to optimise their workforce
Background
Nectis Ltd focuses on optimising wellbeing, performance and productivity in the workplace through people analytics and understanding business ecosystems. Founder and CEO, Colin Campbell has a wealth of experience in this area, having spent more than 20 years building company ecosystems (the people related to your company).
The Challenge
Nectis Ltd successfully competed to deliver against CivTech 5, in 2021 with sponsor Transport Scotland. Their Challenge – How can tech help foster the development of informal networks when people are working at home or in Work Local hubs?
To assist in addressing the challenge and through the partnership between CivTech and Interface, Colin approached us to help facilitate collaboration with academia on three 3 different projects:
Data Visualisation
Business analysis of Serviceable Available Markets
Security and Anonymised Data Cloud Analysis
The Solution
The solution developed by Nectis Ltd is Unlocking Potential (U>P) Unlocking Potential – Optimising Business Agility & Performance, a SaaS people analytics platform that visualises patterns of collaboration and uses insight to create agility and wellbeing. This solution uses data driven insights of individuals and teams, to understand their patterns, overcome barriers and breakdown work silos. In addition, it provides an evidence base for fair working practices, supporting positive working relationships.
People analytics is a very powerful tool and up until now, the science behind it has been the reserve of researchers and programmers.
Unlocking Potential (U>P) is a software tool that works by creating a digital model of a company ecosystem (the people related to any organisation) and then analysing it to deliver unique and powerful insights that can help achieve high levels of business agility and performance.
To assist in addressing the challenge set by Transport Scotland Interface helped facilitate collaboration with academia on three 3 different projects:
Data Visualisation
Serviceable Available Market
Security and Anonymised Data Cloud Analysis
The first related to Data Visualisation where a Data Science for Business MSc student at the University of Stirling undertook a project working with data that was already on the U>P platform and also tested data, to find ways to increase the rate at which data is added, through motivational feedback loops. This was achieved by identifying which forms of data design and delivery optimised insight creation for individual users to help them solve problems and/or take meaningful action.
Beyond the initial contract with Transport Scotland, Nectis wanted to understand market potential and their initial B2B target market i.e. organisations with remote/complex workforces. Masters marketing students at the University of Glasgow carried out research to establish the serviceable available market for their offering and establish what Nectis could legitimately claim they could deliver on and how to articulate it to these customers. Other student projects looked at innovation within Nectis' pricing strategy and at finding ways to reward people for adding data that builds the aggregate picture, as well as, providing value for them individually.
The third project relating to Security and Anonymised Data Cloud Analysis was as a result of a successful Advanced Innovation Voucher application and involved the School of Computing at Edinburgh Napier University. This collaboration built on work already done by U>P with the aim of improving the levels of security in the application, focusing on the collection and processing of personal data, as well as, introducing advanced security measures to enable intelligent analysis of anonymised data.
A key aspect of the work involved the use Big Data analysis methods in understanding the complex relationships involved in projects, roles, business relationships, behaviours, and so on, to determine good practice in achieving strong outputs, and thus more clearly identify how best to both understand the metrics to be gathered, but also in how to best define KPI (Key Performance Indicators). Understanding that the collection of data around business relationships requires to be kept private, Nectis wanted to develop privacy enhancing methods, which could be used to assess successful engagement, but respect privacy and consent. The collaboration with the School of Computing at Edinburgh Napier University with their strong background in cryptography, and other privacy related areas, along with their experience in building production ready systems was crucial to the success of this project.
The Benefits
The academic rigour awarded by the collaborations with academia have been good for the Nectis U>P brand and have resulted in Nectis achieving the following:
An SE SMART grant of £92K to continue the collaboration with Edinburgh Napier University as a result of the AIV scheme. Total investment £160K
Accepted onto the UK Cyber Accelerator – one of only 3 Scottish companies to do so
Proof of concept for Scotland IS Cyber
Proof of concept for Scottish Government
Plan to raise £500K investment in forthcoming year
New patent application – Patent is for a distributed key system so individuals have a say in how their data is managed
The Crover – the world's first robotic device that 'swims' through grains to monitor their condition.
Background
Crover Ltd https://www.crover.tech has developed the world's first small robotic device, known as a 'CROVER', that monitors cereal grains stored in bulk inside grain bins or storage sheds. The CROVER device can "swim" within the grains and uses on-board sensors to measure local parameters, such as temperature and moisture, to build a full map of the conditions within the grains. Unlike current grain monitoring solutions that measure only one variable and have limited reach, the CROVER's remote monitoring capabilities provide real-time data across a range of measurements allowing grain storekeepers to identify critical conditions, like hotspots early and maintain quality of the grains through proactive management.
Crover Ltd were a start-up when they initially approached Interface in 2019, they have since grown from two co-founders to 20 employees.
Since 2019 they have secured significant investment, raising over £600k in innovation prizes and grants (including Scottish Enterprise and Innovate UK). They then opened a seed funding round for investors and hit their £150k target.
The Challenges / Solutions
"When we initially met Interface, we didn't have a specific R&D challenge as we were focused on developing our product inhouse. An obvious area for support would have been in the areas of design and engineering, however, through discussions with Louise, she assessed how our business worked and proposed that we undertake a project with the Scottish Financial Risk Academy (SFRA). The project with the SFRA helped us determine precise financial estimates of the value of Crover data to grain storekeepers and its impact on the grain storage economics. Understanding the financial impacts of Crover's monitoring capabilities, had wider implications such as being able to quantify monetary value to grain insurers, and the potential to reduce insurance premiums for farmers and grain merchants." Lorenzo Conti, Co-founder Crover Ltd
Following on from this initial project, one of the main technical challenges Crover Ltd faced related to the precise location tracking of the device within the grain bulk. Conventional signals, such as GPS and WiFi, did not work due to their inability to penetrate the solid grain bulk so a novel approach was required. Crover Ltd had undertaken some initial testing of different solutions, however they needed to tap into academic expertise in ultrasonic waves, positioning systems, electromagnetic signals, wireless sensor network (WSN) and Simultaneous Localization and Mapping (SLAM), to help improve the accuracy of the device location. Interface connected them to the University of Glasgow who undertook an initial feasibility into a means of measuring and identifying the location of the robotic device in bulk grain storage. This was initially funded by an Impact Accelerator Account fund of £10k, which then led onto a further project where University of Glasgow and Crover Ltd secured a further £27K to continue the project to a successful conclusion.
Since the initial collaboration Interface has assisted Crover Ltd embark on several other successful collaborations focusing more on the future enhancement and performance improvement of the robotic device, by tapping into design and engineering expertise from several Scottish Academic Institutions. These involved:
Heriot-Watt University (HWU) design engineering students looking at designs for a remote charging station for the Crover to allow re-charging when out on location.
HWU design engineering students helping to develop an easily deployable, suspended cable system that provides cable above the Crover to facilitate its movement within grain sheds.
University of Strathclyde's design engineering students designing a water-tight sealing system for the Crover.
University of Strathclyde's Department of Design, Manufacturing and Engineering Management (DMEM), investigating suitability of design for manufacture.
The Benefits
The benefits resulting from the numerous collaborations which Interface have helped broker have undoubtedly helped Crover Ltd in both product development and business growth terms.  Interface has helped open doors for Crover Ltd and helped Lorenzo and his team to establish strong links with academia resulting in some innovative and exciting developments.
Since its inception in 2019 Crover Ltd has grown from 2 employees to over 20 employees, has raised significant investment and secured over £600K in innovation prizes and funding.
Background
Since 1999, Tweeddale Youth Action (TYA) has operated as a youth-led organisation that gives young people a safe space to congregate, an alternative to bus stops and street corners. They operate two youth clubs in Peebles and Innerleithen and through the provision of free opportunities for all, they support young people in accessing advice, developing skills, confidence, and a sense of belonging and responsibility within the community.
Challenge
Five years ago, TYA received LEADER (a European Union initiative to support rural development projects in rural, coastal and urban areas of EU member countries) funding that allowed them to invest in a metal workshop, a bike repair shop and a fully kitted out commercial kitchen. Off the back of this, TYA has grown several micro enterprises within the youth club – Bike Punks and Food Punks.
Bike Punks is based around their in-house metal workshop. They started repairing unwanted bikes and giving them back out to the community, teaching young people metalwork as well as bike repair skills.
Food Punks is based around their commercial kitchen and delivers outside catering for events, weddings etc. As well as the kitchen, they have a van and outside cookery equipment and teach young people the skills involved in outside catering.
Pre-Covid, both endeavours had healthy income-generating capacity. With Bike Punks, TYA had a service level agreement with local authorities to support young people in learning metalwork skills. In addition. they had an agreement with the South East of Scotland Transport Partnership to provide an e-bike library locally as well as an e-cargo bike delivery service. Similarly, Food Punks saw a steady demand for events catering.
This pipeline of business disappeared with the onset of Covid and TYA found themselves at a crossroad. Both Bike Punks and Food Punks had a strong brand to build upon and TYA had ideas they were interested in taking forward to diversify their offering.
Tweeddale Youth Action needed help with developing a business strategy to see where the opportunities lay and which of their ideas should be taken forward.
Solution
After being referred by South of Scotland Enterprise, Shelley Breckenridge, Business Engagement Executive at Interface, was able to connect Dave Hodson, Locality Manager at TYA, to Ed Green, Business Development Manager at the Adam Smith Business School, University of Glasgow, who was looking for consultancy projects for his students. The TYA project received the support of two separate groups of University of Glasgow students.
The project brief for the students was:
A better understanding of local and national needs and opportunities that would help inform a linear approach; prioritising income-generating opportunities over others.
A better understanding of TYA's gaps and needs; informing their fundraising and recruitment strategy for the following five years.
Sustainability of youth work delivery and opportunities through income generation.
Initially, as part of their consultancy projects, a group of full-time MBA Students at Glasgow University researched and prioritised these ideas, considering in-house resource to develop a strategy and a way forward. As a follow up, a group of undergraduate students on the 'Entrepreneurial Ventures: Management & Growth' course (which works primarily with social enterprises and charities) were given the same brief to deliver new viewpoints for the company.
Benefits
This process of consultation meant that the time commitment needed from TYA was reduced to a minimum whilst receiving insightful and helpful suggestions from the students. Equally helpful for the Locality Manager was being given the luxury of taking time out from the usual spinning of plates to think and reflect on where the organisation was and where they needed to get to. Creating the time to articulate the organisation's needs, and having this reflected back in reports that they could share and act on, was invaluable to them.
Background
Outer Hebrides Tourism (OHT) is the official DMO (Destination Management Organisation) for the islands from Barra & Vatersay up to the northern tip of Lewis. The islands have seen a growth in the number of food trucks over recent years. Seafood shacks and other more traditional fast-food outlets have always been popular due to the nature of their market and the small local population which makes it hard to start a formal restaurant. Many trucks are in stunning locations, getting a good following from extending their menus and focusing more on local sourcing. Due to COVID, outdoor eating became an even more important component of the islands' food offering.
Challenge
OHT was looking to develop a strategy for the food trucks that could help these businesses take advantage of this opportunity and turn this into a type of island "street food" to include:
• Menu/offering to reflect visitor needs and the limited facilities
• Operations to comply with COVID restrictions
• Promotional campaign strategy to help the food sector contribute to the islands' reputation as a tourism destination
Solution
In May of 2020, Interface joined forces with VisitScotland and the Scottish Tourism Alliance to launch the Adopt a Business scheme; a new initiative aimed at boosting the sector's recovery from COVID by connecting tourism businesses to university academics and students for research and development projects; helping businesses to diversify and adapt to the new environment.
Dr Jaylan Azer, Adam Smith Business School at Glasgow, kindly agreed to help support Rob McKinnon Street Food – Outer Hebrides Tourism through the Adopt a Business initiative. She successfully applied for funding from the University of Glasgow and the Economic and Social Research Council (ESRC) to fund the project; employing professional graphic artists to create images for new branding.
After a site visit, Dr Azer recommended an overarching branding for the 19 independent food trucks located in Stornoway, Isle of Harris and Barra. The branding was called 'Food with a view'. The rationale behind the name related to the main common factor of the trucks' locations, overlooking stunning views of the isles. The brand was also used to market the variety of food provided by the trucks.
To counter the distance between the trucks and the limited awareness of the variety of food, Dr Azer suggested a collaborative menu with the brand name and logo of 'Food with a view' and showcase the type of food each truck provided, facilities they have (e.g. payment method, seating, dietary offerings, etc.) and a graphical map, showing the route between trucks and location.
Dr Azer also made recommendations as to their social media presence and the incorporation of the overarching brand in both their social media platforms and their signposts.
Benefits
The Food with a View social media campaign was the first stage of this project and fully embraced by both consumers and businesses.
The project has supported businesses by raising the awareness of local produce through a social media campaign and collateral, enabling excellent visitor engagement.
There are many opportunities that will support businesses going forward in further phases of this project; developing the food and drink offer in the islands and achieving economic growth.
Background
Sustainable Thinking Scotland (STS) Community Interest Company is a social enterprise, based in Bo'ness, created to address a wide range of social and environmental issues. They operate a variety of projects that focus on topics such as food growing, community wellbeing and wood and green waste recycling.
STS currently produce biochar from wood waste. Biochar is a highly porous form of carbon obtained from baking wood within an oxygen-depleted environment and has the potential to draw and lock in nutrients and toxins from its environment. Until recently, the biochar STS produced was used in an agricultural setting, utilising its production as a means of carbon abatement and as a soil amendment within their food growing projects. STS wanted to research and create a biochar optimised for excess nutrient removal from water, helping to tackle harmful algae blooms and the nutrient pollution which causes them.
Challenge
The water remediation techniques STS proposed involving biochar had not been adequately researched, regulated or utilised within the EU, UK and Scottish markets. STS wanted to engage with academic expertise to advance their production of biochar whilst also ensuring effective regulatory standards were put in place governing its manufacturing and subsequent use.
Solution
The company was referred to Interface through their engagement in Firstport's LaunchMe accelerator, which is aimed at supporting Scotland's highest potential social enterprises. After Interface put out a call to the relevant universities in Scotland, STS decided to work collaboratively with both the University of the Highlands & Islands (UHI) and the University of Strathclyde to test biochar production from wood waste and investigate its potential use in nutrient removal.
A Scottish Funding Council Innovation Voucher was used to fund the project with UHI, whilst an initial consultancy project with the University of Strathclyde looked at in depth testing of Biochar including thermochemical changes.
The results from this research should help inform SEPA's (Scottish Environment Protection Agency) decision making on how to license and regulate biochar's use in water.

Benefits
The new/enhanced product to be developed is a biochar which has qualities which allow it to draw in and bind to excess nutrients within water; adsorbing and removing them, resulting in improved water quality. This will provide a new solution to the growing problem of blue-green algae blooms in freshwater and also act to recover phosphorus and nitrogen from water. The biochar will act to stop nutrient pollution at source, preventing algal blooms and eutrophication, whilst creating a recoverable nutrient loaded carbon biochar that can be re-used on land. This would not only act to maintain/provide carbon within soil but would also provide a slow release (nitrogen/phosphorous rich) fertiliser. UHI's ERI (Environmental Research Institute) already has significant current interests in this area, not least as partners in a €10M+ EU NW Europe Project (Phos4You) which demonstrates phosphate recovery and re-use innovations within Europe.
Benefits to company:
The Innovation Voucher leveraged additional funding, including Scottish Enterprise's Unlocking Ambition programme, and Firstport's Catalyst Fund that will be used to support follow-on R&D work with the two universities.
New research data will be collected in collaboration with ERI-NHC (Environmental Research Institute – North Highland College UHI) which will be of long-term benefit to STS.
The results of the research will/can feed into several STS projects.
The project assists expansion into new water remediation markets, which offers new income streams which can be used to fund STS social support programmes.
This initial project will open the door to further collaboration and research.
A studentship through IBioIC has enabled STS to work with a PhD student over 4 years from the Chemical and Process Engineering Department at Strathclyde University to investigate each step of biochar production to make it more efficient for larger scale use.
Project results will provide evidence to the Scottish Environmental Protection Agency regarding the efficacy of the product and techniques, which will assist with regulation and encourage further research funding.
STS successfully secured £190K investment from Firstport and Social Enterprise Scotland's Catalyst Fund to enable them to bring their technology to market.
Benefits to academic partners
As much of ERI's work in the Water Quality Innovation space focusses on low cost/sustainable solutions to water quality management and treatment, their aims with STS are very much aligned and they see significant scope to collaborate further.
Biochar related research is of great interest to ERI and they are keen to work with STS to provide quantitative data to support the efficacy/advancement of their product. They are equally keen to see any work generated published in peer reviewed international research journals and will help STS achieve this.
Results generated can feed into other existing projects, many of which also focus on nutrient removal/recycling and biochar production/functionalisation.
Benefits to Scottish Government
Despite the rise in recurring algal blooms in water bodies across the UK, biochar field-based water remediation remains absent from the £1.3 billion UK water treatment market. Biochar technology development will help create a range of safe, low cost, low impact environmental remediation services which are more financially accessible, encouraging landowners and custodians to invest in their greenspaces, offering a comprehensive/easily accessible solution to long term problems; leading to climate action and contributing to Scotland's net zero targets.
Next Steps
STS have continued to make strides in developing their "Biochar" product and to understand the markets in which they can operate to position themselves as a sustainable social enterprise.
This initial project has opened the door to further collaboration and research and Interface have assisted STS to embark on other successful collaborations most notably with Adam Smith Business School at University of Glasgow where they have engaged with a range of student programmes from undergraduate to MBA. Projects include:
a study into how STS could access the customers for the biochar/water quality services they are developing, typically Local Authorities and Large Estates owned by private individuals and companies and how best to engage with these diverse end customers and get past the trust barrier.
identifying a route to market for the Biochar product; this included branding, operations, logistics and pricing.An MBA student team provided all of this and more. The final presentation and report provided STS with a clear route to market strategy, distinctive branding, pricing and costs as well as a functioning Shopify online store.
Other projects relating to environmental and sustainability issues are under discussion and Sean Kerr STS Director generously gives time to undergraduate and MSc programmes, student placements, and makes himself available for speaking and networking opportunities. The relationship continues to deepen and in 2022 Dr Nick Quinn, Lecturer in Entrepreneurship in the Business School, joined STS as a Non Executive Director.
Sustainable Thinking Scotland's determination and hard work is paying off as they won Innovation of the Year Award at the Scottish Knowledge Exchange Awards 2023.