Tayside & Forth Valley: Regional News
Find out the latest news and updates for November and December below.
This is an update to advise of student projects & placements that we have coming up from November 2023.  If you are interested in any of these please email Lorna ASAP as they are extremely popular and competitive.
Student Projects
The following opportunities will carry no direct financial cost to companies. If any costs are associated they will be highlighted in the project specification. Topics include:
Computer Science


Closes 30th November. Runs Jan – Apr 2024
Projects typically involve software development or system configuration as their central activity, with students of project management or design-oriented subjects providing specialist input.

Financial Risk

Closes 1st December. Runs from Jun '24
Looking for major quantitative challenges faced by the insurance sector and wider financial services industry.

Marketing


Closes 30th November. Runs from Jan '24  (£250)
Project type includes market research, developing an innovative marketing strategy, develop a social media campaign etc. These projects are part of an exam process.

Visual Communications


Closes 30th November. Runs Dec '23 – Jan '24
This course is much more research-led and includes consulting with multiple stakeholders as part of the delivery, so ideally suited to 3rd sector, public sector, or small community-serving organisations. Examples include:  An info pack/toolkit was developed for the fire service, in which they evaluated ideas with young people/ Gardening toolkit for the elderly in care homes, taking account of those with cognitive impairments.

Business Administration


Ongoing – Funding Optional
The range of business functions a project can address are diverse and include growth or business development, marketing, operations, strategy and finance. New models or processes can be developed, or solutions presented to strategic or operational issues. The final report will be directed at senior management or director level.
Student Placements
Looking for industry clients that would be happy providing work experience for students whether it be a 2 week internship or a project to last a full semester.  Please note some of these may be paid placements, please check on enquiry.
Law – Closing 30th Nov. Placement runs Feb – Apr '24 (10 weeks)
Data Lab – AI and Data – All year round
Computing Placements – Closing 30th Nov. Placement runs Jan '24 and Jun '24 (3 months/180 hours)
International Tourism & Hospitality Management – Closing date Jan '24. Runs for 4 weeks in late Mar '24
Mechanical Engineering – Closing 30th Dec '23. Runs from Apr '24 for 6/8 months
Biotechnology – Closing 31st Jan '24. Runs from May '24 for 12 weeks.
Electrical and Electronic Engineering – Closing 16th Feb '24. Runs from Jun – Dec '24 for 23 weeks.
Funding
This month we were delighted to announce that our Innovation Voucher funding received a boost in value! Both Standard & Student Innovation Vouchers now offer a value of up to £7.5k.
These vouchers are to encourage new first-time collaboration between SMEs and a Scottish University or College. There are two types of Standard Innovation Vouchers:
Product/Process/Service Innovation Voucher
Workforce Innovation Voucher
These are an opportunity to build on existing relationships between SMEs and a Scottish University or College to continue the development of a Standard Innovation Voucher award.
Advanced Innovation Vouchers offer a matched grant of up to £20,000 and are aimed at building sustained relationships between SMEs and Scottish universities or colleges.
Depending on the nature of your proposed project we can also look at funding external to Interface such as SMART grants, Innovate UK etc.

Events
Sustainability Institute Workshop: NetZero
Wed, 17 Jan 2024 13:00 – 16:00
Join Lorna at this workshop which will define the focus of the new Binks Institute for Sustainability on NetZero. Register here. 
Interface's Impact in Tayside & Forth Valley
The Scottish Crannog Centre have worked with Interface on 32 projects with Scottish Universities since 2018.  In 2021 the iconic Crannog built in the '90s was destroyed by fire. Fortunately, the museum, artefacts, and the iron age village were all untouched by the fire and the Crannog managed to re-open.
Plans to relocate the Crannog to a bigger, better space on the other side of Loch Tay at Dalerb had already existed, but the fire meant that this move would happen sooner than anticipated. There was a JustGiving page set up by locals which raised essential funds, alongside this, a £2.3m funding award from the Scottish Government meant the plans could go ahead. The restoration journey has not been without it's own difficulties, as recently as 2 weeks ago the Scottish Crannog Centre flooded due to heavy storms. A burn was running right through the visitor centre, however the centre quickly re-opened showing their resilience.
This October I visited the new site at Dalerb with Managing Director Mike Benson and was very impressed by the progress. Mike explained that the roundhouse, which is still to have moss added to the roof to make it watertight, will only be expected to last around 7 years. This is consistent with iron age buildings, which were only meant to last this long before they would be taken down and re-built. They have created other buildings, including the blacksmiths workshop, whilst a few more are in the process of being built using iron age building processes.
The way the visitor centre has been built allows it to be picked up and moved to another site, this will house the museum and a café serving iron age inspired meals. Paths are being constructed which will lead to the new Crannog which will start work in the spring and will become a visitor attraction itself during the build. There are plans for 3 or 4 different Crannog replicas to be built, as well as plans for social housing and wild camping areas.
I'm working with the Scottish Crannog Centre on further university projects that will promote the launch of the new centre in the Spring 2024 as well as projects focusing on sustainability. The current centre will close at the end of November 2023 and the staff will move over to the new site to work on the iron age village and re-reinstating the museum.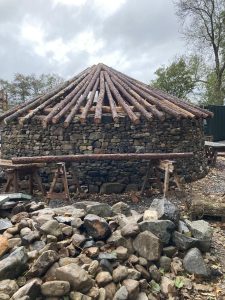 Any Other News

We are seeking the most innovative and successful business-academic collaborations which deliver economic, environmental and social prosperity for Scotland.